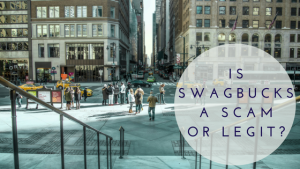 Swagbucks is a website offering money to members for doing online tasks and online shopping.
Online shopping became a common thing in most parts of the world. With the introduction of top shopping platforms such as Amazon, eBay, etc. and payment gateway services which work with almost any credit card, it has become remarkably easier for both buyers and sellers to carry out online transactions and buy their favorite products.
With so many opportunities to make shopping simpler and more affordable for the buyers, you can find several online reward services where the users can earn points and gift cards upon shopping from certain platforms.
This is a great option and a marketing tactic to get more buyers and visitors to your website and improve conversion rate as well.
However, there are black sheep everywhere, and the marketing world is no exception. You will find several rewards and gift card services which work on fake promises.
Customers don't get the promised share of reward points, and in many cases, their money goes wasted. In this review about Swagbucks, we shall take a look at one such reward service which has been under discussion on several online platforms.
We will take a look at this platform and find out the reality behind this rewards platform.
What is Swagbucks?
Swagbucks is an online service that claims to pay its users for online shopping and filling out survey forms.  Users can review the daily life products on Swagbucks and become a contender for gift cards, rewards and much more.
Since online marketing is the modern way of selling, it attracts online buyers who come in the hope for discounts and coupons.
The online service was introduced nearly ten years ago in 2008. The company is situated in California, and it claims to be one of the leading internet companies in the country.
Although it remains to be seen how true it might be, the official website and the user interface seem to be attractive enough to capture the attention of new users.
Swagbucks – A Brief Introduction
Among several online rewards and gift card services, Swagbucks is a prominent name.  Although it has a dodgy reputation among its customers, it is still a popular site when it comes to rankings and online traffic.
Swagbucks offers its customers a variety of services and opportunities to earn points and rewards while shopping from online platforms.  To give you a brief as to what Swagbucks offers, here is what you can do with this website:
Users can earn free gift cards which they can use at the most popular shopping platforms such as Amazon, Walmart, etc.

Users can also redeem their earned points to get more discounts and coupons.

Customers can fill online forms and surveys within minutes to become contenders for points and rewards.
Thousands of users have tried services from Swagbucks.  Their experiences may not have been the best, but it surely indicates that Swagbucks has penetrated among the common audience and has strong links with online shopping platforms.
A Quick Look at the Features
We will now take a quick look at some of the top features on this website.  We will also look at the whole signup process and see if there is anything suspicious.
New users can make money in no time. Swagbucks claims to offer its new users a $5 for 2500 Swagbucks.  Within two months, users can make considerable money with this website.
One Swagbucks is nearly equal to 1 cent and there are different types of tasks which have different Swagbucks values.
Some of the easier ways include profile making, Swagbucks browser extension, and by making Swagbucks your default search engine.
Although these are all easy money making strategies, it's not all the obvious whether users get paid for doing them. Also, it can be dangerous to install extensions because of possible viruses and malware.
Earning through Online Shopping
Swagbucks offers you points and rewards for shopping through their link.  The website gets a commission from top platforms such as Amazon and Walmart which Swagbucks direct to you upon making an online purchase.
When you search through Swagbucks as your official search engine, you can earn nearly 50 Swagbucks every day.
It's the simplest way to earn as once you make it your default search engine, you can simply surf the internet and keep making money while you're online.  Some users say that you can earn nearly $15 with Swagbucks' search engine every month.
Paid surveys are another popular way to earn online, and Swagbucks offers that too.  Different surveys have a different Swagbucks rate, and you can earn up to 300 Swagbuck for a survey.
With this earning method, users can make up to $20 every month.  Considering that a survey can last only 20 minutes, it is not a bad deal at all.
Apart from the promises made on the official website, it is quite difficult to find the advantages of this website. However, we have compiled a couple of them for our readers.
It has a mobile app for both Android platforms

It offers points to buyers from the top shopping platforms such as Amazon, so a large number of online customers are expected to use this service.
Swagbucks Cons
The list of drawbacks is quite long. Some of them are:
The customer service is nowhere near decent as the user have to wait for months to get their queries answered.

On many occasions, the rewards and gift cards are not given to the users.

The customer feedback for this website is not too positive.
What Users are Saying about Swagbucks
The customer response is somewhat negative for this website.  It becomes pretty obvious when you see unhappy customers, and Swagbucks seems to have plenty of them.
You will hardly find any users appreciating the services and claiming that they got their due rewards in the nick of time.
We will consider some of the responses to elaborate our point. One of the users had nothing more than to call this a bad website.  According to them, it is nothing but a waste of time.
The review also suggested that Swagbucks never responds to its users as the reviewer had to wait for more than two months, but they did not get any response.
A user says that Swagbucks brings its users down to their knees to give them their due rewards.  According to her, there were more than 3500 Swagbucks due on the website, but they did nothing about it.
She said that the customer service was the worst and even after a month had passed, there was no response from the company. There is hardly anything positive about this website, especially from the customers online.
Almost all the Swagbucks users you will see, seems to have had enough of this website and they recommended other users to stay away and save their precious time.
Is It Popular?
From the website reviewing platforms, I am able to get an unbiased analysis regarding the reputation of this website.
It pretty much sums up our discussion as to why Swagbucks may not be a suitable place to invest your time and money.
According to SimilarWeb, Swagbucks has ranked considerably well in the recent past.  It currently ranks among the top 1300 websites in the world, but that is not the point of worry.
Within the websites of its own category, it ranks close to the 250th spot which is a fairly low ranking.  It had more than 20 million viewers last month.
As far as Alexa's analysis is concerned, Swagbucks has continuously lost its ranking in the recent few months.
At the moment, it ranks beyond the 1600th spot and continues to decline as we speak. The decreasing ranks suggest that there are not as many users and visitors to this website anymore.
Considering that more than two-thirds of the visitors to this website come from the United States, a country ranking of 477 is not as appealing either.
Parameters such as page views per visitor and daily on-site time have also been going downwards.
Conclusion
Swagbucks has been reviewed a lot on the internet platforms.  It shows that the users have tried this service regardless of it being profitable to them or not.
However, from what appears from the findings, it may not be a great idea to use this service in the hope of rewards and gift cards.
A questionable country ranking and some negative customers reviews are enough to put doubts in a new customer's mind.
Also, as a counter to negative reviews, there is nothing too positive about this website. Customer complaints suggest that Swagbucks never fulfill their promises of getting rewards.
Instead, their account might be disqualified for reasons only known to Swagbucks.  It gives a fair amount of evidence that Swagbucks is nothing but a platform that uses customers for its own good.
Although I still do not label this as a scam site, it is a better idea to avoid this site as it is a waste of time.
My Recommendation
It is better to learn the skills needed to be successful in online business.  Join Wealthy Affiliate as it is a platform that will teach you everything you need to learn about online business and earn a living.
Feel free to ask questions, post comments or subscribe to my email list to be the first to get the updates and offers. You may also visit me so I can answer your questions directly at Wealthy Affiliate (link to my profile page).