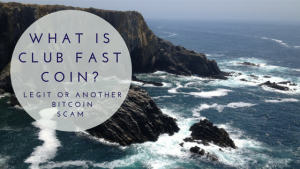 Club Fast Coin claims it is an online business which deals in forex, Bitcoin trading, stock exchange, and commodities.
The value of Bitcoin has skyrocketed over the past couple of years, which has correlated to many people wanting to invest in this type of cryptocurrency.
While there are a lot of websites and tools available online that claim to help people make thousands upon thousands of dollars through investing in Bitcoin, it is considerably difficult to determine which of these are legitimate.
After reading my review you will get more detailed information about this platform which will help you decide if this business model is worth investing or not.
Club Fast Coin Review
Summary
Name: Club Fast Coin
Owner: Unknown
Website: clubfastcoin.com
Price: 0.5 BTC
Rating Stars: 0.5/5
Bottom line: This platform tries to be more transparent than most Multi-level Marketing sites using Bitcoin as the product. Whatever it is they claim, this is still revenue sharing. I suggest you check my recommendation instead.
What is Club Fast Coin?
The primary difference between Club Fast Coin and other similar Bitcoin investment sites is in its presentation and their attempt at transparency.
What this means is that while others keep their pages and descriptions as vague as possible, Club Fast Coin is relatively more transparent.
In fact, they give users options of what language they want the website to be in, making it easy to understand even for foreigners.
The language options available include English, French, German, Italian, Russian, and Spanish. Despite these options, some statements are poorly worded, which is something to watch out for.
What this means is that while others keep their pages and descriptions as vague as possible, Club Fast Coin is relatively more transparent.
Furthermore, Club Fast Coin attempts to give its members transparency through an "About Us" page on their website.
This is a step up, as many online investment platforms do not even offer anything more than a home page and multiple links leading to the same sign-up sheet
However, aside from giving a further explanation regarding their investment methodology as well as telling their users that the company was registered in Belize, it does not give much else.
It would have been good to know the names of the people behind this program, but alas, no such information has so far been made available to the public. Once more, the contact page for Club Fast Coin does not provide any names.
A Better Option than Most?
The landing page for Club Fast Coin states that they possess the best investment methodology in the entire world, giving investors "unparalleled liquidity" along with "mandatory regulatory requirements."
They even go so far as to claim that they could obtain sizable profits even for the smallest of capitals. However, extensive searching does not show concrete reviews or evidence to back these claims up.
Club Fast Coin's program splits an investor's money into a four-part shared investment system. The first part of this system is foreign exchange or FOREX.
They attempt to entice potential members by stating that it is "the world's largest financial market" worth around $5 billion per day, if not more.
Next is through stocks, which they claim they are able to make available for even investors with the smallest of capitals. The third part of this system is "futures," which includes indices, commodities, equities, and interest rate futures, among others.
Lastly, it includes over-the-counter (OTC) investments, which are made directly between two parties through a network of distributors. This type of investment system could definitely make a person money, possibly in large amounts as well.
However, a lot of things should first be taken into consideration. While this transparency is much appreciated, and this is, in fact, a smart way to make an investment, it does not tell potential investors which percentage of their money will go to which part of the system.
If a large percentage of a person's capital goes to a facet with a relatively small return, it would be extremely difficult for them to make a profit.
This would make it hard for Club Fast Coin to back up their claims of easy, attractive incomes. There are going to be times wherein Club Fast Coin will make their members a sizable profit, but there will be times when returns are small if there are any at all in the first place.
Pricing
The Club Fast Coin investment program has three tiers: the silver, gold, and platinum packs. These have different minimum deposits and maximum earnings.
The silver black is the lowest tier available and has a minimum deposit of 0.5 BTC, which is valued at around $1,300, with daily earnings of 0.030 BTC for 30 business days.
Next up is the gold pack, which is valued at double compared to the silver pack at 1 BTC or roughly $2,600. This tier has earnings of 0.065 BTC per day for 30 business days.
Lastly, the platinum pack requires the highest amount of capital at 1.5 BTC or around $3,900. The platinum pack has a daily earning rate of 0.1065 BTC for 30 business days as well.
Again, there is not much evidence to support these claims, but it is completely possible to make this amount of money with the right investment climate and timing. All of the investment tiers offered by Club Fast Coin have weekly withdrawals, meaning investors could easily get their returns if they choose to do so.
Terms and Conditions Apply
One rather suspicious thing about Club Fast Coin is how they seemingly bury the link to their site's terms and condition at the bottom of their page.
While this may not be a problem for an online investor with some form of experience, novices may not take the time to read this or find it to begin with.
Access to this type of information should stand out and should not be at the bottom part of the page in a font color similar to the background.
This information should be made readily available for all users to avoid any form of misunderstanding that may occur.
Upon reading these terms and conditions, it shows that Club Fast Coin will not be held accountable for any form of damage, loss, and costs brought about by the use of the site, including violations.
They make it clear that investors are putting money into the program at their own risk and that any past performances are not explicit guarantees that the same will happen in the future.
They also state that the information provided on the site should merely be taken as educational material and not as investment advice. Aside from these, they also reserve the right to accept or reject membership even without explanation.
Along with these claims, Club Fast Coin also states that they reserve the right to change the rules, commissions, and rates of their program at any time at their sole discretion.
This means that they can change the percentages in the previously mentioned four-part investment system without first consulting their investors, which is possibly done so that the investments work just as well in their favor.
There is currently no certain way to prove that this is the case; however, they do claim to be doing this to retain as much of the integrity and security of their member's interests as possible.
In their terms and conditions, Club Fast Coin states that members cannot post a negative review of the site on public forums or at the Gold Rating Site without first contacting the administrator of their FIRST Program.
While no member would want anything to happen to this program that would warrant them posting a negative review online, Club Fast Coin believes that these problems are merely technical issues.
While it is commendable that Club Fast Coin would first want their members with negative experiences to first speak with a representative, placing this clause deep in the terms and conditions of the site makes it possible for a large percentage of members not to be aware of it.
Tools and Tutorials Available
Unlike most online investment platforms, Club Fast Coin offers insight to how their investment tools work, although these do contain lingo, which may be deemed too difficult to understand by the beginning investor.
They do provide a training glossary; however, to help these people understand the meaning of a number of the terms presented on the site.
Club Fast Coin offers a technical summary box for FOREX, commodities, indices, and stocks. They also provide live currency cross rates as well as five different types of calculators (pip, profit, pivot, Fibonacci, and margin).
Club Fast Coin has an economic calendar from investing.com as well, which shows the stocks that are doing well at a certain point in time.
Along with these tools, they also offer presentations and tutorials for the fledgling investor. A frequently asked questions page has been made available the Club Fast Coin website to assist new investors.
It is also possible for members to write their own questions on this page, which will be answered by any one of Club Fast Coin's representatives.
The Real Story Behind.
Wow! It is almost convincing, and the thing is, they did not advertise that they have an affiliate program up front but buried in their Frequently Asked  Questions there is a mention of their affiliate program.
Now we can forget everything about all the trading in Forex and all that stuff they claimed above as that is nothing but a facade for what this platform is all about.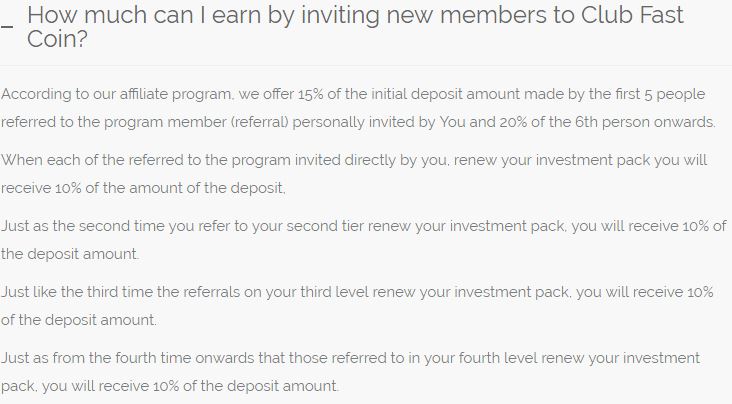 If you check above nothing sets Club Fast Coin apart from the other Bitcoin investment schemes is as this is nothing more than an investment which is funded by new members joining the platform.
This is also the same reason why they offer an affiliate program as well as a decent commission. Club Fast Coin may seem different from the rest, but trust me, there are hundreds, if not thousands, of Bitcoin MLMs and Club Fast Coin is one of them.
The only way this platform will survive is if new members are joining every single day. Without new members joining, all the earnings will stop and the program will not run just like many other platforms that run the same type of business model.
That is why they have set up an affiliate commission that is 15% of the first 5 people you bring in and then 20% of the 6th person?
A great incentive to recruit more as this is actually a recruitment based business model. Why is there a second level, third level, and fourth level? Simple. Multi-Level Marketing.
Conclusion
Can you make money from Club Fast Coin? Yes, you can if you are one of those that joined earlier, but it is very risky to join now. I recommend that you avoid this platform at all cost.
Feel free to ask questions, post comments or subscribe to my email list to be the first to get the updates and offers. You may also visit me so I can answer your questions directly at Wealthy Affiliate.com as it is where I hang out with my buddies most of the time. (link to my profile page)
At a Glance
Club Fast Coin Review
Summary
Name: Club Fast Coin
Owner: Unknown
Website: clubfastcoin.com
Price: 0.5 BTC
Rating Stars: 0.5/5
Bottom line: This platform tries to be more transparent than most Multi-level Marketing sites using Bitcoin as the product. Whatever it is they claim, this is still revenue sharing. I suggest you check my recommendation instead.