What is Niche Profit Classroom 5.0? It is an online marketing training site and claims that they can help you in setting a successful online niche website.  Building websites and earning money from them is considered to be a good online business if it is done properly. The objective of my review is to help you decide whether you should consider joining this platform or not.
Name: Niche Profit Classroom 5.0
Official Website: https://www.nicheprofitclassroom.com/
Founder: Adam Short
Purpose: To help people make profitable websites with ease and earn money
Price: $67 per month plus upsells
Rating: 5/10 good
What is Niche Profit Classroom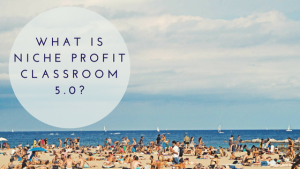 Niche profit classroom offers online video training courses that help you to create a successful niche website and earn money from it. The complete course also includes different tools, resources and set of software to build a  website.
The central part is online video course, but tools and other resources are also provided to help you in website marketing related tasks such as keyword research, generating email list, etc.
Adam Short, the person behind this website,  founded it in 2003 and the Niche Profit Classroom 5.0, the updated version was released in 2015
The Niche Profit Classroom 5.0 tutorials show you the way to build a website, find out the related niche, choose a domain, run the website, and bring traffic, etc. They offer a set of software such as keyword research tool, market profiler, niche profit press, etc.
The ready-made business packs are also available, and they include a mini-course of approximately ten days, keyword research tool, an eBook, articles that they claim are  SEO optimized and much more.
Cost involved in Niche Profit Classroom Program
Once you join the system, you should expect to spend more money in upsells in the way of video tutorials, software or other resources. The trial membership is $1 for two weeks (with credit card information), and after that, you have to pay $67 for the monthly membership.
The Upsells
5 Niche Packs ($97 one-time payment)
10 Niche Packs ($247 one-time payment)
Link tracks Package ($67 one-time payment) This PLR contains mostly information about backlinking from Social Media Sites to your sites and claiming that the more backlinks you have, the higher ranking you can get from the search engines. This is an outdated SEO technique.
Outsourcing Training ($67 one-time payment) This PLR gives you training on how to outsource the tasks required, to run your website. This upgrade is not recommended for beginners as it will be very hard to have somebody do some tasks on your website, while you do not have an idea what has to be done and how it is done properly. You outsource when you have the experience in running a website.
What is not good is that Niche packs are PLR or Private Label Rights, in the form of mostly e-books. PLR are not good because,
Information is not updated, and that means they may not serve your current purpose.
As we all know search engines classify PLR as duplicate content, therefore it will not rank.
There is a very strong chance that you may have bought the same product previously from another person as PLR products can be customized and rebranded as the seller's own product.
Pros
Is not a scam
Hot Market finder tool
Great training
Cons
Too many up-sells
Too pricey ($67 monthly)
Website is not so user-friendly
Training videos are too long
The new version Niche profit classroom 5.0 is the updated one, and it contains added features, but you are always asked to get the extra software and things such as tutorials on generating traffic, graphics, etc. To start, you will not know that it is required, but once you are in, they will always recommend you to get these extra items.
You will learn to bring traffic but what about converting that traffic into sales. Niche profit classroom 5.0 will not ever guide you to convert that traffic into leads for your website. To get this conversion you to have to put some extra time and money to learn the art of converting traffic into leads from any other source. There is no hosting service for customers to host their new websites. To get hosting you have to get hosting outside of the platform.
Ranking
According to Alexa.com,  it is ranked 445,610th globally with a peak last January 2017 with a rank above 300,000 and steadily declining. It is ranked 155,370 in the United States with a bounce rate of 40.8 %. The declining rank shows it is losing its popularity in the global market.
Similarweb.com ranked it at 2,355,422 globally and  734,211 in the US.
Total Visits
6.10K
19.16%
Avg. Visit Duration
00:02:53
If you look at the metrics above, you will notice that its popularity is declining.
Conclusion
Always put your time and money at a right place that is worth it.  It is not worth to invest $67 per month plus the upsells to create a successful online business through Niche profit classroom. This is far too expensive for what it is and may hurt your business because of the high monthly payment. My #1 recommendation is only $49 a month without any expensive upsell.  If you want to earn money online through a website, then you should look for ways to create your website. Earning money online will take time and a lot of effort, but once you are successful, you will earn a full-time income from your website monthly.
The biggest mistake that many people do these days is that they look for a way to earn money fast with less effort and time. This is the thing that helps scammers fool people as they want to run away from their 9-5  jobs. I feel it is a very good to help people through education, so they will not fall into the trap.
I have tried my best to write this  Niche profit classroom 5.0 review in the best way possible and hope it will help you in making the right decision whether you should join or not.
Post comments, feel free to ask questions or subscribe to my email list to be the first to receive updates and offers. You may also visit me so I can answer your questions directly at Wealthy Affiliate.com (link to my profile page)