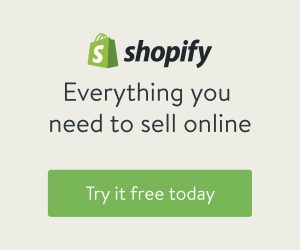 What is Shopify About? Shopify.com review. This Review will give you all the information you need about this website.
Surviving in the modern market is a tough task. With so much competition these days, one has to be on its toes all the time to ensure quality services and customer satisfaction.
Being in the shoes of an online business owner is not everybody's game nowadays.
In this era of online ordering, shopping, and home deliveries, it becomes even more crucial to stay on top of your game.
You must offer something that your competitors do not have. Otherwise, there are hundreds of sellers waiting in queue to grab your customers.
This is why modern businesses cannot ignore the value of an efficient E-Commerce platform.
In this detailed post, we will be discussing one of the most popular online services that can be quite useful to serve the purpose.
Shopify.com Review
Summary
Name: Shopify
Website: shopify.com
Pros: It has a wide range of pricing and full customer support.
Cons: No free accounts.
Bottom Line: This platform is very good to start your e-commerce business.
What is Shopify?
As just mentioned, Shopify is a robust online E-Commerce platform that can address the needs of any sales business. It's a solution designed for online sales platforms, shopping stores, and even mobile selling platforms.
Simply put, if a business in any way involved in sales, Shopify can be a useful addition to managing its sales. Interestingly, Shopify wasn't introduced as a commercial e-commerce platform.
In fact, it was designed for the company itself to get rid of complexities involved in managing sales and retail.
However, as other sales businesses took a liking to this software, Shopify was then commercially introduced with loads of newly added features.
A lot of e-commerce website owners and those planning to set up one can call this a blessing.
Shopify – A Brief Introduction
Shopify has a set of features that can bring smoothness to your sales operations. Since its inception in 2006, Shopify has continuously grown into a giant E-Commerce platform and is arguably one of the top platforms at the moment.
Serving more than 375,000 active online stores from all over the world, Shopify reduces your workload by managing the key aspects of your sales business.
In case you're wondering how it helps, here is a look at some of the things it can do for you:
Customize your selling site and attract more customers through intuitive themes.
You can add more and more sales channels to maximize your productivity.
Get full access to your inventory items without any limit.
Analyze and track your sales performance to make safer and productive decisions for your business's future.
Target different online channels, social media platforms, and local markets to sell your product.Rank amongst some of the most renowned online selling businesses which use Shopify for their sales.
Summary Overview
Shopify.com Review
Summary
Name: Shopify
Website: shopify.com
Pros: It has a wide range of pricing and full customer support.
Cons: No free accounts.
Bottom Line: This platform is very good to start your e-commerce business.
Shopify Pricing
Let's take a look at the pricing plans in this software. These plans have been carefully designed so that businesses of all types and sizes can make use of it.
The pricing model is based on monthly subscription. As compared to some other Commerce platforms, the Shopify pricing is quite moderate.
It starts at just $79 per month which is good for five staff accounts. The Basic Shopify is $29 per month and good for two staff accounts.
There is also Advanced Shopify which is $299 per month and good for fifteen staff accounts. A Shopify lite is also offered for those who want to sell on Facebook and chat with customers on Messenger.
You can add products to any website or blog, and accept credit card payments for only $9 per month.
The Shopify Plus is for those big businesses with unlimited staff accounts. The pricing is not available as it depends on how big the business.
Also, there is a free trial available without you having to share your credit card details.
What is a Staff Account?
It is the account a staff is given for access to your Shopify admin page. When you have several persons accessing your Shopify admin page, it is a good idea to have separate staff accounts for each of them.
In that way, you can set the staff account permissions so you can allow other people limited access your Shopify admin without giving them access to sensitive information.
Having individual staff accounts can also help you keep track of recent changes and events on your store's Timeline.
A Quick Look At the Features
We will take a quick look now at some of the top features in this app. We'll also see if there are any areas of where Shopify can be improved.
E-Commerce Website
Let alone existing stores, Shopify has features that can help start an entirely new sales business. You can create your  E-Commerce website with beautiful themes.
Full customization capabilities allow you to introduce your brand just the way you like.
Easy to Use and Design
While designing online websites can be a tough job, Shopify has made it a lot easier by having hundreds of ready to use web templates that can get you started instantly. You don't have to be a tech expert to put up an intuitive web design.
Complete POS Software
The Point of Sale module from Shopify allows online and retail stores to manage their sales and track inventories.
Users can apply tax rates and discount offers, send email receipts to the customers as well as accept payments in any form. For larger retail stores, it also features staff management and hardware integration tools.
Social Media Selling
Social platforms such as Facebook and Pinterest can also be used for selling your stuff. It seamlessly integrates with your social media apps allowing you to sell to your followers without any hassle.
A Few More Features
Some more Shopify features include:
Mobile Responsive Designs
Blogging Platforms
SEO
Social Media Integrations
Gift Cards
Buy Now Buttons for your Site
Online Marketplace selling
A Word on API and Integrations
Shopify offers an open API which allows you to integrate with your business apps easily. Apps such as MailChimp, Quickbooks, Desk.com, Kissmetrics and many others easily integrate with Shopify.
Also, it is mobile responsive and works with top mobile operating systems such as Mac and iOS.
Shopify Pros
We will quickly skim through the best advantages of Shopify. The list is quite long but here are some of them just to give you an idea how useful Shopify can be:
It has a wide range of pricing which can accommodate any size of business.
It works with mobile platforms and offers social media selling. Therefore, your chances of sales improve dramatically.
Full customer support is available. Therefore, if you get stuck anywhere, you can instantly get in touch with email, phone or online forum
It can be translated into more than 50 languages which essentially covers the entire globe for business.
Cons of Shopify
Some of the downsides of this software are:
Shopify isn't the most efficient app for very large enterprise businesses. It is mainly because the majority of businesses lie in the medium or smaller size range and so understandably Shopify addresses to their needs with better efficiency and as a priority.
Some similar online services apps might offer free accounts, but Shopify doesn't. But you will surely don't have the similar features with free services.
What Users are Saying about Shopify
Customers are generally happy with this software. According to most customers, Shopify is extremely easy to use. It has good quality inventory management features which have worked well particularly for smaller businesses.
Customers did point out that Shopify's scalability is questionable. It is only best for smaller and medium-sized businesses.
Is It Popular?
According to SimilarWeb, Shopify ranks among the top 650 most visited websites in the world. This is quite an achievement and shows the credibility of the website. In the last month, it has had nearly 60 million visitors.
Alexa ranks Shopify among the top 450 websites in the world.
Within the United States, it ranks among the top 200 websites which speaks much about the popularity of the website and also indicates that the service is very popular in the United States.
Conclusion
To sum up our discussion, Shopify has all the ingredients that can help you not just manage but also accelerate your sales business across different channels and platforms.
It's a comprehensive E-Commerce platform, and therefore, it is definitely worth a try. Feel free to ask questions, post comments or subscribe to my email list to be the first to get the updates and offers.
You may also visit me so I can answer your questions directly at Wealthy Affiliate.com as it is where I hang out most of the time with my buddies ( my profile page ).
At a Glance
Shopify.com Review
Summary
Name: Shopify
Website: shopify.com
Pros: It has a wide range of pricing and full customer support.
Cons: No free accounts.
Bottom Line: This platform is very good to start your e-commerce business.