What is the Orion Code a Scam or Legit? Too good to be true claim to make their members rich.
What these sites all boil down to is a question of legitimacy.
Read on and I will give you the details of this website to help you in making a good decision whether to join this platform or not.
Orion Code Review
Summary
Name: Orion Code
Website: orioncode.org
Owner: Unknown
Price: Free?
Rating Stars: 0/5
Bottom Line: This is a clear scam. The best way to make money online is to learn the skills. If you want to educate yourself, I strongly suggest you try my #1 recommendation for free.
What is Orion Code?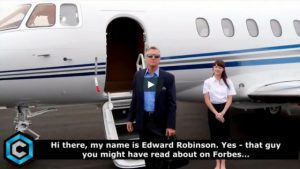 Upon going to this website, visitors are greeted with a high production quality video starring a person who goes by the name of Edward Robinson.
The video kicks off with Robinson walking towards what people are led to presume is his private jet; however, this aircraft of most likely only rented or borrowed, as there is no concrete evidence suggesting that it is his.
He then goes on to greet the pilot and the flight stewardess, before addressing the website's visitors and introducing the program.
Such scam websites use videos in order to add to their realism. They get actors to pose as the founder of the program to remove both blame and identification from the actual founder. Actors are also used to give out falsified testimonies in these videos.
 Who is Edward Robinson?
Furthermore, a lot of people have pointed out that Robinson seems oddly familiar. This is because he is actually actor Jeff Gorham. He has been featured on TV shows such as Grimm and movies such as Sandy Boulevard as well as Little Blue Pill.
In short, he is not just some cheaply paid actor the people behind this program got from some freelancing site. He is a legitimate actor with considerable experience, meaning they have taken the extra step to add to the believability of their scam. Also, it is nice to note that the video for this site uses a lot of the same dialogue as a previously exposed scam: The Quantum Code.
It is highly probable that the people behind both of these scams are one and the same. They simply used different actors and settings to try and make people believe that this is not the case. This is done to avoid the identification of the people behind the site.
Mr. "Robinson" also claims that he has been featured on Forbes, but a quick Google search is more than enough to refute this assertion. Even searching on the Forbes website itself in the hope that the article concerning Robinson was buried will still yield nothing.
He also claims that he has a lot of nicknames, which when searched for do not reveal anything even closely related to him. He repeats these claims over and over again in the hope that people will believe him, but in the end, all this does is the exact opposite.
The video goes on to show a screenshot of a web page showcasing a couple of names and the amounts they have supposedly made with the help of this platform. There is no evidence that these people actually exist, let alone have made the money listed beneath their names. Searching for their names yields no results related to this site or any other online investment platform as a matter of fact.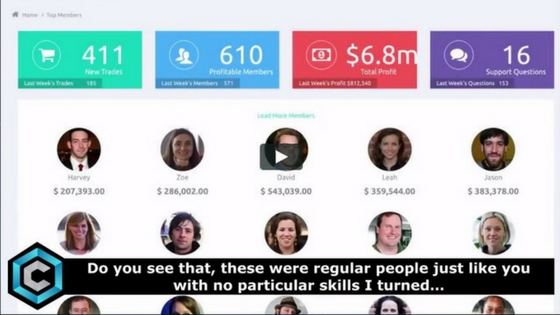 Robinson claims to have helped over 350 people, but there are no trustworthy reports regarding this either. If it was true that they have helped hundreds of people, then there must be at least a single concrete piece of evidence available, especially with the advent of interest, even from major news outlets, surrounding work from home jobs. Unfortunately, this is not the case.
Robinson will continue to drone on and on throughout the video, but will not give even the vaguest bit of information regarding how the trading software works. This is because it does not actually do anything it promises because it was built for the sole purpose of tricking people out of their hard-earned money.
There are also testimonials from supposed members edited into the video, but these people are most likely actors just reading off of a script. The video even showcases a full-text message, which is laughable at best.
 Other Red Flags and Inconsistencies
Aside from using a video presentation to try and lure people into investing in this platform, a false countdown clock is also used. They say that once this timer expires, the once in a lifetime offer to join is gone forever. However, despite the timer reaching zero and being left there for a substantial amount of time, the offer to invest in this scam of a program, still did not disappear.
In fact, a person can visit this page over and over again, meaning it is not necessarily as exclusive as it leads people to believe. This is done to make people make rash decisions and invest in the program without having a thorough thin through about it first. The same goes for the claim on the website that there is only a limited amount of slots left to join the program.
Robinson claims that he helped develop this program along with a team of highly qualified individuals using what he refers to as "Near Orion Speed" technology. While this may be a clever play on words on the NOS systems used to make cars faster, in this particular case, it does not mean anything and is merely used as a buzzword to spike up interest in the scam from potential members.
Apparently, there is a 100% win rate on this program, which can make a person at least $10,000 every single day. The people behind it even go so far as to claim that it can make a person over $100,000 in just a single month. On the disclaimer page of this site, it is stated that "the possibility exists that you could sustain a loss of some or all of your initial investment and therefore you should not invest any amount of money that you cannot afford to lose".
This disclaimer is directly contradictory to their claims of having a no loss program. Even the best traders making use of the best legitimate software cannot guarantee to make a profit on their investments 100% of the time. Robinson merely uses this previously mentioned statement to drum up the interest of unsuspecting victims again.
It is even more disconcerting that none of the people working on this site are licensed brokers or financial advisors "in any State or Federally-sanctioned jurisdiction." Why would anyone want to trust their money with people like this? This is why the link to this disclaimer page is so small and is buried deep at the bottom of the landing page.
Robinson states that he will return investors money, and some more if this does not work for them. Once people realize they have been duped out of their money by investing on this scam of a program, they will most likely hope that this claim is true. Unfortunately, it is not. Despite attempting to communicate with their support team multiple times, a lot of people claim that no answer will be given if the former is asked regarding this money back guarantee.
This signals an absolute absence of intent to actually pay deceived members back. The bottom part of the website also features the logos of many prominent antivirus software. This is done to make people believe that their information is safe with this program.
A quick search will reveal that there is absolutely no relation among these Softwares and the online investment platform in question. Again, there is a contradictory statement in the disclaimer page, which states "Unfortunately, the transmission of some information via the internet is not completely secure. Although we will do our best to protect your personal data, we cannot guarantee the security of your data transmitted to our site."
In fact, since members' information is not likely to be protected, the people behind this scam could send spam, or worse sell this valuable, private information to third parties. They say that they will usually inform you if this will occur though, which means that there is a possibility that there are scenarios wherein members will be informed.
Another major red flag that this scam presents, as said by people who once attempted to invest with them, is that major banks in the United States did not allow their investments to go through because the account that the money was supposedly going to was located overseas. Furthermore, the people behind this site reportedly call multiple times, supposedly in a harassing manner, to make people tell their bank to approve this suspicious investment.
Because their bank account is located outside the United States, this would make it more difficult for them to be cracked down upon by the appropriate authorities. The red flags listed above are also made use of by other scam sites, so it is essential to take note of them to become more vigilant when looking at other online investment platforms.
How is the Money Supposed to be Made?
Mr. Robinson claims it is totally free right? Well, nothing is free. Once you signed up for their email list, the binary brokers will bombard you with emails informing you the reasons why you are still not making any money.
They will then entice you to the best options for you to make money. They will then ask you if you want to use Eddie's binary software or use a financial adviser for your trades. Then the usual $250 as an initial investment.
The software is nothing better than your guess if the commodities or whatever it is you are trading in the binary platform will go up or down. You have to remember that in binary trading, either you have a winning or a losing bet or trade, the brokers still make money. I have explained this in detail in one of my older post about binary trading.
If you want to understand what is binary trading sign-up for free in IQ Option and they will give a Demo $1000 account. I use to do it to kill time. Lol!  I am not in any way an affiliate of any binary options and I will never be.
Warning: Do not fall into the trap of trading with real money. Binary is gambling and if you want to gamble, do it in the casino, at least those one armed bandits are paying taxes to your government.
Conclusion
This is a clear scam. Legitimate methods of making money online may take more time and effort, but at least they will provide income that is directly proportional to the type and amount of work that a person does. The best way to make money online is to learn the skills. If you want to educate yourself, I strongly suggest you try Wealthy Affiliate for free.
Feel free to ask questions, post comments or subscribe to my email list to be the first to receive the updates. You may also visit me so I can answer your questions directly at Wealthy Affiliate.com ( link to my profile page )
At a Glance
Orion Code Review
Summary
Name: Orion Code
Website: orioncode.org
Owner: Unknown
Price: Free?
Rating Stars: 0/5
Bottom Line: This is a clear scam. The best way to make money online is to learn the skills. If you want to educate yourself, I strongly suggest you try my #1 recommendation for free.