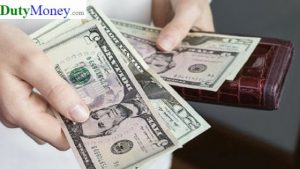 Duty Money is a link sharing site, which requires its members to post links online and claims that members will earn money by performing these simple tasks.
You land on my page with the hopes that you can find a quick way and earn easy money online. I had the same urge when I started until the time I learned that it takes some time and effort to run a thriving online business.
We cannot blame ourselves as it is human nature but what sets me apart from the rest is I  always seek the truth. Can you make money by just posting those links online? Read my thorough review to get the facts more about this claim and educate yourself.
After reading this review, you will have the necessary information on how this platform operates, and now is the right time you learn the real ways to make money online.
Quick Navigation for Contents of this Review
Please click on the topics or scroll down.
What is Duty Money?
It is perhaps one of the most plainly designed online website available, and this is very similar to a lot of websites I have reviewed like Cash East  Dollars Plug, Dollars Jet, Dollar Saw and Dollar Tell among others.
The fact that the people running the site do not want to reveal how their site works before users sign up should already raise suspicions.
How Does Duty Money Work?
If your doubts have not been piqued yet, this site claims to be able to pay as much as $10 to its members for accomplishing a single, simple task which sounds like offers in the websites I have listed above.
However,  the site did not give any information regarding what kind of tasks these will be. Apparently,  as per their claim, it takes less than 10 seconds to complete each mentioned task.

However, it is highly unreasonable that any legitimate company would pay anyone ten dollars to complete a task that can be done in a matter of seconds.
To generate income from this platform, one has to post a certain link, sometimes to the point of spamming.
This referral link can be posted on blogs, forums as well as on different social media platforms, and when a reader will click on these links that is the time a member of this site make money.
If nobody clicks on this link; however, no money will be made whatsoever by the member who posted the link. At times, it would prove to be hard for people to get their link clicks if they do not have a good influence on the previously mentioned sites in which their links can be posted.
It would also be hard for any platform to pay this huge amount simply for just clicking a link. Usually, a link posting and affiliate marketing work only if the person who clicked on an affiliate's link will also purchase the product which that link redirects to.
Members of this site may see their account balance on the site gaining on a steady basis, but this balance does not represent how much they will be paid later.
Having a false counter on how much money a person supposedly earning is a common strategy used by these scam sites to encourage people to work more and on a continuous basis.
It is a fact, and this counter goes up even if the member does not share their links and earnings are also indicated even if the member clicks his or her link.
They claim that members are paid for driving traffic to other sites which are paying for advertising but clicking the links provided merely pointed to this site's landing page.
This site claims to be paying out up to $6,000 every month to a lot of its members, and those who are inclined believe this may continue to work on this site to reach this amount.
Another strategy commonly used by sites like these to try to add legitimacy of their website is a list of false payment proof. Most, if not all, of the data available on this site, including proofs of payments are just made up data.

Summary Overview
Duty Money Review
Summary
Name: Duty Money
Website: dutymoney.com
Owner: Unknown
Price: Free to join
Recommendation: Avoid! Scam!
Star rating: 0.5/5
The Red Flags and Inconsistencies
As I have mentioned before, this website is particularly barren. It lacks the necessary explanations regarding how the site works to make its members make money as well as how they get paid.
However, once somebody signed up, the real scheme of the site is revealed. It is worth mentioning that despite entering the site with invalid data such as a non-existent email address, it will still provide anybody access to the platform.
This would be considered as proof that the persons running this site are merely after potential members critical information, as sometimes people use the same email address they use for their PayPal and other online banking accounts. It will be a suitable precursor for identity theft.
It is also hard to believe it is possible for a link sharing site for allowing people to sign up as many times as they want. Legitimate affiliate link posting and marketing sites do not allow this sort of practice to avoid their service being labeled as a scam.
Inconsistent Payment Amount
The site's dashboard contains a referral link, which once shared, supposedly makes a person earn $5 to $10 for every unique visitor.
However, other statements on the same page are inconsistent with this, as they claim that $10 is the set amount to be made every time someone new clicks on the link that a member has posted.
Unbelievable Sign-up Bonus
This site also provides the members with a hefty signing bonus of $25 for doing nothing, just for signing on to the service.
Unfortunately for new members, this is nothing to get excited about, as the people running this platform probably have no intention of paying out even a small portion of this amount.
The data featured all over this website are causes for concern.  A good example of this is the "earned" and "paid" amount posted at the top of this website's landing page.
This amount changes every time a person visits or refreshes the site, and the figure featured either goes up or down randomly.
Take note, there is a large discrepancy between the two, such as thousands of dollars being paid out, but not earned and vice versa.
The highest earning countries of all time that are featured on the site's dashboard also lists off some countries whose members are supposedly the highest earners.
For example, members from the US have earned $25,000 plus since the site's inception; however, this is quite suspicious as the site claims that it can pay out as much as over $80,000 every single day.
The reason the amount is listed in that manner is that it is fake and has the sole intention of adding to the website's feeble attempt to add a shred of legitimacy to itself.
By claiming that these members have made somewhere over a specific range also saves them time and effort by avoiding having to update the site.
This site does not reveal who is running it, most probably to avoid prosecution in the event of a legal complaint. Also, there is no contacts page available, so it would be impossible for members to get support or to ask questions when their suspicions begin to arise.
Missing Terms and Conditions
The link to the terms and conditions page of this website site is also broken; or made intentionally broken or the page may not even exist at all in the first place.
Also, there is no link to the frequently asked questions page even if there is a text saying that there is one.
Time to Withdraw Earnings
Some members may see that their account balance has reached the minimum withdrawal threshold of $300. However, when they are requesting withdrawals for their money, they would first have to do a certain survey task off a list.
These are paid surveys, and some members may already begin to doubt the legitimacy of this platform because of this, but those who continue are in for an unpleasant surprise.
The people running this platform will get all the money garnered by the paid surveys, and they will not pay the members for performing those surveys.
Once a person finishes this survey as their payment is confirmed, they would be expecting that their $300 minimum withdrawal amount will be given to them as soon as possible, but this is not the case.
No matter how many times a person requests for withdrawal and completes a survey, they will not be able to withdraw even a small percentage of their supposedly earned money.
Another way that this website avoids having to pay its members is through a false strike. A person could get their account banned if they drive "false traffic," to the site which is an empty threat as previously stated in this review, yet as mentioned before members can click their links and have their listed earnings go up.
Another way for an account to be terminated is if a person remains inactive for thirty days, which forces them to continue working as they are anxious for their supposed payment.
Conclusion
SCAM!
There is no value offered on this platform as it is a blatant scam. I do not even recommend you to put any personal data on this website to avoid identity theft.
I hate people getting scammed as I was a victim also and I find it a responsibility to warn people about scams online. People tend to find the quickest ways to make money online, and this mindset is what the scammers utilize to make money.
There is nothing like a quick way to make money online, and you should treat online business just like any other business. You have to exert an effort on it to make it happen.
The only difference in online business is it does not need a lot of money as capital like in an offline business. There are legitimate online programs available that pay their members the money that they earned.
Recommendation
It is my responsibility to give information regarding online scams as I have been scammed before. If you are sick and tired of all these scams, I suggest you educate yourself and learn the skills needed to be successful online.
Try the free starter membership of  Wealthy Affiliate which is free you do not even need a credit card information and start learning.
Then see for yourself if it is for you.  You will lose nothing this way.  Feel free to post comments, ask questions, or subscribe to my email list to be the first to receive the updates.
You may also visit me so I can answer your questions directly at Wealthy Affiliate.com ( link to my profile page )
At a Glance
Duty Money Review
Summary
Name: Duty Money
Website: dutymoney.com
Owner: Unknown
Price: Free to join
Recommendation: Avoid! Scam!
Star rating: 0.5/5