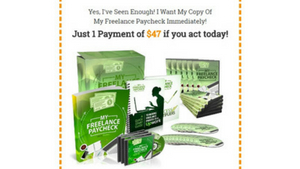 My Freelance Paycheck is a platform founded by Laura Pennington which is offering training and guide on how to become an effective freelancer online.
You may have come from other reviews about this website which we will just call MFP for short. I am glad that you landed on my site to hear what I am about to say about the legitimacy of MFP.
After reading my review, you will get the detailed information you will need in making an educated decision whether to use MFP or not.
My Freelance Paycheck Review
Summary
Name: My Freelance Paycheck
Website: myfreelancepaycheck.com
Founder: Laura Pennington
Price: $47
Star Rating: 3/5 Good!
Table of Contents
Click or scroll down.
What is Freelance Paycheck?
This platform shares many similarities with other work from home job platforms available online. However, unlike most other sites, this one is not just another scam designed to take your money.
This one can make a person a bit of money, but only if they can play their cards right. This job platform specializes in freelance writing, which is one of the most prevalent forms of online work.
While this program may come with quite a hefty price tag to some, it offers a bit of useful information regarding how to become a success in the freelance writing world.
How Does 
Freelance Paycheck 
Work?
To begin with, the introduction video for this site is quite a misleading one. It makes promises to people that they will be part of some secret program that will help make them thousands upon thousands every day.
All of this while they are simply working from the comfort of their very own home. Through this site, people will learn the "secret" of freelance writing, which is not much of a secret at all. Not even at the very least, as this is one of the most popular ways people choose to make money online.
If this does not bother you too much and you would want to learn the ins and outs of freelance work, then you will be glad to learn that you will be able to make some money through this program.
However, this will only happen gradually over time, as you will not be making thousands of dollars immediately upon starting contrary to what was said in the introductory video.
This program costs a total of $47 all in all and consists of a variety of materials. It comes with a series of videos, an e-book, as well as an audiobook to help you learn more about freelance writing.
Hopefully, with the help of this program, you will begin to gain some positive reputation and increase your rates. The e-book is quite detailed, as it clocks in at a total of 156 pages.
That is a lot of information to help you navigate your way through your online career. Now, this information can be found for free online.
The problem with trying to search for all of this stuff online is that you have to filter through a lot of scams and useless knowledge to find the ones that will benefit you.
The people behind this work from home platform have done all that work, which is why they are charging for the same information. The training this site provides focuses on how to write valuable and attractive content.
Not only that, but the content of this program also has a deep focus on research and organization as well as how to manage and market yourself across various platforms like UpWork and Fiverr, among others.
All of this information will thankfully be laid out for members in a step by step manner that will allow them to browse through the information they want as quickly as possible.
The Product
What I like about this platform so far, is that the information you're paying  here is not the sources of finding jobs, but it is the tips and tricks you learn about:
Interacting With The Clients
Marketing Yourself
Maintaining A Workflow
How To Present Yourself
How To Make More Money
Importance Of Quality Content
Writing For Customer Experience And Value
Time Management And Organisation
Writing Small Small Copy Orders Quickly
Writing Styles And Long Form Articles
Researching And Adaptability
The Video Training
The training videos provided on this site give you some great insight into what aspects you need to out for in the freelancing lifestyle you need. You will be given some great tips on how to manage your time and how to choose the jobs that fit you best.
Videos include:
Benefits Of Being A Freelance Writer
Setting Goals For Your Freelance Career
Why Freelance Writing
What You Need To Land Clients
Creating An Ideal Client Avatar
Where To Find Freelance Clients
Your Marketing Plan
The Power of Saying No
Easily Onboarding Clients
Interacting With Clients
Setting Your Rate
Who This Is For
Vetting Clients
The PDF Guide Book
The Guidebook of MFP is 156 pages long and covers everything in much greater detail.  Although a lot of sources online are free, this will save you time from research. The training material covers areas such as:
Which Job Listing Databases To Use
How To Choose A Good Job With Future Prospects
How To Evaluate Your Own Writing Talent
Smaller Projects Vs. Big Projects
How To Get Your First Client
Making Content Easy To Read
How To Create Writing Samples
How To Identify Your Ideal Client And How To Build A Relationship With Them
How To Avoid Bad Clients
Marketing Tactics To Increase Your Exposure
Summary Overview
My Freelance Paycheck Review
Summary
Name: My Freelance Paycheck
Website: myfreelancepaycheck.com
Founder: Laura Pennington
Price: $47
Star Rating: 3/5 Good!
The Compensation Structure
As we have said before, you should not expect to make that much money at the start when you are working as a freelance writer.
This will not replace your current way to make a living that easily. It would not be advisable to quit your day job and dedicate yourself to making money through freelance writing in just the first few months of doing it for work.
There is a lot of competition out there, especially in this field. At the start, you will not be able to get any job you want.
Potential clients will have to look at what you have to offer first and compare that to what your competitors have to offer.
They will then weigh the pros and cons of hiring you against hiring some other freelance writer. You will have to sign for a lot of them, even if these jobs will not make you a lot of money.
The jobs will not be coming for you as well, as you will have to go through multiple offers on different platforms to find just a handful that peaks your interest.
When you do find these jobs; however, that is when you will start making some money and making a name for yourself.
The plus side is that taking all of these smaller jobs will help you become better known across the freelancing community.
After that, once you hone your skills – in part to what this system has hopefully taught you-you will start to see yourself making more and more money through your work on the Internet.
This program will help you become a better writer as well as how to manage your relationships with the clients you work with along the way.
As you build a reputation, more and more people and companies will be looking to hire you. As this occurs, you will also be able to charge more money for the work that you do.
What this program lacks in "done for you" systems and landing page templates, it more than makes up for in the knowledge it provides to aspiring freelance writers, especially to those that are only starting out in this line of work.
With the things this program teaches you, you will hopefully be able to able to build a sizeable client base that trusts you and will continuously return with the knowledge that the quality of your work is worth the money that they will be paying for it.
The Price
With all of that said, this program is fairly priced at the previously mentioned $47. For what you are paying, you will be learning quite a lot.
Pros and Cons?
Pros
Fairly priced
Helpful bonuses
Well-written book
Offers useful tips for finding work that pays well
Cons
The book takes a while to get to the point
Freelance writing may not be for everyone
Conclusion
It seems as though the only people who will be making a loss on this system are those who were hoping for something that is already done for them.
Unfortunately for them, the information that you pay for from this system actually has to be learned and then applied to be effective.
This program is not a scam, and it will only be up to the people to decide if it is actually worth their money or if it is not.
Recommendation
Freelancing is a good way to earn money online, and some have made a full-time income by doing this kind of work.  However, if you want to use the full potential of your skills, you may want to start your own online business.
Since you have the necessary skills, you have a significant edge over somebody who is just about to start an online business.
I started this website with no skills at all, but now I am doing online business full-time. Imagine what a skilled writer can do in this kind of business.
The technical part is easy as the training is straightforward. I learned all the skills in building and running a website from a community of over 1.2 million online entrepreneurs.
Their training is unmatched anywhere, and you can host up to 25 domain name websites with SSL for free plus the keyword research tool comes free as well.
You can also join for free without credit cards, and you will have two free websites as well.
Click here to learn more about this community.
At a Glance
My Freelance Paycheck Review
Summary
Name: My Freelance Paycheck
Website: myfreelancepaycheck.com
Founder: Laura Pennington
Price: $47
Star Rating: 3/5 Good!