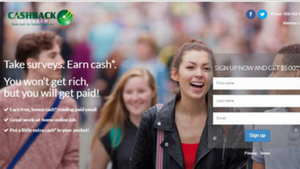 Cashback Research is a platform that claims you can make money by taking surveys from their website.
There are a lot of reviews about cashback research, but I am glad you landed on my site to learn more about this platform which we will call CR to make it short.
This detailed review will provide you all the necessary information that you need to make an educated decision whether to join CR or not.
Cashback Research Review
Summary
Name: Cashback Research
Website: cashbackresearch.com
Owner: Unknown
Price: Free
Star Rating: 2/5
Table of Contents
Click or scroll down.
What is Cashback Research?
It is claiming you can make money by taking surveys from their site, but the truth is it is just nothing but a sales page.
They will refer you to other survey programs so they could earn money through commissions from you when you join.
In simple terms, CR is just a market research program that helps you to make money online by completing simple surveys. Operating since 2007, which is a long time which could have added to the legitimacy of the site.
Whatever the findings, it would still be prudent to dig further to know if this statement could be correct.
How Does Cashback Research Work?
It is a free program and only requires your full name and email address and a password to join. Then they will advise that you join survey programs from their list.
CR will give you a payout bonus as Silver Preferred Status when you join at least ten survey programs.
It should become clear to you now that this is not a survey site, but just sales funnel to other survey platforms.
In my opinion, it is better to join survey platforms individually because you will have the option to check their legitimacy first before giving your personal information.
The only value for that this website is offering is the fact that they are pooling the survey platforms in one location for you to choose from and join if you like.
The Product
There is no product on this website as they are just a sales funnel to a lot of survey platforms on their list.
They will provide you two survey list categories to choose from, the black list and the red list. The black list is a list of categories you can choose from while the red list is a pre-qualified list for you.
The results of your profile survey will determine what kind of categories will be prequalified for you.
There is a long list of survey panels which are links to outside survey platforms, and if you register 12 of them, you will have $10 added to your account.
There is also bonus cash offers once you signed-up to the free trials offered on the website. It will go as much as $50, and it will depend on the free trial that you signed up.
Summary Overview
Cashback Research Review
Summary
Name: Cashback Research
Website: cashbackresearch.com
Owner: Unknown
Price: Free
Star Rating: 2/5
The Compensation Structure
The minimum payout is $25, and your compensation will depend on which surveys you accomplish and which bonus cash offer you signed up. You will be paid through PayPal or Amazon Gift Cards.
You will have $10 added to your account once you join at least 12 survey panels. There is also a cash offer bonus if you sign up for the free trials promoted on this website. Some websites will offer $12, and it will go up to $35 per free trial. CR claims it can go up as much as $50.
The Price
It is totally free to join, and there are no hidden fees here.
Pros and Cons
Pros
Cons
CR is not a survey platform
It is not a good method to make money online.
Conclusion
I do not consider CR as a scam, but most people know that taking surveys online is not a good method to make money as it will just give you pennies for your efforts.
If you are new to this, then this is your time to know as this is just a waste of time. There are a lot of legitimate survey platforms, and they actually pay, but the question is, is it worth your time to be paid only a small amount of money for your effort?
It could be the quickest and easiest method to make money online, but in my opinion, it's not worth at all.
Recommendation
If you want a full-time income online, you should run a real online business through a website. It will not be as easy as taking online surveys, but the income you could generate could be full-time using this business model.
You will have to learn some skills, but it is not as overwhelming as you might think. There are training online that can be learned by anybody.
I started this online business from zero, but I join the community 1.4 online entrepreneurs where I acquired my skills.
The training they provide is top-notch, and you will have full support from the community, thereby making it easier for me to do this business full-time.
I quit my job in aviation as an aircraft mechanic because online business is what I want to to do for the rest of my life.
If you're interested, it is free to join, and you will have two free websites.
Click here to learn more about this community.
At a Glance
Cashback Research Review
Summary
Name: Cashback Research
Website: cashbackresearch.com
Owner: Unknown
Price: Free
Star Rating: 2/5