Payoneer is an online payment service where you can use for payment and to be paid as well and they will issue a pre-paid MasterCard you can use anywhere.
Is Payoneer legit? Yes, it is legit and I am using it myself.  Businesses have been modernized in the present times. The communication between customers and businesses and relations between peers in businesses has become stronger and more efficient than ever before.
Now, lack of communication is no longer an acceptable excuse for poor performance. Thanks to the internet, businesses can be easily globalized in the modern age. This has opened ways to endless possibilities, and consequently, cash flow around the globe has also improved dramatically.
You might be sitting in one corner of the world, and within a day, you can receive your payments from the other part of the globe.
In this review, I will talk about one such payment gateway services. A lot of people are asking if Payoneer is legit. I will search for the answers whether or not this product is actually legitimate or if it's just another scam like many other online services.
I will try and drill down to the core to understand how this payment service works and what its pros and cons might be. Considering that it has a decent online presence, it is expected that we should get all the answers you need.
Payoneer Review
Summary
Name: Payoneer
Website: payoneer.com
Business Type: Payment Service
Price: Free to join
Star Rating: 4.0/5
 What is Payoneer?
If you own business which in some way or the other takes or provides services to foreign businesses, then you must be aware of the importance of a payment gateway.
Renowned names such as Money Gram, Western Union, and others are all such services which provide simple money transferring capabilities to the customers.
Payoneer is another such service. It allows the users to transfer and receive money locally and internationally. It offers a wide range of tools and features that can make your money transactions safer, secure and fast as well.
It offers low-cost transaction solutions which make it more convenient for the customers to send and receive payments to other businesses or individuals.
It's an attempt to make the flow of money smoother and efficient around the globe so that businesses can progress at a rapid pace.
Payoneer – A Brief Introduction
Payoneer is a payment transfer service with which you can send and receive money in different currencies. It works with more than 150 currencies and is available in more than 200 countries of the world.
There are several payment methods available which allow the users to select the most suitable option for them.
To give you an overview, here is what you can do with Payoneer.
Track your account balance and payments.
Access transaction history right from where it all started.
Monitor transaction fees and foreign currency amounts.
Select whether the recipient or the payer will pay the transaction fee.
Use multiple payment methods such as bank transfers, Prepaid MasterCard or e-Wallets.
Pay through your Payoneer account regardless of the fact that the recipient holds a Payoneer account.
There is a lot of versatility in the tools and features. It allows the users to select the most suitable payment methods for their business.
Joining is straightforward, and you can start sending and receiving payments in no time. There are automatic payment collection options also available to help you receive money anytime and anywhere.
Summary  Overview
Payoneer Review
Summary
Name: Payoneer
Website: payoneer.com
Business Type: Payment Service
Price: Free to join
Star Rating: 4.0/5
Payoneer Pricing
Payment processing with Payoneer becomes really efficient and profitable. You can register at the official website for free. This is just to get you started with the features and available tools. Here are the details regarding how pricing is distributed:
Free online payment receiving from other Payoneer users. It works for Dollar, Euro, Yen, and Sterling.
For bank account holders in UK, US, Europe or Japan, you can avail the global payment service for free.
Direct payment services are available for 3% on credit cards and 1% on e-Checks transfer.
A Quick Look at the Features
Payoneer's solutions for cross-border payment appear to be trustable. There are a variety of features to talk about and here are some of them:
Standard Compliance and Adherence:
Payoneer ensures that your payments are all secure in every possible way. All your money transfers work on standard procedures which can be audited and traced to the core. The system is secure to ensure there are no mishaps later.
Quick Collection of Funds:
Regardless of which currency you might have, Payoneer will allow you to receive payments instantly. It has a convenient and hassles free collection system which eases the operations for customers.
Low Fee:
By making use of the state of the art transaction procedures, customers can save up to 71% of processing fee. It gets rid of some unnecessary and rigorous processes to make the process smoother.
Professional Support:
If customers get into any sort of trouble, there is a professional support team always available to help them out.
A Word on API and Integrations
Payoneer makes use of some popular apps and online services. It integrates with top apps such as  Hub staff, Xero and works with Google, Amazon, Airbnb, Fiverr, Lazada and Taboola to ensure quick and safe delivery of money to all parts of the world.
Payoneer Pros
Because this service appears so efficient in so many ways, one can expect several advantages from Payoneer. Here are some of the best advantages you get with this service.
Provides a US bank account so Amazon can pay you through this account (good for non-US based affiliates)
Will issue a Payoneer Prepaid  MasterCard you can use to withdraw or make purchases. (your Amazon commissions are loaded on this card)
Free Payoneer to Payoneer account transactions (business to business only).
Funds transfer to third parties can help you pay and charge non-Payoneer users.
You get access to full payment history and transaction records
The capability to decide the payor for transaction fee makes your deals more transparent.
It is available worldwide so you can transfer to any place and in almost any currency.
There is multilingual support available to help the Payoneer users with their possible issues.
 Payoneer Cons
There are not too many cons of this website. In so many ways, it comes across as a complete payment processing package which is why it has a good market value as well. However, there are one or two glitches that I have observed:
It can expand on the credit cards as it supports just MasterCard at the moment.
It doesn't have an open API so integrating your business apps can be a problem.
Customer response rate can be much faster.
No transfer of funds between individuals.
What Users are Saying about Payoneer
The general customer response to Payoneer has been quite good. Most of the Payoneer users have given it a thumbs-up and in fact, recommended this product for use.
Some users have also pointed out a few weak links in this product which can be improved.
Users suggest that Payoneer has helped them with their online and international transactions. One user suggested that it was more convenient for her to pay for online platforms such as Amazon and Ali Express.
Another Payoneer user said that this service is quite reliable. There is no restriction on the amount of money you wish to withdraw, and it is quite cost-effective.
They said that they normally use it for shopping and so far they haven't had any trouble with this service.
One of the only drawbacks most customers have talked about is the customer service. Users suggest that it take a long time before they receive a response to their queries.
Besides that,  major complaints are inexistent regarding this service which suggests that it's quite reliable and efficient.
 It Is Popular?
Payoneer has a good position when it comes to user reviews. However, to further clarify how effective this payment service actually is, we will now take a look at what neutral platforms and reviewer sites have to say about Payoneer.
Alexa suggests that Payoneer's recent performance has not been the best. However, when we look at the overall statistics, it makes a great reading.
Payoneer ranks among the top 2000 websites around the globe. A good percentage of visitors for Payoneer come from the subcontinent region.
According to SimilarWeb, Payoneer's Global rank is lower as compared to Alexa's rankings. It ranks among the top 4000 websites which are still not bad figures at all.
In the last month, it has had more than 9 million visits with an average of 5.82 pages per visit. Its users are continuously growing especially in the subcontinent part of the world, and the majority of its visitors come from Pakistan.
 Conclusion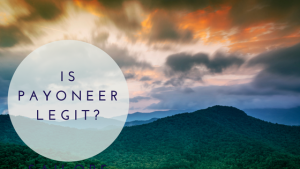 From the outset, Payoneer looks like an authentic payment processing and money transfer service.
It is operations in more than 200 countries of the world, and its multilingual and multi-currency features make it an appealing service for all.
There is very little to criticize about Payoneer's services and the fact that it can help you track the fund's history and transactions make it a transparent and trustworthy service, especially for businesses.
Bigger transactions can be safely made through Payoneer, and if you ask us whether Payoneer is legit, it's a YES from my side.
I am personally using it and I love the service.
Join here to get your $25 bonus once you receive the first $1000 in your account. Join Now!
Feel free to ask questions, post comments or subscribe to my email list so you will be the first to receive updates and offers.
Payoneer Review
Summary
Name: Payoneer
Website: payoneer.com
Business Type: Payment Service
Price: Free to join
Star Rating: 4.0/5