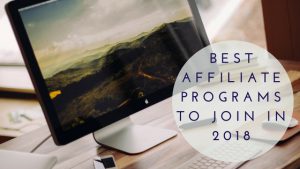 The best affiliate programs to join are those that offer good affiliate commissions, good affiliate training program and it should be popular with your niche audience.
There are some affiliate networks online, and it is up to you to filter them and avoid those platforms that are not desirable to your readers.
I made a list here and hopefully will give you guidance on which ones to join.
Quick Topic Navigation for Contents of this List
Please click the topic to select or scroll down.
Wealthy Affiliate
If you are a new affiliate marketer or somebody who wants to start, Wealthy Affiliate is the best route for you. The reason is that they have a right training program on how to be an effective affiliate marketer.
They also have a massive community of online entrepreneurs that you can ask whatever questions you may have regarding the business.
They have good free hosting with free SSL, and you can start for free without the need of credit cards. You will have two free websites to start with a free starter membership.
This platform is unique from the other sites that tend to give training that is centered on promoting their product. Here it is different as you have a choice if you want to promote Wealthy Affiliate or not.
Wealthy Affiliate has one of the best affiliate programs available online as it offers recurring commissions. It is not an MLM business which means you will only earn commissions from your referral. They pay via Paypal and payday is every first of the month.
It will teach you how to become affiliates of other programs like Amazon, eBay or just about any affiliate program available online. The training is also applicable if you do not want to go the affiliate route.
You can also have an online store, or you have your own product that you want to promote on your website. Even the free hosting can be turned into a business by offering it to your clients for a fee.
Please click here to read the full Wealthy Affiliate review.
Amazon
It is known as the empire of affiliates. It is the biggest affiliate program in the world. A lot of affiliates are making a lot of money through Amazon. It is free to join, and it is very known so you will not have a problem promoting their products.
The good thing about Amazon is you only have to drive customers to them as they will do the selling for you. They have billions of products and once enrolled you are an affiliate of a lot of products or brands.
It is also a good thing to note that once your customer, (a visitor in your website ) enters Amazon, you will get commissions not only on the product you promote but whatever they buy, you will have the commission as well.
You will need a website with decent traffic to be approved by Amazon. Wealthy Affiliate has a lot of training on how to be an Amazon affiliate.
Everybody knowsAmazon so the process of promoting their products is a lot easier for the affiliates. The materials needed for promotion are very easy to install on your website.
If the customer is enrolled in Amazon Prime, they can still avail the service even if they purchase the product through an affiliate link. They pay by Direct Bank Deposit, Amazon Gift Check or they will send a check to your location.
Click here to read the full review.
eBay
eBay is one of the biggest affiliate programs aside from Amazon. They are almost identical, even their commission structure.
It is not as big as Amazon, but you should consider joining this platform as there are products available here that is not available elsewhere. It is also easier to get approved compared to Amazon.
It is a good affiliate program to join once you started your website. They pay by PayPal which is a lot more convenient than Amazon's check and direct bank deposit.
They have millions of products that could cater to any niche you might have, and the good thing is they have a global shipping program which is not available on Amazon.
Please click here to read my post How to Make Money From eBay Without Selling Anything?
Jaaxy
This keyword tool is already integrated with Wealthy Affiliate, and it is one of the best keyword tool available in online. Although you are automatically an affiliate once you join Wealthy Affiliate, this keyword tool offers recurring commissions too.
You do not have to promote it inside Wealthy Affiliate because your WA  referrals are also your Jaaxy referral. The Jaaxy Lite with unlimited searches comes free with the WA premium membership. Once your referrals upgraded to Jaaxy Pro, you will get a recurring commission.
You can also promote it outside WA. It is only available with the Jaaxy starter membership with 30 free searches and the Jaaxy Pro which they have to upgrade.
Click here to read the full review.
Aweber
This autoresponder will bring simplicity and efficiency to your business as it removes the need for manual responding of emails to your potential customers.
Since it's a generic tool that most businesses can easily acquire, it has scalable features that fit any business size and structure.
It is a handy tool, particularly for smaller and medium-sized businesses.
Bloggers and entrepreneurs have a liking for this email service because it enables them to market their product to a broader audience and potential customers.
Currently, it serves more than 100,000 businesses available in most parts of the world. An email automation service is not too complicated a software service, and AWeber isn't too different.
It makes quite an appeal to local and international businesses to efficiently deliver the right information to their customers and partners.
You can make use of flexible features, email templates and tracking options to deliver your message across different channels efficiently.
It makes audience targeting easier so that you can make more customers in short time.
Click here to read the full review
SEMrush
If you're looking for a website tool that offers keyword tracking, quality backlink checking, and research. Semrush is just the tool you need today if you wish to see where you stand among your competitors. The blogging world has revolutionalized ever since the introduction of Google Panda in 2011
Creating quality content is the priority, and one has to incorporate all the related features that can help you create quality web content since keywords hold an active place in SEO,
Anything short of this process is disastrous to your business. SEMrush will have everything done for your content optimization with a clean and intuitive dashboard,
SEMrush is a keyword tracking tool that gives you the most accurate information regarding keywords. Top search engines such as Bing, Google,  and Yahoo can be targeted with the most searched keywords when you are creating a piece of online content.
You can even track keywords which are being searched in a particular country using some exciting features such as Geo-targeted keywords.
A complete and comprehensive software module has added features such as website rank tracking. SEMrush is all set to provide you the ultimate SEO experience for efficient content optimization by having more than 40,000,000 domains with more than 120,000,000 keywords available in the database.
This darling among professional bloggers has an excellent affiliate program you can join.
Click here to read the full review.
Human Proof Designs
You may have noticed that whenever you look for something online, Google gives a series of recommendations.
Now, your website needs to be on that top first set of Google's suggestion and rank higher than the competition. To Build an affiliate website and posting quality contents in it is not enough to generate visitors.
Imagine, the internet is the most comprehensive database of information, and you need to make a name and impact of thousands of competitors.
You need to have an edge in some ways, which you may need Human Proof Designs pre-made websites. For those who are just starting, you need professional help to get the job done QUICKLY, EASILY and EFFECTIVELY.
Their sites are crafted to jump-start your online marketing business by eliminating all those mistakes that could waste your precious time.
What you will get is a ready-made professionally built website and with the potential to rank high in the search engines.
They have already passed the sandbox period of Google, so it is good to go.
Aside from the quality websites and website contents they offered, they also have an excellent affiliate program you can join.
Click here to read the full review.
Shopify
Shopify is a robust online platform that can address the needs of any e-commerce business. It is a solution designed for online shopping stores, online sales platforms,  and even mobile selling sites.
Simply put,  Shopify can be useful to an online business which is in any way involved in sales, in addition to managing its sites.
However, as other sales businesses took a liking to this software, Shopify was then commercially introduced with loads of newly added features.
A lot of e-commerce website owners and those planning to set up one can call this a blessing. Shopify has a set of features that will bring smoothness to your sales process.
It also has an excellent affiliate program that you can join.
Please click here to read the full review.
Trunited
It refers itself as "socialized commerce" in which they collaborated with companies that pay to have their products promoted.
It is even better because a number of the sellers that this company has partnered with are the ones which people have frequently visited and purchased a number of their everyday products.
When these individuals become members, they can buy the products at a lower price. They can also enroll in the affiliate program to earn commissions.
The question remains though, how does a free to join website stand to make its members money? Well, this company works as a unique version of affiliate marketing, where a user's browser cookies are tracked, so they receive commissions when a sale is made to a partner retailer.
They are also into the process direct selling of highly discounted products to its members, and then all the profits are then shared among members thru what they call as revenue sharing.
One good feature about this website is that they are not operating under the MLM business model. 
Each month, after all of the site's profits, are paid back. One hundred percent of the leftover money goes back to the platform's user base which they call as revenue sharing.
As the sales video on the site explains, the money will not go to middlemen or the already overpaid executives; rather it goes back to the members who helped in bringing traffic to the site.
Keep in mind that this method is a different affiliate program, meaning that the commission a person makes is not solely based on their purchases, rather it is more so based on the purchases made by the members under their referral.
Click here to read the full review.
This is just a partial list and will be updated from time to time.
Thanks for reading,
Den