Hi,
Welcome to Quit That Day Job. I created this website to help people quit their day jobs and find full-time income online.
I also would like to warn everybody about the scams online and I am recommending programs that helped me in my quest for financial freedom.
I may have the solution to your problem regarding making money online, so if you are on the same path with me, let's do it together.
There are situations where you want to quit your job even though you do not hate it. I have a well-paying job in Aircraft Maintenance, and it has excellent travel benefits.
I have a beautiful house near the ocean which is paid for and funded by my salary after long years of employment. I couldn't have asked for more.
What I hate about my situation is that I am working overseas and being away from my family for periods of time is tough for all of us.
I always wanted to be financially successful while having a lot of free time with my family and do the things I wanted in life.
After a lot of research, I found out that the internet has so much to offer and I am glad I found Wealthy Affiliate.
There are so many opportunities online to be able to earn a full-time income and as a result, I am now in the final process to quit my day job.
The reason why I created this website quitthatdayjob.com is to share my knowledge about online business to help people to achieve their financial goals in life. 
 Update January 21, 2018
Wealthy Affiliate Ended my Career in Aviation!
After 20 months as a Wealthy Affiliate member, I finally quit my job to do full-time offline and online businesses. I could never have done it without Wealthy Affiliate.
Please click on the image to read my post in Wealthy Affiliate.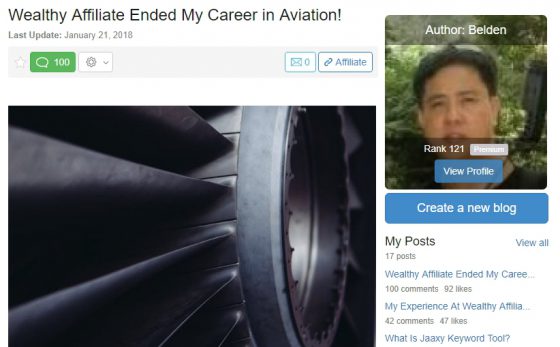 Again I am Den, it is wonderful to meet you and if you need anything do not hesitate to contact me. Drop me an email using the form on the right of this page, leave comments or visit me so I can answer your questions directly at WealthyAffiliate.com as it is where I hang out with my buddies most of the time ( my profile page )
Your friend,
Den