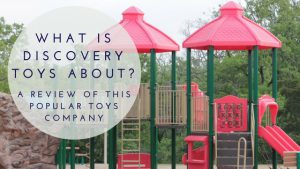 Welcome to Discovery Toys Review. This is my review of this popular toy company selling specialized toys to enhance kids' development.
I am not an affiliate of this company and I consider this as legitimate and anybody can make money by joining.
After reading my review, you will learn a lot more about this business and more.
Discovery Toys Review
Summary
Name: Discovery Toys
Website: discoverytoys.net
Founder: Lane Nameth
Price: starting at $79 (discounted)
Business: MLM/ Direct Sales
Rating Stars: 3/5 Good!
Table of Contents
What is Discovery Toys?
With the recent rise of technology in today's society, there is no wonder that a lot of parents are starting to get wary about how much their children are exposed to these advancements.
Luckily, there are services like Discovery Toys, which provide young ones with appropriate materials with the aim of helping their development.
This platform dabbles in direct sales, meaning it assists in saving its clientele money by cutting out the middleman.
They specialize in selling children's educational toys due to their belief that a child's learning is of paramount importance.
Since its launch, it has given jobs to thousands of sales consultants to sell the company's products in what is known as a "party plan" scheme.
How Does it Work?
Various products are showcased at social gatherings, and if a person likes what they see, they could also purchase these goods at the same event.
Those who work for this program are given the opportunity to be their own boss and work on their own time, as many others aspire.
However, perhaps one of the biggest drawbacks of this company is that it only hires prospective members based in the United States and Canada according to the company's official website.
Aside from that, this job seems to be a good fit for those wanting to work from the comfort of their own home, especially for those just starting out in this line of work.
This site also offers what they call "Success Start Rewards Plans," which help their workers easily achieve their income goals.
Those who work for this platform will then be tasked to sell these items to generate a profit.
They can do this through selling to acquaintances, setting up shop at social gatherings, or any other method their heart desires.
Their starter kit serves as their introductory offering and supposedly includes everything a sales consultant needs to get started with their work.
This is perfect for a person who wants to test out the waters first with this service before investing a large sum of their hard-earned money into it.
Aside from including some of the company's best selling toys, it also has the website's deluxe toy for the month that the user signed up as well as the next.
Pricing
This kit does not only include toys to sell, but also full consultant privileges on the platform and other essentials one may need to jump-start their marketing career.
This kit is being sold at an introductory price, which includes a $10 discount, of $79 US or $109 Canada; delivery is included in these aforementioned price points.
Up next is the company's business launch kit, which aside from the necessities, also includes access to boot camp-style training videos, which may teach a few tips and tricks to hopefully boost sales, as well as specialized training cards for easier access.
This set involves everything found in the starter kit as well as five additional top-selling products at a price not that much higher.
However, for people still learning the tricks of the trade, it still may not be advisable for them to invest this larger sum of money if they are unsure of whether they convert this capital into profit.
A deluxe website will also be provided for the month that the member invests in this tier so that they may market their products beyond their physical capacity.
The price for this has supposedly been marked down by $20 to $139 US or $179 Canada, with the delivery charges already included.
Last but not least is the business builder kit, which is the priciest, but may also prove to be the most bang for members' bucks.
This set has everything included in the launch kit as well as a whopping 20 additional best sellers.
Not only that, but this launch kit also includes logo items that help in promoting a member's business as well as "Crisis in Play" cards, which are aimed at helping promote one of the children's most basic rights, that of being able to play.
A deluxe website is also included in this tier, but aside from being available from the month of signing up, it is also given for free for an additional six months.
This plan is priced at $369 US or $469 Canada, with these prices already including a $30 discount to both currencies as well as delivery charges.
Then again, it is important to remember that a person without much prior experience in this line of works should first think long and hard about investing so much money without guaranteed returns.
Another good thing about this toy company is that it provides its members with a platform upon which to host their very own parties to promote the products they are selling.
Through the company's hosting program, they hope to help parents and other interested parties learn more about the products they currently have on offer as well as those that are currently in development.
Hosting parties on this platform also give members the added benefit of receiving rewards such as free products and sizable discounts.
The products received for hosting parties are usually seasonal or based on a theme, so they will usually be able to pique most children's interests.
This site also has a page dedicated to showcasing how children interact with and enjoy their products.
Make no mistake, as these videos do not only feature one or two toys, rather this part of the site is filled with multiple pages of toy demonstrations.
These videos could serve to be instructional, while also working well as promotional material, allowing parents to see how effective the products actually are once they are put into action.
Unlike some similar platforms, this company has a clearly indicated return and warranty policy, which puts it clearly above the rest.
It is even possible to get new return labels for products if the original ones were misplaced.
Replacements done under the company's warranty policy are free of charge, but obviously, excludes products that were damaged due to misuse or improper handling.
Like these previously mentioned policies, the ones for privacy are also fairly transparent.
Members can rest assured that the information they provide will be kept safe and will not be used for purposes other than those specifically stated and agreed to upon signing up.
At a Glance
Discovery Toys Review
Summary
Name: Discovery Toys
Website: discoverytoys.net
Founder: Lane Nameth
Price: starting at $79 (discounted)
Business: MLM/ Direct Sales
Rating Stars: 3/5 Good!
Fun for Everyone
Perhaps it would not be difficult to sell the products from this company as they are plentiful and split nicely into different categories.
For example, they have toys build for construction play, which aims to teach children how to "fit parts into meaningful patterns and structures."
Another category that may be of interest to both children and their parents alike is that of science play, which allows kids to "observe, compare, invent, experiment, and theorize," which helps in building up their cognitive skill set.
Other categories of toys this company has on offer include, but are not limited to sensory play, motor play, social, emotional play, logic play, and make-believe play.
Aside from breaking up play into categories, this platform also offers children with special needs specialized toys to enhance their play experience.
They have toys that help develop an independent play, while others assist in promoting sustained engagement.
There are also toys that were developed for the purposes of building cooperative play skills, while there are also those dedicated to helping children talk about their play experiences.
There are toys on offer with specific completion criteria to help kids with difficulties sustaining task attention, and there are also toys that encourage pretend play.
Award-Winning Products
Parents and their kids are not the only ones satisfied with this company's products as a lot of award-giving bodies have also recognized them.
The toys have been featured multiple times on the best toys lists and best educational materials list.
Not only that, but these products have also been featured on the top lists of parenting publications such as Baby Magazine, Creative Child, and Parenting Magazine, among others.
These products have also received certifications from the National Parenting Center.
Unlike other online job platforms that claim to be world-renowned and boasting thousands upon thousands of members, this company has reviews from credible sources to back such claims up.
They have been featured in publications such as The Wall Street Journal and the Inc website.
Aside from these, their products have also been shown on the TV show "The Doctors."
This company is also known for its charity work, including donating thousands of dollars worth of toys every single year to Toys for Tots.
In fact, the amount of toys they have donated has totaled close to $2 million US to date.
One of the company's most popular products, Marble Works, has been featured on the Washington Post, as an amazing toy to use to teach the wonders of engineering and related fields.
As a matter of fact, this product is a rather recent addition to the company's product line, slowly gaining popularity since its expansion to China back in 2003.
Conclusion
This company is a  legit way to make money. There is no doubt that people can make money here. Selling toys is a fun thing and even a lot of grown-ups love toys.
There are people who cannot handle direct selling and they find it hard to recruit people or even to talk to them about an investment offer.
My Recommendation
It is better to have your own website, be an affiliate with large merchant websites like Amazon. If you really love to promote this very popular product, this is also available on Amazon. Click the image to see more information.
MARBLEWORKS® Marble Run Starter Set by Discovery Toys
Just be an affiliate, then post an affiliate link similar to this on your website. If people click on your link and buys the product you get commissions.
Not only that, if your customer is inside Amazon through your Discovery Toys affiliate link, and decided to buy something else, you still get that commission.
I sold a flat-screen TV on Amazon through the link in my review which is about coffee and coffee makers.
I sold a flat-screen TV on Amazon through my link in my review which is about coffee and coffee makers, just to show how awesome is affiliate marketing.
This is very much different than the website offered by Discovery Toys as they are tied up to a product. Having your own website gives you overall control over what business you may want to put up.
Affiliate marketing is one of the awesome ways to make money from a website as there is no recruiting, and you do not even have to face intimidating customers and no seminars to attend.
No need to look your best to impress customers and by the way, you can work in your pajamas too in your bedroom with a laptop.
I recommend that you join Wealthy Affiliate for free and hide your credit cards. You don't need them. I have written an article about how to utilize the full potential of the offered free starter membership.
Once you join for free,  the whole community including myself will give guide you on how to build your website and how to run an online business.
You may also visit me so I can answer your questions directly at Wealthy Affiliate.com as it is where I hang out most of the time with my buddies ( link to my profile page ).