Are binary options scam? One thing to avoid in the online world these days are the binary options websites. They have become popular over the past few years with new ones appearing all the time. The sites appeal to the same type of people who play poker online.
But they somehow have an aura of being more respectable because they represent themselves as offering a form of investing. These are gambling sites, pure and straightforward. It's probably just a matter of time before regulators move in on them. Until that happens, they seem to be doing great business.
What is Binary Trading?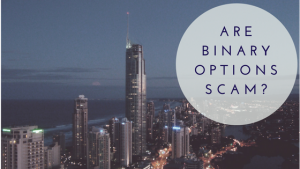 It is a kind of online trading where you select any traded commodity online. Then you have to bet if the price of that commodity will go up or go down. You can buy these options, which are also known as all-or-nothing options, digital options, or Fixed Return Options (FROs), on stocks, commodities, indexes, foreign exchange, and other derivatives. In fact, you can place a bet (which is what it amounts to) on just about anything that is publicly traded, depending on which website you use (some offer a wider range of choices than others).
Some sites provide free guides to binary options trading to get you started. You use dummy cash at first; then they will ask you to use real money. Some offer all or nothing options. If you are right on your predictions, you get it all, but if you are wrong, you get nothing. The problem is you won't get the same amount of your bet if you win. Some websites give you 70%  some as low as 55% of your bet.  Same as in casinos, it is very hard to beat the house.
Can you Make Money on This Investment Scheme?
A lot of people claim they do but a whole lot more lose their hard earned money. Personally, I would bet on one condition, I should win at least 90% on top of my bet, not 70% and surely not 55% as some binary options websites are offering. This is actually just like playing poker online. If you just want to gamble your money, you may like this kind of scheme, but if you are serious to make money then you should avoid binary options at all cost.
Conclusion
If you want to gamble,  do it in casinos, not in this online gambling scheme, which is called the binary options. If you want to invest online, try something that can be considered investing for your future. Real online business, require some work and some skills. The amount of money involved is so small compared to what you would be betting on the binary options.
Setting up an online business requires some training and a lot of community support. There is one platform that provides all the necessary training and provides community support. My recommendation as the real deal to make money online is Wealthy Affiliate.
Feel free to ask questions, post comments or subscribe to my mailing list to be the first to get the updates and offers. You may visit me so I can answer your questions directly at Wealthy Affiliate.com (my profile page)