My Azon Store Hub review.  The time has finally arrived for Amazon Affiliates to relax and have a web app to take care of everything from content generation, SEO, website building and design and so forth for only $27. So they claim, and I am sorry to burst your bubble.
What is Azon Store Hub?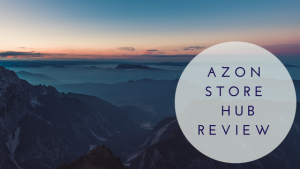 Azon Store Hub is a new cloud app that promises complete Amazon Affiliate website fully ready for SEO, fully built website and contents available at a click of a button. It claims to curate the most popular Amazon products, videos, and articles. It also claims it will add popular videos from youtube to provide unique content to your website.
Will it Make Our Lives as Amazon Affiliates Easier?
If all the claims are true, then it should. For $27 I will buy multiple websites and make a ton of money. I will not bother to write my own contents and SEO stuff. I will not bother to research what content I have to write on my website.
Are the Claims Valid?
I doubt so. If you check the video on how to set it up from the number 1 reviewer, if you pay particular attention you will notice that they are using subdomains. Then the website which is supposed to be the main website is not even built yet. It is a bare bones website.
If you are into affiliate marketing, you will know that a subdomain will not rank in Google or any other search engine. They offer done-for-you articles, which is a prelude to duplicate content.  Google will punish a website for duplicate content. If you watch closely, they also have a text spinner. Will they spin articles and item descriptions for SEO?
Conclusion
I believe $27 is nothing if I can have a website that they claim they can provide. The problem is, it is very hard to believe those claims. I am an Amazon Associate, and I am already seeing good results using the proven method which is content marketing.
I have been building websites myself, I am using the Genesis Theme which is one of the best premium themes in the market, and I am also using Thrive Content Builder plus other premium tools for my websites, and it costs money.
I went through arduous training in Wealthy Affiliate where I learned the skills for affiliate marketing, which I believe is the reason why I am getting good results.
I do all the contents myself, so as you can see I am investing both time and money. For me, this is the best route to success, and I am already having some success. If there is a shortcut out there, I'll be happy to grab it, but Azon Store Hub is definitely not the one.
I feel it is an obligation on my part to give honest information on my website to educate people and I will make an effort to continue to do so in the future.
Feel free to ask questions, post comments or subscribe to my email list to be the first one to get the updates and offers. You may also visit me so I can answer your questions directly at Wealthy Affiliate (the link to my profile page).