Can you make money with Global Test Market? The modern times have brought to man unlimited opportunities of earning money. The days that people had to work day in and out to make a handful of bucks to feed their families are gone.  You can earn a huge amount of fortune now with just a few clicks, and that too could be on a daily basis.
The internet being one of the major mediums of business in the modern world provides many opportunities to the individuals and smaller companies to earn money without doing much. One such example is paid survey websites. What you have to do is fill online surveys, and you can earn rewards and money online.
One such software is Global Test Market. It promises high rewards for online survey completion. However, a lot of people might still question: "Can you really make money with Global Test Market?" Well, we don't know it just yet, but by the end of this article, we are sure you will understand whether this software really works.
What's Global Test Market?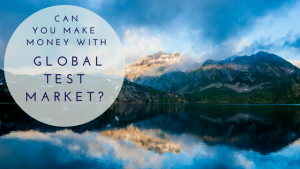 With Global Test Market, you can contribute to the market research on different products. The website gives you opportunities to make money online. All you have to do is try different products and give your feedback in different survey forms about those products.
While it all may sound quite attractive and worth trying, there is always an element of risk involved. Membership is all you need to the website, and it promises to pay you for your contribution. Your identity is kept confidential, and there are no advertising messages sent to you from any of the companies.
Considering that money making does need a bit of effort and smartness, doubts arise in a person's mind whether the service works or it's just a scam like many others.
Global Test Market – A Brief Introduction
 Global Test Market was launched in 1999. The web-based service aimed to boost product quality in the market by giving companies a platform where they can engage with their potential customers. The idea of online surveys was relatively new at that time because the internet was still in its early days.
According to the website itself, this web-based service is operational in more than 60 countries of the world having served thousands of customers so far. To give you a general understanding of how this service works, here is a quick look at what Global Test Market offers:
You can easily create your free account and take online surveys
Companies can ask consumers' feedback regarding their existing and upcoming brands
You will be a part of product development and research by providing your valuable input
Companies willing to test their products across boundaries can make use of this software and save a lot of costs.
Make use of social platforms such as Twitter and Facebook for surveys and product feedbacks.
Global Test Market Pricing
Most service providing websites these days offer their pricing plans on the official website. However, Global Test Market has kept its pricing confidential. The membership services are absolutely free but for the companies who wish to get their products tested and reviewed might have to pay the price.
To learn about the pricing details, interested customers have to get in touch with the website. This can go against the website because some customers might want instant information and the contact process takes time.
Also, it can create doubts in a customer's mind whether the services are really authentic or not.
 A Quick Look At the Features
We will go through some of the top features in this web service. It should give us an idea of how efficient this website can be to both companies and survey takers. There are not too many features in this web service to be honest. It could be probably due to the simple nature of services that it provides.
However, it doesn't send a particularly attractive message to the customers who are thinking if they can make money with Global Test Market.
Easy Participation
It's quite simple to sign up at the website. All you need to do is fill up a registration form which is a little too long for our liking. Just when you are registering, the website tries to determine the types of products you normally use to give you relevant online survey forms.
Market Point Earning
 For every paid survey that you take, you get market points as rewards. There are different online channels such as Amazon, UNICEF charity donations, PayPal, Kohl's and others. You need to complete the surveys to earn these rewards. Depending on your country location, the type of rewards can be different.
 Any More features?
 Sadly, there aren't too many other features available on this website. Normally, service websites get reviewed on the internet, but features for Global Test Market are hard to find.
 A Word on API and Integrations
 There is nothing related to integrations and API mentioned on the website pretty much like the features. Possible available integrations are Facebook, Twitter, Amazon, and PayPal.
Global Test Market Pros
The advantages that these web service offers are mentioned below. Effectively, these are almost all the advantages that you can get because of the nature of the service that it provides.
You may make a decent amount of money through the surveys.
The website is available in several languages so it can be used in many parts of the world.
The setup and registering process is easy and free of charge.
Companies wishing to get their products surveyed can save a lot of money that would have been spent on organic marketing of the products.
Companies can gather larger data in shorter time to help modify their product at a quicker speed.
Global Test Market Cons
There are quite a few questionable aspects of this website. Here are some of them:
There is a lack of information regarding pricing and features. This doesn't clear the picture and can pose doubts in a customer's mind regarding the authenticity of the product.
The website doesn't have much of a presence on neutral review platforms which indicates much about its popularity.
What are Users Saying about Global Test Market?
 Since there is a lack of information about this website, it becomes crucial to see how customers and users have reacted to it. It is probably the only fair indication of how the services really are at Global Test Market.
Some of the customers are happy with the services saying that they were able to get their redemptions on time. Some of them even recommended the product to other users.
On the contrary, there are quite a few complaints regarding services from this web. One of them complained that their redeemed gift card was invalid.
Another reviewer suggested that the information is not clearly mentioned on the website.
All in all, the reputation of the website is not overly positive nor negative. Therefore, a new user might think twice before using this survey platform.
Is It Popular?
To get an unbiased opinion on the website and to see how well it has attracted online users, we head to website reviewer sites. Since the rankings and traffic information is backed up by stats and figures, it gives a true and unquestionable information regarding the health of Global Test Market.
According to SimilarWeb, Global Test Market has done well in the recent past. Its ranking has increased to some extent. However, if you look at the trend of online traffic, the progress seems static. It is pretty much where it was six months back. In the previous months, the traffic influx was considerably low as well.
Alexa suggests that the Global Test Market's performance has gone down considerably in the last few months. Within a year, it has dropped down almost a thousand places in the world rankings as it sits close to 3000th rank at the moment. Within the United States, it ranks close to 3500 which is not the best of the rankings for a website which claims to have been in business for more than 17 years.
 Conclusion
It leaves a reader confused whether or not this website qualifies to the standards of a decently paid survey platform. The services which it provides seem to be quite reasonable and may be of good quality as well. The limitation is that there is a lack of information when it comes to the features and money matters. It was also pointed out by some of the users that the information lacks clarity.
On top of that, the reviewer sites for this website have also shown the red flag in the sense that the website's performance hasn't been too good in the recent times. So if you're still confused and are wondering if you can you make money with Global Test Market, I would politely disapprove.
There are a lot of other platforms out there which offer better information clarity and set of features. Until the time Global Test Market doesn't match them, it is better to avoid the website to save your precious time and effort.
My recommendation is Wealthy Affiliate as it is the only platform in the net that is offering real value to its services. It has a community of over 800,000 online entrepreneurs willing to help each other.
Feel free to ask questions, post comments or subscribe to my mailing list to be the first to get the updates and offers. You may also visit me so I can answer your questions directly at Wealthy Affiliate (the link to my profile page).