Do you need money to make money? In the offline business yes, of course, you need money to make money. You cannot set up a brick and mortar business without a capital. You are going to need a considerable amount of money before your business could even start.
You need to set up a place for your business. That costs a lot of money. Then comes the other expenses like equipment, employees salary and of course the capital for the product you are going to sell if it is a store.
Once this kind of business is running, you will easily have sales coming in no time. You just have to remember that you are still not on the upper hand yet unless you get your return on investment. How long? You are lucky if you will get it in one year. I have experienced that myself. It is nice to see money coming in every day, but the sad reality is it is not returning the investment amount yet. You have to wait for a long time.
Is there any option that is better than a brick and mortar business?
Yes, it is an online business. It is the only business wherein you only have to spend a small amount of money to get it running. For $49 a month or $359 a year you will have a legitimate business running. Return of investment? If you really work on your online business, in six months or so you will see results and probably all your yearly subscription is self-paying and you earn extra for yourself.
There are so many people that are really successful online, some earn their income full time as an affiliate, some become millionaires just by blogging. Take Pat Flynn for example. If we go further, the founders of  Wealthy Affiliate, Kyle Loudoun, and Carson Lim are millionaires. There are even members of Wealthy Affiliate that are well to do itself if not millionaires.
Where is the best place to start?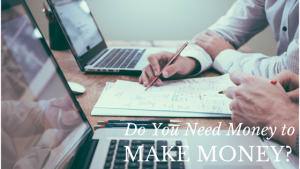 I am already seeing small success myself as of this writing as I am still approaching my eleventh month in Wealthy Affiliate. I learned to build websites and how to monetize my blog. One affiliate program I joined which is eBay Partner Network is paying for my yearly $359 in Wealthy Affiliate subscription through commissions. It is also paying the premium tools I am using on this website, and that includes this Genesis Platform and White Space Pro theme which is a  little expensive, but I really love. I learned to do this  The commissions I get from Wealthy Affiliate? This my biggest monthly pay in Wealthy Affiliate. That's already my money. If we talk about Return of Investment, I  already got it. I am not successful yet but I am seeing returns from my efforts.
Don't you think it is about time for you to start your research and investigate further this Online Community of more than 800,000 Online Entrepreneurs? Try to google Wealthy Affiliate and see for yourself if it is a scam. If you are convinced it is not a scam, isn't it time you try it? It is free to join and no credit cards required. You can even have two free websites to start with. So act now.
Please check this blog of Kyle titled It Takes Money To Make Money, the Fallacy.
Feel free to ask questions, post comments or subscribe to my email list to be the first to get the updates and offers. You may also visit me so I can answer your questions directly at Wealthy Affiliate.com ( my profile page)