Is Emergency Commissions a Scam? In this detailed review article, we will take a look at a money-making online service. Since there are hundreds of ways to make money these days, many online money-making schemes have popped up in all parts of the world. Users who wish to make easier money tend to make use of these services.
Like any business, there is always risk involved in these sorts of schemes. Not all websites are legitimate, and it has been seen in the past the users have had to pay a hefty price for using such software. One such service that we will discuss today is Emergency Commissions.
The web service claims to offer high profits while requiring the users to do very little work. The numbers which are presented on the website are quite astounding, and one is forced to question how a person can make so much money with minimal effort. Understandably, it creates doubts in a potential user's mind because it is not a free service and so, it is important to take notes of the 'ifs and buts' attached to such a business.
What is Emergency Commissions?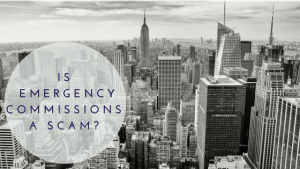 If you like taking part in web services which promise to offer a high amount of profit with almost no effort on a daily basis, then you might think about Emergency Commissions. The web service claims to help users make more than $200 every day by following just a few simple steps. You must be wondering if money-making was that easy after all.
According to the official website, you can start making money once you have set up. It says that you only need to work around 20 minutes every day to earn a decent amount. What's more surprising is that as you progress, your working time will reduce further.
What's interesting to see is that there is no proper indication of what kind of work a user will have to do online. One might argue that there are training sessions available, but for a new user who has no idea of what he or she might be in for, it is not likely that they will proceed with the setup because there is a sense of vagueness about the content on the website.
Emergency Commissions – A Brief Introduction
Lack of information is always a sign of deception, and therefore it won't help much the cause of this website. Emergency Commissions' authenticity is already under scrutiny even before we head to the features of this website.
However, the website does show a few health signs in the form of user reviews, the credibility and authenticity of which may still be a question, but at least there is some form of evidence. If you are wondering what you can do with this website, here is what Emergency Commissions offers:
• Make use of the step by step blueprint to getting instantly started with the service.
• Simply copy and paste web content to earn good money.
• Take help of online videos while working.
• Earn thousands of dollars in just one day without making too much of an effort.
• Start for FREE with a dedicated module.
• Access cheat sheets and case studies to help you along the way.
The amount of money that you can make with simple tasks is quite astonishing, and it can be a really attractive offer especially for newbies, but it's something that you cannot directly throw your hands at.
Emergency Commissions Pricing
According to the website, the prices for the products are going up every day. Therefore, today's prices may not necessarily be the same for tomorrow, and they are likely to rise. Also, users can make use of the most popular payment gateways and credit cards such as, MasterCard, VISA, Discover, PayPal and American Express to make their online payments.
• The regular price is $297, but as we speak, it is available for just $9.95. This is quite shocking for a discount and should ring bells in the minds of users.
• There is a 30-day money back guarantee also available for the users.
A Quick Look at the Features
Since there is nothing, much mentioned about how and what users have to do to make money, it is quite difficult to describe the features of this website. However, we have extracted the following points to give you an idea of what you are in for at Emergency Commissions.
Work For Just 20 Minutes: In just a matter of 10 to 20 minutes, you can make a huge amount of money with simple copy pasting. The website claims that the process is quite simple and therefore, even newbies can get instantly started.
Emergency Earnings: The website promises to pay you instantly. On a daily basis, you can earn good money. Therefore, you can take care of emergency expenses if everything goes right.
Online Training: You can get online training for the money-making through tutorial videos. There are case studies and cheat sheets also available so that the users can learn things quickly.
Emergency Commissions Pros
The website appears quite appealing to new users even when there are certain doubts regarding the authenticity. From what it offers to the users, here are some plus points of Emergency Commissions.
• Users will be paid instantly so that they don't have to wait for longer durations.
•  Money back guarantee is  30-days which can be quite relieving to the new users.
• The amount of daily work is only as small as 20 minutes, so there is a huge profit in terms of time and work.
• Make use of tools to convert more traffic that appears on your website.
Emergency Commissions Cons
There are several loopholes in this website. These drawbacks can create doubts in a user's mind whether the product is authentic or not.
• Information is not so clear as to what the users have to do in order to make money.
• The discount price and the regular price are way apart. It can easily be predicted that it's just a scam.
• The website's interface is not all that friendly with all the information on just one page. Scrolling up and down on the page can be a bit time-consuming.
What Users are Saying about Emergency Commissions
If you take a look at the official website, it seems like everything is smooth and profitable at Emergency Commissions. You will find that users have made thousands of dollars from this web service and that it doesn't require any effort at all. However, the truth may be quite different.
According to a user, the website doesn't open to its users how it really works until the users have bought the product. Secondly, users who wish to make a profit by turning their web traffic to customers will first require enough traffic on their website and responsive buyers as well. This web service cannot give you those buyers, and you will have to spend extra effort on getting them.
On the other hand, the reviews at the official website suggest otherwise. However, there is always a hint of biasedness which is why it is not the best place to judge a web service.
It Is Popular?
The best idea of the authenticity and legitimacy of the website should come from neutral platforms and website reviewers. We will really take a  look now at what these platforms have to say about Emergency Commissions. The numbers you are about to witness should pretty much clarify why Emergency Commissions is not the best place to put your money on.
According to SimilarWeb, Emergency Commissions only had around 29K visitors last month. Previously, it had more visitors (around 75K in December). The number of visitors hasn't been great since then. Its global rank is beyond 1,300,000, and the country rank is not too promising either. It pretty much tells why Emergency Commissions has such a dodgy reputation.
Alexa suggests that Emergency Commissions has the most number of visitors from India. Its global rank is way below 750,000, and it continues to decline as we speak. The bounce rate has also increased quite a bit and other parameters such as daily time on site and pageviews per visitor are also not too promising for the website.
Conclusion
As per the discussion and findings in this review, it is quite evident that Emergency Commissions has a dodgy reputation and it has several question marks on the authenticity of its services. Although money making has become easier in these times, it's still not that simple as the website suggests.
There is a lack of information and signs of deception at the website which can put off potential customers. Also, there isn't much evidence of whether customers really get their payments regularly. Therefore, if you were to ask us if Emergency Commissions is a scam my answer would be YES. There are a lot of other authentic services you can turn to.
Feel free to ask questions, post comments or subscribe to my email list, so you will be the first to get the updates and offers. You may also visit me so I can answer your questions directly at Wealthy Affiliate (link to my profile page)