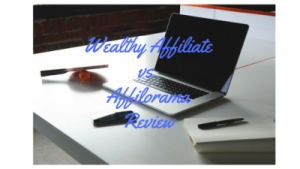 My Wealthy Affiliate vs. Affilorama Review. Wealthy Affiliate and Affilorama are very similar. They offer both free membership and premium membership although they differ in some aspects.
Wealthy Affiliate University was founded by Kyle Loudoun and Carson Lim in 2005. Mark Ling founded Affilorama in 2006, which means both have a long and consistent background in online marketing which is something I always look for when I'm thinking of joining any sort of online training program.
Unfortunately in an industry that is, full of fly-by-night guru scam artists who are constantly screaming about the latest secret formula for making money online one day and then disappear the next day (normally with your money in their pockets!).  It is a welcome change for individuals to find a couple of genuine affiliate marketing training programs and communities out there that really deliver what they promised and have been around delivering their products for almost ten years now.
They both offer free starter memberships and "Premium" paid for membership levels.  The premium membership at Affilorama is more expensive at $67 a month and what you will get on both the free and the premium memberships does differ quite a bit.
 I choose to stay as a free membership with Affilorama and went premium with Wealthy Affiliate, as  I'm not convinced that it is worth the extra $20 a month, but I'll cover that a bit further.
First I want to compare the differences between the two memberships.
---
Wealthy Affiliate vs. Affilorama
Wealthy Affiliate
Free Membership is totally free you do not need credit cards to join

You will have two free websites as a free member

Premium members will have free SSL Certificates on their websites.

There is LiveChat

Weekly Webinars for constant updates.

Comprehensive Training on Affiliate Marketing.

Search Engine Optimization Training.

Keywords Research Training

Website Building Training

Video Training

Additional training provided by members

A community of over 800,000 active online entrepreneurs willing to help each other.
---
Affilorama: The Membership Overview
Affilorama Membership has different levels and different products to choose from starting from the very basic level to the far more advanced options that feature several plug-in tools.  Unlike many affiliate programs that simply do not evolve, Affilorama is different.  It is one of the better products in the online marketing industry for keeping up their standards (although they do not do a perfect job) and within this review,  I will be going through the program along with the many "upsells" within this affiliate marketing product.
Affilorama is an online community dedicated to affiliate training, started by Mark Ling in 2005. A successful merchant who owns products like "Jamorama" and "Rocket Piano", Mark Ling set out to created a platform that would train his affiliates on these respective niches.
I will go into detail discussing the different aspects of the membership but let's have a  look at first the positives and then the negatives of this program.
---
The Pros and Cons of Affilorama
---
Pros:
Easy to follow educational resources that include software applications

Access to one of the largest affiliate marketing communities online

Free membership option allows you to explore the basics without investment

Payment options for the Premium Program has a three-year payment plan for convenience

Mark Ling, the owner is a very well respected individual in the industry.
---
Cons:
Too many options can make choosing the right program confusing

The basic program is limited compared to the free programs available online.

Some misinformation (and harmful) training to your business

Program costs will become really expensive once you start adding the additional "offerings" & upsells

Your "support" is handed off to a support team; you don't get to connect with Mark directly.
---
Is Affilorama Program intended for advanced users?
As there are a lot of levels to choose from and training at each of them, Affilorama is meant to be useful for anyone who wants to make extra money online as an affiliate marketer. The training in Affilorama is geared to cover everything, from the fundamental website building to more advanced online promotional techniques.
It is not required for someone to have ve prior knowledge to website building, hosting,  content management or marketing. The training is based on the knowledge of an experienced affiliate marketer, Mark Ling. Having an excellent track record of not only just being a merchant but by promoting his own products and services himself.
---
The Training in Affilorama
Affilorama's training starts with the usual basic program which combines videos and other online tools to follow step by step. There are software applications that can be utilized as well, site ranking and analysis tools.
The Affilorama Premium level offers additional training, interviews with various successful Internet Entrepreneurs, and the boot camp videos. The Premium  Level also includes content which has been created for your chosen niche.
There are additional tools which include the Affilorama Jetpack which is a  hosting package and customized website creation and Affilorama Theme which is also an another version of that service.
These are discussed in much more detail below.
---
Support From Mark Ling Inside Affilorama?
All levels of Affilorama training have the support from the community of members; many are free members.   Most of the times,  someone will be there, but not all the time someone will be there to give you direct support.  The nature of the forum allows for "delayed" support and sometimes it can take a few days for your query to get responded.
Sharing discussions, questions and comments within the community are via forums and message boards.  Mark Ling sometimes will join in on the discussions, but you can not expect a timely response from him (if at all) if you will post questions.  He is a very busy person, and at any given time he has a lot of projects going on.
---
How Much Does Affilorama Cost?
This subject is where it can get a little bit confusing as Affilorama has a lot of different product offerings and upsells within their program.  This part is something that I do not agree with this simply because I believe that when you pay for a particular product, you should get access to everything.  These products are quality, but these are inferior and more expensive than my recommended product for affiliate marketing training programs.
I am going to elaborate here what is included within the different products and outline their different price points.
Affilorama Premium Membership($67 per month)
The Premium Membership at Affilorama is their core offering (month to month billing at $67 per month). This membership package includes training, software, limited hosting, and forum access.
As you can see from the above photo, the included Items are the Affiliate Training, Blog Bootcamp, Premium Tools, and Website Hosting.  Some of this training is excellent, although there are some critical "training" flaws in the offering at Affilorama Premium membership that can adversely impact your business.
The first item is the emphasis of Link Building within the Blog Bootcamp.  In fact, 1 of the four boot camp lessons is dedicated to training you about outdated backlinking strategies.  That is 25% of the entire course.
Backlinks can put you in a lot of trouble with Google Search Engines these days. This strategy may have worked in 2012, but it has long since lead to people losing their entire business and rankings online. This outdated misinformation will ultimately lead you to failure if you follow it and that is never something I would like to see. With every Google Panda or Google Penguin update, more and more websites that put ANY emphasis on backlinking strategies vanish from the search results.
The second potential issue I have with the Premium Package is their promotion of the idea of PLR (Private Label Rights) content which you get 30 new PLR articles every month, as being worthwhile. This idea is also an old and wrong strategy that will lead you to content marketing failure.
This content is a duplicate, and if you even consider putting any of it on your site, you will lose all rankings. Also, it is an outsourced content which means that it will never have the same impact with the content you create.  PLR could have been ok back in 2010, but not this year and using it will adversely impact your business.
---
The Affilorama Premium Tools.
The Premium Membership has 15 tools which are inclusive of the package, some are useful and some that will provide you with absolutely meaningless data.  For example, there is a Trusted Site Tool which analyzes the Page Rank within Google Search Engines (also known as PR).  Page Rank, however, is an outdated metric and in no way indicates whether or not a site is "trusted" in the  Google Search Engines any longer.  It is apparent that the community is not updating the "tools"  fast enough to be on par with the speed that the affiliate marketing/internet marketing world is evolving.
---
The upsells
Affilorama is promoting several offerings or "upsells" which I think is a bad idea.  Personally, I  think is that if you are paying $67 per month, you should get access to everything and all of the tools, but you be the judge. The $67 price point is also a lot higher than more cost efficient services that are available to you as a starting affiliate marketer.
Upsell #1: AffiloBlueprint 3.0 Membership ($197, then $67 per month)
This package includes thirteen lessons, eighty-five videos covering topics from affiliate marketing, niche marketing, and research, free traffic methods like Search Engine Optimization, Pay Per Click via Google's content network, and six WordPress themes that are geared towards PPC than SEO.
Following this is an upsell for you to join Affilorama Premium. You will then have to pay the additional $67 per month Affilorama Premium if you want the extra support and help because AffiloBlueprint does not come with any support.
Upsell #2: AffiloJetpack Membership ($497)
This membership is a  high ticket "niche marketing" package that Mark Ling has created to guide you on how to promote his products and services.  These packages contain some useful information, and within this membership, you will have access to the following:
You can choose  Five Niche Packages (out of the ten available)

15 Newsletter Email Series, one per niche

Three e-books, three  per niche (these are intended for free reports)

Access to the  Affilotheme

Graphics for each niche

20 Private Label Rights  Articles
This method is a great way for Mark to train you how to become his affiliate (and earn him, more money).  This service should be included in the membership since he does have a motive and he is going to benefit out of your efforts.  Nothing wrong with offering this sort of set-up, but something that probably should be included in the membership in particular because of the high price point. These packages do seem to be a bit dated concerning their offerings, and at $497, they are vastly overpriced.
At $497 you do need to decide whether or not this is worthwhile to you as you could get access to very accurate and useful alternatives in the online world for a whole year for a fraction of this price.
Upsell #3: Affilotheme ($97)
The last major upsell you will be approached with inside  Affilorama is the Affilotheme.  This theme is a WordPress theme that comes with supporting training showing you how to use it properly. It also comes with one-year free hosting, beyond that you will be encouraged to join Affilorama Premium to maintain your hosting.  I do love the fact that they have piggybacked the WordPress content management system because it is barred none, the best out there.
Here is what is part  of the package:
Private Members Only Forum

Affilotheme WordPress theme

Training videos on how to use it

One year of hosting

Graphics Creation Tool
Affilorama Premium is just the fundamental component of the offering inside of this system, as seen here.  If you take up all of their offers, you will be looking at spending $791 + $67 per month for the Premium membership. This cost is something that you need to consider before getting involved with the training.
---
My final opinion of Affilorama
This is an excellent product which offers a good deal of tools, training, and support.  Although I may be a little critical of just a few different aspects of their system, Affilorama and Mark Ling are one of the more legitimate groups within the industry. He is one of the good guys of the industry.
However, because of the numerous of upsells and some things that could potentially be classified as "misinformation" or "outdated"  training techniques, it can be confusing for the beginner on where to start. This program should be taken with a careful and well thought out plan of action, and you should be starting with the very basic (Premium Membership) if you ever decide to join and then adding the additional tools and products if you feel comfortable enough and have a suitable budget for it.
---
Conclusion.
It is up to the individual whatever platform they will choose. I just want to point out here the differences between the two platforms.
Feel free to ask questions, post comments or subscribe to my email list to be the first to receive updates and offers. You may also visit me so I can answer your questions directly at Wealthy Affiliate.com as it is where I hang out with my buddies most of the time.( link to my profile page)