Is iPoll a scam? Let's find out. Earning money is not a big problem these days especially if you have the right resources up your sleeves. With several online tools and websites, it has become remarkably simpler to make money without actually doing much. With just a few clicks and taps, you can earn valuable money in your free time.
Students and youngsters have a general liking for these types of products because they can support themselves financially. However, everything comes at a cost and these web services have a price too. On the one hand, where they can pay you a pretty penny, they can also put your money and a lot of your time and to risk if you choose the wrong service.
With so many services out there these days, it can be difficult for a person to figure out which of them is legit and which ones are to be avoided. In today's discussion, we will take a look at one such service which offers to pay well but may be a suspicious brand.
iPoll formerly called Surveyhead will be put under the scanner as there is a lot of talk about this service being a scam and fraud. We will dig deep into finding out the reality.
What is iPoll?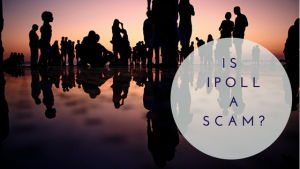 iPoll, formerly called Surveyhead is a web-based survey platform which offers its users a good amount of cash as they review different brands and products at this website. Taking surveys and filling out online forms regarding the products is all that is required and it seems to pay considerably well with the addition of draws and prizes.
The web site comes from the United States and seems to offer the users an intuitive interface where they can review daily life products. It is a poll site where users vote for their favorite and most used brands.
Users can use iPoll service on their mobile phones as well which means that they can connect from anywhere at any time. Those who take surveys can earn up to $10,000 monthly which is quite a large sum of money for such minimal effort.
iPoll – A Brief Introduction
iPoll, formerly known as Survey Head, allows its users to connect from anywhere with the help of mobile devices seamlessly. With its several attractive features, the website is currently present in nearly 35 countries of the world.
Regardless of the language, you speak and the nationality you might have, iPoll offers a handsome price for a simple online task. However, it's not as smooth as it appears and we will see why. As per the website, here is what you can do with Survey Head:
Sign up at the website and start taking product reviews and surveys.
Be a part of quarterly draws to earn bonus prizes.
Earn gift cards and cash awards.
Make use of the smartphone apps to stay connected with the community from anywhere.
Use your gift cards to make online purchases
Answer simple questions about different daily life products.
iPoll seems like a simple platform for product reviews, but the reality might be a touch different. There isn't much support for this service because of several scam allegations that can be easily found on the internet.
iPoll Pricing
As far as the pricing for this website is concerned, it comes for free. There are no service charges, and the mobile app is also available at online stores without any charges. This might tempt a user into thinking that there is no loss. However, taking a survey and answering questions in the hope of earning money, will take time. Therefore, if you don't get your money, you're at a loss.
Instead, iPoll offers, to pay you in the following ways:
Through Amazon Gift cards
Cash payment through PayPal
Online draws for $10,000 on quarterly basis
A Quick Look at the Features
The website doesn't seem to have a large set of features. It is understandable as it is a simple survey platform. However, we've managed to string together some of the top features in this survey service.
Easy Connectivity: Within five minutes, you can have your own Survey Head account. Since this service is available at online stores such as App Store and Play Store, it is readily available from almost any part of the world. You can also sign up at the website through your social media accounts.
Multi-Location Based: Whether you live in the United States or the European region, Survey Head is an available option. It is available in more than 30 countries of the world, and understandably, it will target local and international products in the surveys for each of these countries.
A Word on API and Integrations
There isn't much to speak about API and integrations. However, since iPoll promises to pay through PayPal, it is possibly the only integration available for this software service. However, it is not certain because there is no such information on the website.
iPoll Pros
It is a bit difficult to look for the best advantages of this product especially when there are so many negative reviews available. In general, public response hasn't been the best, but we have still managed to put together a few pros of this website.
It is available in several countries which indicate that it targets a wide range of products and brands.
It is free of cost, so there is no risk of money loss.
It can be accessed through mobile devices as well so it doesn't restrict your movement from one place to another.
If it's safe, it can be a great source of income for students and youngsters.
iPoll Cons
Among a few drawbacks that I found about this website, here are the most crucial ones which should be addressed immediately.
There is a lack of information regarding the payment method.
It isn't clarified as to when the users will be paid for their online surveys.
What Users are Saying about iPoll
You can find both the positive and the negative reviews regarding this website. Online platforms are filled with reviews for this website which clarifies that it is a much-visited website. However, there is still a lingering question whether the users are getting paid for their efforts online.
According to a user, Survey Head took too long to pay to their users previously. However, it currently pays the users instantly without any hassle, so they seem to be happy with it. Nevertheless, they did complain about the cash threshold would be much lower than $25.
Other users complained that it takes a long time to get rewards and payments from iPoll. Let alone the payment, even the approval of these surveys takes considerable time which can upset users and keep them from returning to the website in future.
Another customer complained about the approval process being very slow. They said that it takes nearly two months or even more to get approval. Some users seemed quite angry and suggested that they will never recommend this service to other users.
All in all, the people's opinion about iPoll isn't a highly flattering one for this website. If iPoll formerly known as Surveyhead, has to make and keep its name in public, it will have to do much better than it is doing now.
It Is Popular?
To get an unbiased opinion regarding the authenticity of this website, I turn to website reviewing platforms. iPoll has changed the domain from surveyhead.com to ipoll.com. Since then, there have been major changes in the traffic and the ranking of this website.
According to Alexa, the previous domain had expired in the October last year. Even before it expired, it didn't rank too highly as it couldn't feature in the top 300,000 websites in the world. Understandably, the current domain ranks much better, but it is still questionable because of its declining ranking over the recent past. It currently features beyond the 162,000th spot in world rankings and has been going down as far as on-site time and bounce rate is concerned.
As per SimilarWeb, there is no real information about the older domain. As for the new domain, iPoll ranks beyond the top 120,000 websites worldwide. Within the United States, its rank lies beyond 50,000 which is not great ranking either. It had nearly 370000 visitors last month with an average of 2.45 pages per visit and a considerably high bounce rate of 37.28%.
Conclusion
iPoll does not appear as a trustworthy website for many reasons. The change of domain is crucial evidence as to why the performance of this website might have been going down. Other than that, the users of this service have not been all that happy. You can find several complaints regarding this service which speaks much about the credibility of iPoll.
On the one hand, iPoll appeals much to the users with its new domain and interface and on the other, the negative reviews about this service tempt the users to think otherwise. As per our findings, the inclination is towards the negative side which is why it is a better option to avoid iPoll.
Feel free to ask questions, post comments or subscribe to my email list to be the first one to receive updates and offers.