My ProfitMozo landing page builder review. Modern businesses have to take some exciting and innovative measures to stay ahead of the eighth ball. Especially when it comes to boosting sales and generating more revenue, it is entirely necessary to design creative landing pages to attract more traffic.
Considering how vital the need for a landing page really is, several software manufacturers have been jumping into making dynamic and intuitive landing pages. However, these manufacturers and vendors demand some hefty amount to deliver average results. As a result, the market has now become saturated, and the quality has suffered a great deal.
You can easily find a landing page builder for cheap rates, but you will have to compromise on quality. Hence, you end up paying more than average while questioning the effectiveness of the software.
We will take a look at one such software today which is quite a talked-about product for its dodgy reputation. For some, ProfitMozo is a great page building tool while for others the product isn't worth investing in. We will find out answers as to how genuine, and worth ProfitMozo really is.
What is ProfitMozo?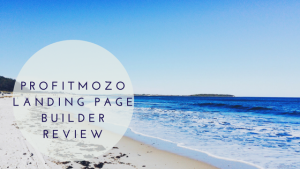 This software is basically a landing page builder that claims to offer businesses of any niche the ability to generate more traffic and produce a better return on investment through its simple and intuitive landing page solutions.
ProfitMozo offers to its customers highly converting landing pages, webinars, squeeze pages and much more. It claims to offer these services at affordable prices so that businesses of any type and size can make use of this software to boost their sales and online traffic.
With ProfitMozo, you can capture more leads and customers with just a simple click. As compared to other products, ProfitMozo claims to offer competitive prices and more efficient solutions. From the outset, it looks like it is a handy tool that will keep you from taking services from landing page agencies which normally charge high amounts for simple page building.
ProfitMozo – A Brief Introduction
ProfitMozo is basically a cloud-based software product which comes from some strong marketing personnel in the digital world Dr. Amit Pareek and Er. Ashu Kumar. It may seem like the names are enough to stamp on the authenticity of this product, but it may not be the case as far as ProftMozo is concerned. We will see why it is so?
The software offers to help you with your budget problems, online conversion rates, and helping you to generate more online traffic. To give you an accurate perception as to what this software offers, here is what you can do with ProfitMozo.
Get started instantly with the software through its easy to use features

Take live previews and saving features with webinar

Use the software efficiently without any training.

Publish your brand and web content to Facebook platforms

Make use of ready to use templates for any type your page needs.

You can include tutorial videos in your web content
While the list of features can go on and on, it catches the attention of potential customers. This is probably one reason why you can find several positive reviews from the initial users of this software service.
ProtifMozo Pricing
While ProfitMozo seems like an incredibly simple software to work with, the pricing section has to be a convincing element in order to grab the customer's attention.   The features and packages come with a 30-day money back guarantee which and the payment method is ensured to be highly secure.
You can use your American Express, Mastercard, VISA, Discover,  credit cards and PayPal account to make payments online and avail the software packages. There are coupons also available which allow you to boost your website conversions for a limited time.
Most of the payments are one-time. There are no recurring payments to speak of except for the monthly membership which is an optional service. To give you an insight of the pricing plans, here is a quick look at some of the pricing schemes at ProtifMozo.
The Front End package is available for $47.

ProfitMozo Elite package is priced at $77.

Complete ProfitMozo Reseller Rights package is available for $97.

ProfitMozo Enterprise package is priced at $97.

Monthly membership is available for $17 per month.
Although it may seem like a simple and worry-free pricing plan, there are some points to be concerned about this schemes. Since it is a non-recurring billing mode, there are chances that the money-back claims may not be more than just false promises. Most software services offer a money-back guarantee, but it isn't exactly predictable as to how many of them fulfill their promises.
A Quick Look at the Features
There are just a few features to look at this website. We will quickly skim through some of the top features in ProfitMozo.
Make Use of the Templates:
Website templates are always a great help for designing pages. With ProfitMozo, it becomes fairly simple to design an intuitive landing page. You don't have to be a programmer to design a highly converting page. Simply choose from the list of templates for desktops and mobile platforms.
Simple Customization:
There is a live editor tool which allows you to customize your landing pages the way you like. It helps you to design a page that suits your brand which makes an everlasting impact on the visitors. You can add images and other content to personalize your landing page.
Facebook Traffic Targeting:
ProfitMozo has a built-in app called SocialMozo. This app allows you to get leads and views from Facebook. While doing almost nothing, you can now create huge traffic thanks to the SocialMozo app.
One Time Payment:
The one-time payment method keeps you off any worries of recurring payments. It can also keep you from paying extra money as in the case of other software vendors.
A Word on API and Integrations
When it comes to API and integrations, there isn't much available on the official website. However, since it can drive traffic directly from Facebook, we guess that Facebook must be one of the ProfitMozo integrations.
ProfitMozo Pros
Some of the positives of this software are:
Intuitive and fast landing page building

Simple pricing plans

SEO friendly features to help publish your content on top search engines
ProfitMozo Cons
Here are some of the drawbacks in this software:
Lack of unbiased user reviews

There aren't too many integrations for this software
What Users are Saying about ProfitMozo
ProfitMozo users are found in quite an abundance. It might convince a reader that the software is accepted by the users. However, it is interesting to see that most of the reviews for this software are available on the official ProfitMozo website. It, therefore, becomes doubtful whether they are all original reviews or fabricated.
In this section, we will take a look at some of the user reviews to get a feel of how ProfitMozo has been performing for businesses.
According to a user, ProfitMozo is a fast and simple way of designing landing pages. For them, it was the best product they had used, and they would continue to use it in the future.
According to another user, ProfitMozo the software is incredibly simple to use. They suggest that the incredible speed of this software allowed them to design two landing pages within just ten minutes.
The list of praises for this product can go long, but all of these reviews are somehow linked to the official website. Hence, the originality of these reviews is always a question mark, and a sensible customer might look for more reasonable and unbiased responses for the software. It seems like the software is flawless which can never be the case.
There are almost non-existent customer reviews on third-party review websites that also reflects that it is not as popular as it seems.
Is It Popular?
When we turn to official website reviewing sites, it gives a complete analysis and pretty much opens the Pandora box. ProfitMozo has almost no or negligible presence in the digital world. It clearly indicates how little the customer pool of this software is.
According to Alexa, there is no information about the rankings and traffic for this website before the current month. Even now, it ranks beyond 415,000th spot in the world ranking so we can safely say that there ProfitMozo hasn't made it yet by any means.
According to SimilarWeb, there is no information about the website ranking, and there are no more than 5000 visitors to this site in the current month.
The analysis from these websites is quite a straightforward indication that ProfitMozo may be nothing but a scam site. This section also makes the user reviews more suspicious as they are quite contradicting to the facts and figures.
Conclusion
ProfitMozo has not yet made it to the top, and it is quite evident from the facts and figures. For a website which doesn't have any traffic of its own, it is quite difficult to think how it can boost traffic for its customers. An intelligent thing to do is to avoid this software to stay away from any financial loss.
Feel Free to ask questions, post comments or subscribe to my email list so that you will be the first to receive updates and offers. You may also visit me so I can answer your questions directly at Wealthy Affiliate.com (link to my profile page)