So what exactly is an email marketing and how does it work?  It is one of the more traditional forms of online marketing used on a daily basis and is known to be more efficient than some other types of marketing. It is a campaign by sending email directly to your inbox with the intention to advertise products or services.
It is most likely that you have already seen an email marketing in action if you have an email address. Sometimes you notice that there's 30% off at your favorite clothing shop, through an email, this is absolutely email marketing. This email has been sent directly to you, with the aim to advertise.
Ok, let's change this around. This time, you will be the one sending out the email campaign to your customers. Before you do that, you will need their permission, to avoid your clients labeling your campaign as spam. You don't want that to happen because spam just gets deleted.
It is vital to get your customers' permission as it will build their trust on you. This approval will create a relationship between you and your client, and they will be anticipating your new emails as they want to hear about your latest deals and offers.
How to create a campaign?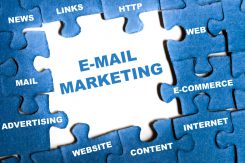 Making a  campaign doesn't have to be difficult. A welcome email as an example. Sending clients a welcome email immediately after they subscribe can be effective. You are responding in no time to their action, meaning they are more likely dip into their email content.
This process of an email campaign is excellent as you will write it only once and each time you gain a new subscriber, you will send the same email to them automatically. Before writing a campaign, you will need to collect data from your customers.
You will need their email address as a minimum, as well as any other information. You can acquire it in an easy way by using a sign in form on your website. Once they sign in on that form, you can now arrange your campaign. As it is a welcome email, you want to make it appealing. Try thanking the customer for subscribing and offering them a special offer or some unique content.
An email campaign can appear any way you like it to, as long as the objective is clear and it will rally your customer to do what you're asking them to do. Making it personal can also help so that each subscriber will feel it is directed especially to them. It should work on all devices, specifically mobile, as this is where most individuals are now reading their emails.
Take note; it should stand out in your client's  inbox. Otherwise, your client will ignore the email. A few misleading or inappropriate words could be the factor between your customer opening your email or deleting it, so make it catchy, authentic and to the point. Now that you have seen just how it works; let us look at the ways you can utilize the power of email marketing.
A vital part of email marketing is being able to analyze your results, so you can see how subscribers are engaging with your campaigns.You can find out how many emails your customers have opened, clicked on, shared, if they're generating sales, and many more things. All of this data is very useful as it will enable you to improve your future campaigns and achieve your marketing goals.
Email marketing provides an excellent return on investment for your business, and you can target a larger group of your clients at a lower cost. It is in fact because there is no printing and advertising cost. Over half of internet users will check their emails daily. That's a lot of people to target and to send your campaigns.
So how can you begin creating your email marketing campaign? You'll need to gather your client's data, write your campaigns; set up scheduled sending times amongst other things.
SumoMe is a great plugin to collect emails. among other things it can do. Setting up and running an email marketing takes time, but you can make it simple and easy with AWeber. It is a robust online platform which makes the process of email marketing simple and saves you time. They will provide you the tools to engage with your subscribers and create effective campaigns, to help you achieve great results.
Check this webinar about email marketing.