My gladiacoin.com review- legit or Bitcoin scam? I still have to see a Bitcoin investment scheme which does not run on Multi-Level Marketing. Is this just one of them? Let's find out as  I am sure this post will help you make a smarter decision in the end.
Name:                         Gladiacoin
Owners:                    Unknown
Website:                   www.gladiacoin.com
Price:                         0.05 BTC ( approximately $59.37 USD) plus other plans
Overall Rating:  1/5 stars
The world of investments has found an interesting and resourceful space where exploding their full potential and scaling it are now easier tasks. But, just like everything else, investment opportunities becoming genuinely universal and accessible for anyone has a bright side and a dark side.
Nowadays virtual currencies such as Bitcoins have gained territory because they're accepted by thousands of businesses all around the world. This, of course, has promoted the creation of new investment platforms where people can increase their wealth in bitcoins.
It's not a lie many of these so-called legit business opportunities for people who want to earn some extra bitcoins easily, doing practically nothing (but obviously investing real money on them) are fake. Today we're going to focus on one of the sites which have become top trending in the bitcoin investment scene this year.
What is GladiaCoin?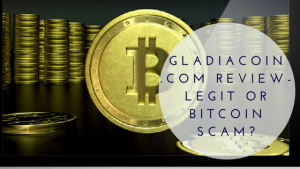 As we mentioned before, Gladiacoin.com is one of those websites which defines itself as the new miracle for people who want to completely change their financial status only by waving a magic wand. This program was molded by a group of "specialists" looking for a large volume of investment, promising investors will be able to multiply their investments in a couple of months by doing nothing. This scheme is similar to Jet Coin.
To sum up, GladiaCoin is a website where you're supposed to earn bitcoins for free, only investing once. The idea itself sounds pretty suspicious, doesn't it?
Well, if we were to do nothing but wait for a miraculous investment to make us rich it would be amazing, right? Of course, it would, but this is not the case. Just like any other investment website you first have to put your money in with little to no warranty of recovering it and then you'll start receiving small payments until you've multiplied the money you first invested.
Their motto is "double your bitcoins in 90 days", is this believable? Let's take a look at their investment plans so we can get a hint.
As you may have inferred, this website's logo is a gladiator, and the investment plans are called Spartacus. You have seven types of Spartacus plans S1, S2, S3, S4, S5, S6 and S7.
S1: You have to invest 0.05 BTC, but you won't receive anything at all. This offer is shown on the investment plans chart only to depict the relation first investment – recovery rate.
S2: this is the lowest paying plan. If you invest 0.1, you're supposed to receive 0.0022 daily. In 90 days you are supposed to have doubled your investment for 98%. You can withdraw every 14 days.
S3: You invest 0.3 BTC. Get 0.0066 daily, and you're able to withdraw every five days.
S4: Invest 0.5 BTC. Receive 0.011 daily. Withdraw every three days.
S5: Invest 1 BTC, receive 0.022 daily and withdraw every two days.
S6: Invest 2 BTC, receive 0.0444, daily withdraws.
S7: Invest 4 BTC, receive 0.088, daily withdraws.
Let's dig a little bit into the last plan. The S7. This one requires an investment of 4 BTC. If we do the math, it's a very impressive plan. You get 0.088 BTC per day * 30 days = 2.64 bitcoins a month.
We're talking about 30 BTC a year! And not even having to reinvest. Only invest once and wait for the results.
Does it work?
You can find groups committed to the cause of multiplying the number of investors all around the world because some plans will make you earn more money depending on the number of referrals you have in your network (how many people you can drag into the business, like an MLM). The thing is that when you ask these people to show you a clear example of how the algorithm works, some will say it produces money through mining, others will say it's done via trading. There is no clear proof that they make money from trading.
To produce such amount of income, they have promised and knowing these people use the money the members invest themselves, time will come that this will collapse if they cannot find enough new members to invest.
How can an investment plan like this guarantee you'll be able to double your investment, no matter how big it is when it starts saying the whole community needs to reach a minimum of investors to assure everyone will receive what they're supposed to receive in the first place? And when they get to it, how can they assure they'll be able to pay every investor? Until when would they be able to "double" the member's money?
As any other fishy "investment" opportunities, the referrals program will attract a bunch of people who will defend with their lives the power of the almighty Bitcoin.
That's when referral networks and groups begin to emerge. You can try to join one and ask, but if you ask too many questions or insist on receiving legit proof of how the website multiplies the investments, you'll probably get kicked out or banned. They'll say anything to convince you. You'll be able to notice the lack of knowledge they have on BTC and how they work.
If you want to leave to clear doubts about why GladiaCoin is not a good idea to invest your money in, you can ask people in the business some of these questions:
If it's a binary network, is there any platform online such as Github where people can check the algorithm?
They introduce themselves as a group of highly prepared and specialized professionals, but apparently, no one knows who these "professionals" are.

Where do they come from?
Does any kind of institution endorse them?
If you dig a little deeper in the website, you'll get to the mini-speeches where they say you can make up to 240 bitcoins a month if you manage to drag enough referrals into their business. If you think you can make the equivalent to 3 million dollars in a year by doing nothing else than talking to some people into investing in this website,  well, maybe GladiaCoin is for you.
It's a total trap!
They may be paying right now, but many of the biggest scams I have ever seen in the online investment world started like that also. Gladiacoin.com displays all the symptoms a scam does:
They refuse giving specific information about what they do with your money.
You don't know exactly who the people are behind this scheme.
They tell you'll see the best part once you've dragged others into it (multi-level marketing)
Let's face it. What they offer is just too good to be true.
It's obvious their only goal is to get enough people into investing, and once they see the numbers are not raising, people will stop receiving their payments. That's how it's been with every High Yield Investment Program (HYIP).
Pros
Professional looking website
Cons
These typical systems don't last long
It costs a lot just to get your foot in the door
It's not a viable business opportunity since you don't own the website
Owners aren't open with everything
Is it Popular?
It is ranked 10,891 globally and 5,687 in the US by Alexa.
Similar Web ranked it 13,305 globally and 8,888 in the US. If you check the engagement data and the chart, it will show that it is actually popular now and the popularity is increasing.
Engagement
Total Visits
2.60M
  up 

59.86%
Avg. Visit Duration
00:08:33
Conclusion
Do NOT waste your money on this. Avoid this website at all cost. This site is a clear scam and will lucky to be online for more than a year, as this kind of fraud couldn't survive for long. It may not even be alive for other three months since there have been many interruptions lately and they say it's because of the lack of investors (which means they'll disappear with the money very soon).
They talk people to get in, get a lot of money and suddenly disappear until they come up with a new idea to take people's money.
Feel free to ask questions, post comments, or subscribe to my email list to be the first to receive updates and offers.