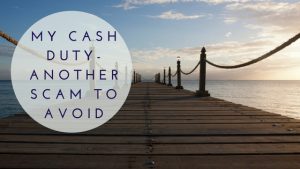 My Cash Duty is one of the latest of a long line of scams seeking out those who want to work from home trying to make some money.
However, the My Cash Duty website is filled with red flags and inconsistencies. The first thing that strikes a visitor when they first go to the My Cash Duty website is a large banner on the top of the page claiming that members can easily make $50 to $100 each day.
My Cash Duty
Summary
Name: My Cash Duty
Website: mycashduty.com
Owner: Unknown
Price: Free
Rating Stars: 0.5/5
Bottom Line: This is another website that you should avoid. I suggest that you check out my recommendation instead.
What is Cash Duty?
A website littered with mistakes and inconsistencies. Right below this banner are statistics which state that the site has paid out near $800,000 to its over 130,000 members. This part of the page is also supposed to show how many members are currently online at a given time.
However, these numbers are fake and placed solely to trick customers into believing that they can be among these thousands of people whose incomes have totaled near a million dollars. Refreshing or revisiting the page multiple times does not cause any change to these figures.
My Cash Duty claims that their program is the easiest way for a person to make money online. However, despite extensive searching, there is no evidence to support these claims. The recent surge of interest surrounding online jobs has seemingly not caught on to the program that is "trusted by the world's leading earners and professionals."
If My Cash Duty really was a legitimate work platform, chances are they would have already been featured on at least a local news report, but as of now, they have had no such form of exposure. It seems as though these claims are mere buzz phrases to try and convince people that this scam has even the slightest inkling of truth.
Apparently, there is a signing on bonus of $25 for every new member. It will only take thirty seconds to complete a "small" task, and each one nets a sizeable $10 on most occasions. The website title that is visible in the browser window even states that a small task can pay as much as $20.
If My Cash Duty already pays out such a large amount for a small task, then one can only imagine what they pay for a more difficult job. The main page of My Cash Duty also contains a testimonial from a "Joshia Frauhmin." Upon searching online for this name, it is revealed that it is the same name used by a number of other scam websites for their own testimonials.
This further proves that not only is My Cash Duty a scam but that the people behind it are also those running other websites trying to scam people out of their hard-earned money. The search also reveals that there is even a fake Facebook profile created for Joshia Frauhmin.
A quick look around this page reveals further inconsistencies. While Joshia is supposedly a head of development at a "Breadcrumb" by "Session Electronics Philippines," there is no personal page for this person. Instead, the page for Joshia has been set up as a fan page with over 200 likers in lieu of friends.
There is no "Breadcrumb" or "Session Electronics Philippines" in existence, and the "About" section of profile contains only two words: online job. The profile picture is taken from a stock image site and is of a Lauren Murray instead of Frauhmin.
There are also multiple comments on the photo claiming that the person behind the account is a fraud and that the commenter's payment never arrived in spite of multiple promises. Furthermore, Facebook has blocked the link associated with the profile on the grounds that it contains malicious content.
This means that not only did they create a fake testimony in an attempt to entice potential victims, but they also made a fake online persona to try and improve the believability of this scam. While one would hope that an online job platform that has helped make its members millions has content that is written in grammatically correct English, this website proves to be a let down in this regard.
This goes to show that not much care was put into developing the site since its main purpose is only to gain a person's sensitive information such as their credit card or banking details. There are multiple grammatical and spelling errors present on the site, making it extremely difficult to understand how users stand to make money in the first place.
They claim to be "innovating in the market of online marketplace" for years, but in the same paragraph, they claim to have only recently opened an online division of their company. If they did, in fact, innovate the online marketplace then they must have had an online wing from day one.
The people behind this platform also state that they are only accepting "limited peoples," which is a cliché used by scam websites to try and trick victims into foregoing better judgment and give up their personal information quicker.  They repeat this limited slot claim multiple times to reinforce this idea.
Their contact page is also empty. There is no information at all regarding who is behind the site, which would make it difficult for a victim to point fingers once they realize that My Cash Duty is nothing more than a scam. Upon visiting the contact page, the title of the page presented on the browser becomes MyPayDesk.com, which shows that My Cash Duty is just a rehash of another scam website.
Not only that, but the support email for My Cash Duty is support-center@MyPayPot.com. My Pay Pot is another version of this website, which has also been proven illegitimate. Many victims also claim that customer support never replied to their messages.
Thousands of Dollars in Monthly Payments?
 The "job" My Cash Duty offers is the posting of referral links. While it is true that people can make money off of posting such links, it does not pay near the amount they claim it does. Not only that, but if a person chooses to do it under My Cash Duty, they will not see even a single cent of their deserved income.
Affiliate link posting only makes people money if other people click on the link and end up purchasing the product that the link redirects to. A person would need a sizeable online following if they want to make a profit from this type of affiliate marketing.
If a layperson were to try this, there would be very low odds that people would give notice to their link, much less purchase the product it is promoting. People who have worked for My Cash Duty and similar sites state that once a member presses on the link to get their payment, assuming they have already met the minimum requirement of $300, they will be told that the link is locked.
They will then be redirected to a page filled with vague offers including ones for a $100 Wal-Mart gift card, free samples of beauty and health products, as well as a free trial of Amazon Prime, among others. The people behind the scam apparently also run this page.
Previous victims claim that no matter how many offers are completed, the payment never arrived. My Cash Duty claims that they pay their members monthly. At the bottom of the page, they state that they support PayPal, Payza, Money Gram, and cheques as modes of sending payment.
Next to this statement is a scanned copy of a cheque from The Standard Bank of Canada. While the cheque seems legitimate at first glance, it is for a payout of a mere $23.81. This is highly suspicious since My Cash Duty claims it can make its members at least $50 a day easily.
They also state that members need to "work hard" so their payment is ready by the end of the month, meaning there is a quota to be met prior to being paid – a total of $300 according to their frequently asked questions page. Why would the amount on this payment be so low if, as was previously mentioned, it only takes 30 seconds to complete a job and there is a minimum amount of work that needs to be done first?
The registration page for My Cash Duty contains a list of the most recent payments they claim to have released. If these were true then it would be a massive threat to these members' respective privacies. Luckily, they are nothing more than fake statistics used to trick unsuspecting visitors into signing up to the program.
It does not matter at all how many times this page is refreshed or revisited, the users and the corresponding amounts on this list never change, proving they are false.
Conclusion
There are a lot of other options out there for people who desire to be their own bosses and work the hours they choose from the comfort of their own home. While these options may take more time and effort, people can rest assure that they are legitimate and at the end of the set period, they will be paid the amount they deserve.
Feel free post comments, ask questions or subscribe to my email list, so you will be the first one to get the updates and offers. You may also visit me so I can answer your questions directly at Wealthy Affiliate.com as I always hang out there with my buddies. (link to my  profile page)
At a Glance
My Cash Duty
Summary
Name: My Cash Duty
Website: mycashduty.com
Owner: Unknown
Price: Free
Rating Stars: 0.5/5
Bottom Line: This is another website that you should avoid. I suggest that you check out my recommendation instead.