Part Survey is a website that offers big money to its members for doing online surveys.
Online surveys have become a popular way of making additional income online over the past couple of years.
With a lot of people wanting to work from the comfort of one's own home and become their own boss, survey work, when done along with other forms of online work, could be a good step in this direction.
After reading my review you will get the information you need that will help you make an educated decision in avoiding this platform.
Part Survey Review
Summary
Name: Part Survey
Website: partsurvey.com
Owner: Unknown
Price: Free
Rating Stars 0.5/5
Bottom line: Trying to make money online by taking surveys is not a good business model then tie it up with a scam site and you get an absolute headache. I suggest you check my number one recommendation instead.
What is Part Survey?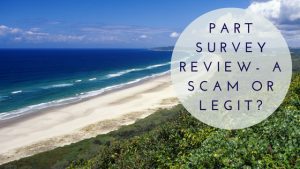 Surveys may not pay much compared to other forms of online work, but doing a considerable amount of them can net a person a sizable amount.
One such service is Part Survey, who claim to provide the largest payments for each survey completed. The only question is: Is it legitimate?
A Website of Red Flags
Upon going to the website of Part Survey, visitors will be greeted with a large banner on top of the website.
On this banner, they claim that they have over 500,000 members, which is suspicious due to the fact that it seems not a single one of these people has posted a trustworthy review online.
The number of their alleged members changes after every couple of refreshes to the site, but is still ultimately just a fake, random number.
It is also suspicious that even though they have supposedly assisted people to make a total of over $17 million, not a single credible news source has mentioned them.
What makes this dubious is that a number of news outlets have already featured the benefits of working on online jobs from home, Part Survey was not featured.
If it is true that Part Survey has made people millions, then they should have been mentioned at least once. If ever they were to be featured on the news, it would be most probably be exposing them as nothing more than a scam.
Most legitimate paid survey providers would not go as far as paying a single dollar for completing a survey due to the simplicity of this task.
Because of this, making money from answering surveys would require much patience. However, Part Survey claims they pay $14 for each survey completed, which is much higher than what anyone else offers.
The sheer difference between the payments offered is enough to raise suspicions.
The statements regarding this affiliate program are also inconsistent throughout the pages of the Part Survey website, which is another red flag.
On the main page, it is stated that each member makes 20% of their affiliate's earnings. However, on their frequently asked questions page, this amount is reduced to 14% in one paragraph, while in another it is reverted to 20%.
These percentages are likely nothing more than a ploy to get people to share the scam, so the people behind it can make more money.
Below the previously mentioned banner on the Part Survey website is three buttons: one each for their home or main page, their sign up page, and lastly, their contacts page.
Their main page contains a "Latest News" marquee, which shows different times such as "6 hours and 28 minutes ago" or "1 hour and 10 minutes ago," among others, but these do not actually have any news stories next to them.
The developers of this site did not even take the time to put fake news headlines on this portion of the Part Survey site.
As a matter of fact, the times presented on this scrolling marquee only change to other random times when a person revisits or refreshes the page, which further proves that this is fake.
Clicking on that does not do anything either. The home page does not provide any insight on how the Part Survey platform works.
All it shows are three photographs in a simple flowchart: one of a handshake, then one of a folder, and lastly, one of a large stack of money.
There is not a single line of text to accompany these images as a form of explanation. Not only do these not explain the income generation process of Part Survey, they seemingly have nothing to do with surveys as well.
They try to offer a vague explanation at the bottom of the page, but it simply states that certain "advertising companies" pay them to make surveys, then Part Survey, in turn, pays its members to accomplish them.
This is the basic formula for survey platforms and still does not answer the question of how they can supposedly provide a payout of $14 per survey.
The Part Survey home page also shows that the website was last copyrighted two years ago, back in 2015.
This shows that the people behind Part Survey have not even taken the time to update the false copyright on their scam site.
Not only that, but certain Internet browsers show that the connection to the Part Survey website is not secure and therefore users should not enter sensitive information such as banking and credit card details on any form on the site because scammers may steal this information and use it for their own benefit.
To show just how little effort these scammers have put into the Part Survey website, clicking on the sign-up button located at the top of their page redirects the user to a page that looks eerily similar to the main page.
The only difference is that there is a short sign up form at the bottom of the page. In fact, false or incomplete information will still be accepted by this sign up form.
This goes to show that it merely works to gain a user's important account information since the email address a person uses for contact and online payment purposes are usually similar.
Clicking on the "Contacts" button at the top of the Part Survey site again directs the user to a similar looking page with only the bottom part being different.
On this page, the user is provided with a blank form and instructed to give their email along with their message or question.
Giving out email addresses to a site such as this one is dangerous due to a number of reasons.
First off, they may send spam to it.

Second, they may sell it to a third party entity that does the same for a profit.

Lastly, as was mentioned before, a lot of people use the same email for contact purposes and for their online payment accounts.
Apparently, contacting the site is also useless, as they do not respond. The Part Survey website does not provide any information at all regarding who is behind their program.
This lack of information makes it extremely difficult for anyone to ask for help regarding their missing payments. This would also make it hard for a person to take legal action against Part Survey because members would not know who to point their finger at in the first place.
Part Survey Payout
Aside from the money made solely from the completion of surveys, Part Survey says that through their affiliate program, they give out $15 to an account for each partner that it becomes involved with, as well as 20% from each partner's earnings.
This is far too much money for a simple survey platform. While these figures may seem tempting to a lot of people, one should know that this is very difficult, if not an impossible promise to fulfill.
Multiple Negative Part Survey Reviews and Accusations
Part Survey offers PayPal and Payza as modes of receiving payment. PayPal's community website even has a long thread dedicated to discussing the legitimacy of the Part Survey program.
As it turns out, there is a minimum amount needed to be accomplished to be able to withdraw earnings. The minimum is set at $700 – around 50 surveys.
Each member can only answer three surveys daily, which is equivalent to around $40, meaning they would have to work for a long time to meet this minimum amount.
Each member accomplishing 50 surveys could net the people behind Part Survey a considerable amount, even if the surveys do not go for the supposed rate of $14 each.
They do not pay a single cent of this to their users, and the profit most likely goes directly to their pockets. The users on the thread also state that they were made to wait up to 14 days for the payments to be made.
However, even after waiting much longer than that, their money still hasn't come. At this rate, it is not hard to believe that, unluckily for them, it will never come at all.
This waiting period is ample time for scammers to gain access to a person's PayPal account and use it to make unwanted purchases or money transfers.
Conclusion
Hopefully, the multitude of red flags present on the Part Survey website proved to be enough of a deterrent. Since these are similar to the techniques used by similar scams, watching out for these will also help a person avoid being tricked in the future.
There are plenty of other options when it comes to working online. It would be much better to invest your time and effort into the ones that are proven truthful instead of putting money on these scams.
Feel free to ask questions, post comments or subscribe to my email list so that you will be the first to get the updates and offers.
You may also visit me so I can answer your questions directly at Wealthy Affiliate.com as I hang out there most of the time with my buddies. (link to my profile page)
At a Glance
Part Survey Review
Summary
Name: Part Survey
Website: partsurvey.com
Owner: Unknown
Price: Free
Rating Stars 0.5/5
Bottom line: Trying to make money online by taking surveys is not a good business model then tie it up with a scam site and you get an absolute headache. I suggest you check my number one recommendation instead.