What is the Hedge Formula? A scam or a legit platform? Let me explain.  A lot of individuals want to get rich quick and would be willing to try different methods to do so even if they are unverified. One such unproven get rich quick scheme is that of the Hedge Formula Group. While they make multiple promises to be different than other programs of this kind, The Hedge Formula Group eerily follows the same formula used by similar enterprises that have failed in the past.
After reading my post, you will see why I highly recommend that you avoid this platform.
Please check my #1 recommendation
Only a Hundred People Can Join the Program?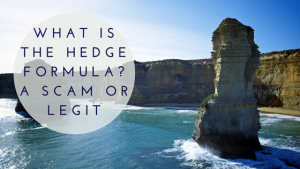 Upon visiting the website of the Hedge Formula Group, the potential investor is greeted with a video of a sharply-dressed man who claims to be a Mr. George Dalio, the head of this entire program. A major red flag here is that despite extensive searching, Mr. Dalio seems to be non-existent on news sites, social media, and the like. This is pretty unusual for a person who claims to run a "multi-million dollar" investment program such as this one.
This means that George Dalio is an actor or is a person associated with the Hedge Formula Group using an alias to protect his identity. In fact, the people on their testimonials are most probably hired actors as well or are merely from stolen photos online. Many of the actors, including George Dalio himself, seen in the videos vouching for this program can also be seen doing the same for similar services, which turned out to be scams also.
The luxury items seen in this video are most likely borrowed or rented and are not the property of those featured in the videos.  In the initial video, Mr. Dalio also claims that even students, who are supposedly busy with their academics and more than likely their social life as well, have made thousands upon thousands of dollars from the services they provide over the past couple of months. However, these claims were made when the website was only a month old.
The video itself is doctored to make it look as if it is a live stream over a service such as YouTube; however, they are only images placed on top to make the video look as such. The Hedge Formula Group also claims that only a select group of people – in fact, only a maximum a hundred – can view the video.
This is hard to believe, especially for a website who is trying to gain as many investors possible. Saying that the video is only limited to a hundred people is probably just a strategy to entice people to view it in its entirety and subsequently put their hard-earned money into the program. In fact, some people say that they successfully accessed the video on their 101st try.
They even go as far as claiming that the potential member visiting the site has luckily claimed the final spot. It does not matter how many times a person visits; however, they claim that the visit is the last one available before the slots are closed for good. This is a clear indication of a scam.
Making a Million from $250?
A strong claim the video makes is that a potential member of the Hedge Formula Group need not any money whatsoever to start. However, exploring the website a bit more will cause a pop-up to appear, which claims that signing up today will match the new member's deposit. So, a deposit is needed after all. This is to be done through credit card, which is extremely dangerous at best.
Because a credit card number is given to make an "investment', it is also possible that it will be used for unwanted purchases. It is pretty enticing to make upwards of a million dollars with a single investment. However, they actually have no regulated brokers. Even if they had them, why would they choose not to place any information regarding them on their pages?
If ever they will connect an investor to a broker, they will probably be connected to an unregulated or unlicensed one. Due to the fact that these brokers are unregulated, it means there is a great chance that a claim cannot be made against it if considerable amounts of money are lost. There is even a  potential to work with blacklisted brokers as well.
The minimum deposit to this program is $250, which is a high-risk investment, to begin with. There have been many claims against this website, and some people have said that their free, 100% automated software is actually designed for investors to lose their money as quickly as possible. A percentage of the money taken from investors is supposedly shared with the priorly mentioned unregulated or blacklisted brokers for their services to be maintained.
Full of Inconsistent Information
Some people have scrutinized the entirety of the Hedge Formula Group site and took a look at the parts of the website, which many unwitting investors may not pay attention to. In the terms and conditions of the website, it is stated that a person should not put money into the program if they are not prepared to lose not just a part of it, but all of that money in its entirety. It poses a large question as to why they would choose to place claims that an investor can make millions of dollars on this site in months, but bury such a warning of losing large amounts of money deep down in the often ignored terms and conditions section.
They claim that the program does not only have the ability to make up to a million dollars in a short period, but they also say that it has never lost a single trade. However, another serious red flag is that they also claim that the trading program only has 98% accuracy. Using simple mathematics, this means that out of a hundred trades, 98 will be successful, but unfortunately, two of them will be losing ones.
The program itself is highly similar to the ones being offered by other sites. Much of the statements given on the Hedge Formula Group site are also similar to those of others. The "Contact Us" page of the Hedge Formula Group website is blank and has no other companies associated with it.
The contact information of Mr. George Dalio is missing from the page as well. These are all major red flags and could implicate this site as a scam. This makes it more difficult to verify if the services the Hedge Formula Group provides are legitimate because there is no way of contacting those who are running the site.
There is a large chance that the people operating this website are the same people operating others similar to it. What they do is just change a couple of names and items on their website, and they have the potential to trick novice investors into believing they are offering a new and unrivaled service. This could explain why a lot of the content featured on these websites are similar.
The next page of the Hedge Formula Group site could only be accessed via inputting an email, which could be subject to other scams or unwanted newsletters. Upon accessing the next page, another video of George Dalio greets the potential investor. This part of the site is also filled with scam site cliches such as claims of the video expiring soon as well as a countdown timer before the offer is supposedly over.
What's weird is that even if this countdown timer reaches zero, the website remains fully functional. The website also features a live results page of other people's earnings. This is not only unusual but also highly dangerous if real. Luckily, refreshing the page multiple times over the period of a couple of hours does not change the contents of this page at all.
Over many hours, not one of the people on the page made even a single dollar. This is proof that these so-called "live" results are not actually live and is further evidence that this website is not being 100% honest with their investors. There are even more inconsistencies on the frequently asked questions page of the Hedge Formula site.
There they claim that the website is currently free, but will go back to a price of $997 soon, which is perhaps just a marketing strategy to try and make a person invest in the software as quickly as possible, seemingly by default. Once someone puts their money into this program, it is as good as lost. This does not match up with what Mr. Dalio claimed in the video that the software would only be made available to 100 people and no more due to "security issues."
Conclusion
There are other numerous ways to make money online. These may require more time and effort; however, these are surely legitimate. Promises of making thousands of dollars quickly and with minimal work may be tempting, but potential investors must be smart. Given all of this information, it would be best to put money elsewhere instead of risking it on the Hedge Formula. You may want to check Wealthy Affiliate as it is the best platform to learn everything about an online business.
Feel free to write comments below, ask questions, or subscribe to my email list, so you will be the first to get the updates and offers.