What is WP Profit Builder? A review of this page building platform. Having a website or multiple websites for your business is one of the key marketing tools in the modern age. Regardless of your business size, your presence in the digital world can prove to be a game-changer for your business.
In the past, people had to take services of a web designer to make a quality website that would yield good results. However, it did require a hefty investment, and the results were not guaranteed as well. Thankfully, now there are landing page services available which allow you to design your own websites and landing pages and that too within minutes.
In this review, we will take a look at one such service which comes by the name of WP Profit Builder.
What is WP Profit Builder?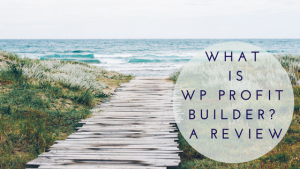 WP Profit Builder is a page designing platform for WordPress websites. This service allows you to design and customize full websites, landing pages, and E-Commerce stores. The WP Profit Builder claims to be the best page builder for WordPress sites with its extensive range of easy-to-use features and integrations.
The service gives you maximum chances to explore and expand through its testing and analysis features. Whether it's about selling a product or maintaining a database of your clients, WP Profit Builder has various templates and solutions you can work with. Its wide range of tools makes it an appealing service for businesses which may belong to any niche.
WP Profit Builder – A Brief Introduction
WP Profit Builder has the features that can take care of all your worries related to website designing and landing pages. Thanks to its wide range of integrations you can maximize your sales by using the most popular online platforms. There are so many things you can do with WP Profit Builder to generate better ROI and leads. Here are some of them:
You can make use of landing page templates

Improve your web rankings through faster loading pages

Extend your product marketing through social media integrations

Create pages of any types such as Webinars, Reviews, Portals, Opt-in, Launch pages and many others

Build E-Commerce stores and full websites through simple tools without any codes.
The vast set of features enables you to make the right choice every time. Therefore, you can present your product just the way you want. Also, you can play around with the themes by making use of the customization options.
WP Profit Builder Pricing
As far as the pricing is concerned, it is not mentioned on the official website. Customers will have to sign up at the website and then learn about the available prices. This goes slightly against the website because a good percentage of visitors would want complete information without having to fill any online forms.
There is a 30-day money back guarantee, and WP Profit Builder claims that it will bear all the risk when it comes to the security of your payment.
A Quick Look at the Features
WP Profit Builder has loads of features to work with. There are multiple options to choose from. It can help users to make the best choices for fast and efficient making landing pages. Here are some of the top features in this service:
Funnel Builders
Funnel builders are instrumental if you want your website to do well. The funnel builder tool allows you to keep track of your performance so that you can make better decisions in the future. You can build several types of funnels such as:
Sales Funnels
Opt-in Funnels
Webinar Funnels
Membership Funnels
More funnel options are available which can help your marketing team to generate a better return on investment.
Mobile Responsive Landing Pages
Most of the modern day visitors come from mobile platforms. It is therefore quite crucial that your landing pages are highly mobile responsive. With WP Profit Builder, this problem can be solved as your landing pages will work with most mobile platforms. Adaptive landing pages will not just appear great on mobile screens, but they can greatly help to convert visitors into leads.  These landing page designs will work with W Android, iOS or any other platform,
Drag and Drop Builder
Landing page design is no more about writing complex codes and programs. With WP Profit Builder, you don't need to be a tech geek just to design a landing page for your business. Simply drag and drop items to your page and complete your landing page design in a jiffy. It's fast, efficient and highly convenient, so you won't have to pay extra money to a professional web designer.
Better Chances of Conversion
Conversions are almost guaranteed. Thanks to the smooth and efficient landing pages, your sales can reach new heights as more visitors are likely to turn into prospective customers. It can surely help your marketing team to generate better leads and sales regardless of how big or small your business might be.
Templates to Work With
Every business has a different marketing requirement, and each company tends to think differently. Therefore, there have to be multiple options when it comes to a landing page design. With WP Profit Builder, you are in for more than 130 ready-to-use and proven template designs. These templates are all mobile responsive and give you higher chances of conversions.
Customization
Users are not just restricted to use the templates as they are. In fact, you can customize these templates as you like. Customization features help you to come up with your own design and ideas for your landing page. This is particularly helpful if you don't want your landing page to appear like those of your competitors. You can be creative and add different features to make your landing page as efficient as possible.
Testing Features
WP Profit Builder also gives you the ability to test your designs and analyze your landing page performance. It offers split testing so that you can understand which designs will work best for your business.
There are several other features in this service that can help you market your product or your digital business to your potential customers in an efficient manner.
A Word on API and Integrations
To help you maximize your reach, WP Profit Builder offers a wide range of integrations for payment processing, E-Commerce Membership Management, Webinar services and Email marketing. Some of the popular ones are:
MailChimp
Facebook
PayPal
Stripe
YouTube
HubSpot
Vimeo
What Users are Saying about WP Profit Builder
The user response to WP Profit Builder is generally good. The majority of its users have praised the services and available features for this service. Also, some of the users have made suggestions how the product can be further improved.
According to one of the users, WP Profit Builder has enabled allowed them to create more than 80 sites and the features have been working really well for them. They suggest WP Profit Builder is good enough to take care of all the website related worries, so they don't need to go anywhere else.
Another user said that they had designed more than 11 websites with numerous landing pages. They particularly praised the wide range of templates and the easy building options. It allowed them to design their pages within no time.
Is It Popular?
As far as the online popularity of WP Profit Builder is concerned, there is a lot of work to be done. We will take a look at what some of the top website reviewing platforms have to say about this online service. It should give an inclination as to where this website stands among its competitors.
According to Alexa, WP Profit Builder has done remarkably well in the recent past. It has dramatically improved its ranking in the last month and jumped up nearly 65,000 ranks in just the last month. At the moment, it ranks among the top 35,000 websites in the world, but by looking at its progress, it seems like this website will quickly improve to even higher rankings shortly.
On the other hand, SimilarWeb gives a quite a different analysis of this website. WP Profit ranks just above 98,000 in worldwide rankings while its category rank is 728. In the last month, it had around 395K visitors which was 30% less than the traffic from the previous month.
The reviews are quite contradicting, but it all trickles down to one conclusion that WP Profit Builder has to make more efforts to improve its online presence which will automatically help its rankings.
Conclusion
WP Profit appears to be a decent option for WordPress landing pages. With this page builder, you can create some highly converting landing pages with minimal effort. It has nice templates and themes which allow you to sell almost anything. Hence, it can be a useful option for businesses of any type and size. The website needs to improve in some areas as well.
This is a better option.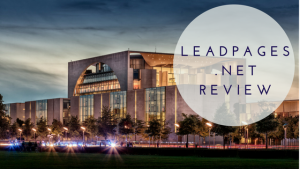 If it can mention the pricing without the requirement of signups, there could be more visitors and leads generation for the website. Also, it has a lot of room for improvement in its rankings. Other than that, the features are quite vast and appealing which makes WP Profit a decent online service for building landing pages.
Feel free to ask questions, post comments or subscribe to my email list to be the first to receive the updates and offers. You may also visit me so I can answer your questions directly at Wealthy Affiliate. com (link to my profile page)