My IQ Option binary review.  It is one of the better presented binary trading platforms available. However, binaries are binaries and it is a form of gambling.
IQ Option greatly prides itself on being the "ultimate trading experience." Despite this strong claim, a quick online search for "IQ Option" does not yield much results related to the platform itself. So much for them defining their service as an ultimate experience.
So far, there are also not many definitive reviews and one other piece of evidence available from concrete sources that implicate the IQ Option program as a scam. However, reviews are inconsistent as there are also some people who claim to have used the site and have spoken out against it.
IQ Option Binary Review
Summary
Name: IQ Option
Website: iqoption.com
Owner: Unknown
Price: Free to Join with $1000 Demo Account (Not Real money) Then $1 Minimum Bet and $10 Minimum Deposit to Start Trading in Real Money
Rating Stars: 1/5
Bottom Line: Binary trading is gambling. If you want to make real money online, educate yourself and learn the skills required. I suggest you try my #1 recommendation for free.
A Well-Presented Website Still has its Red Flags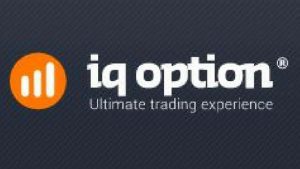 There are definitely some red flags present on the IQ Option website. Upon visiting the site, a potential member is greeted with large text that states one of the programs supposed largest advantages over its current competition. They have a minimum deal of $1 as well as a minimum deposit amount of $10.
This means that people can put only small amounts of money in, then subsequently take it out once their investment shows even the smallest inkling of profitability. However, there is a large disclaimer situated next to their following statement.
The people behind IQ Option claim that their platform has a profitability rate of up to 90%. This means that while there is a pretty slim chance that an investment can make 90% profit, most of the time this probably will not happen. It is even possible for people to make a loss off of this binary trading option of they do not invest in a smart manner.
The problem with this is that a large percentage of the people registered on the IQ Option program are laypeople looking to have an additional channel of income, to hopefully one day be able to work from their homes and be their own boss. These people may possess little to no knowledge in trading, which may cost them.
There is also a small disclaimer at the bottom of the sign-up form located on the IQ Option landing page. It states that the financial products being offered are of a high risk and may result in the loss of all funds put in by an investor.
This disclaimer could be considered as a reiteration of the previous point. They go so far as to clarify that risking money on this platform should only be performed with money that a person can afford to lose. Again, this is a rather small disclaimer, which some potential members may not bother reading.
Another thing IQ Option prides itself in is having "trading tournaments." While this may seem like an exciting and interesting way of making money from the platform, this will also significantly increases the risk of a loss instead of a profit because a person's trading decisions maybe hindered by such a competitive and time-sensitive situation.
This aforementioned sign up sheet states that signing up for IQ Option is free. However, scrolling down further on the site reveals that what they offer is merely a free $1000 demo account. This is not real money. Interested members will have to pay considerable sums of money to enjoy the full benefits of this binary trading platform.
A further example of this is how a basic account could supposedly complete a standard binary trade in the span of 15 minutes. On the other hand, signing on and paying for premium service allows for these trades to be completed in a mere 60 seconds.
IQ Option claims to be the number one binary trading option in as much as 28 countries. However, in reality, this means that their mobile application was in the top spot of its category in a single month over a year ago back in February 2016.
They continue to promote this claim of having the number one mobile trading application, but this could mislead some people as this ranking was released over a year ago and other possibly better options have become available since then.
There is a section on the IQ Option site, which features a selection of the awards they have received. The first of which is the "Fastest Growing Binary Options Brand" award from Global Brands Magazine. Upon conducting an online search to check the legitimacy of this award, one will find out that they cannot access the Global Brands Magazine web page as of the time of writing.
Some sources claim to have a copy of the announcement used in announcing IQ Option as the recipient of this award, but this supposed announcement from a "global" award-giving body is nothing more than a poorly designed PowerPoint presentation filled with grammatical errors and with a photo of a trophy as a background.
The next award they decided to feature on this list is their recognition as the best mobile trading platform from the 2015 International Finance Magazine (IFM) Awards. Again, for an international publication, the pages for the IFM site seem to be shoddy and have persistent grammatical errors, which may hurt the legitimacy of this award.
There are other awards such as those from the Global Banking and Finance Review and the FX Report, but finding evidence to support the legitimacy of these awards has proven to be difficult. There are two testimonials present on the IQ Option website.
The first one is from Orlando Rincon, who is a supposed trader on the IQ Option platform. Searching for this name online reveals results mostly regarding a football player, but also some profiles on social media and LinkedIn.
The problem with these profiles is that none of them feature IQ Option and do not even use the same profile picture as that used in their supposed testimony. It is possible that the photograph used on the IQ Option website was simply lifted off of another person's social media account or is from a stock image resource.
The same goes for a "Timothy Rowland," the other person whose testimony was posted on the site. Again, under the testimonial section of the site, the disclaimer regarding the high risk of the platform is stated.  It is actually possible for somebody to make money off of a binary trading platform such as IQ Option.
However, as was mentioned before, a number of previous members have claimed that their trading software is rigged not to maximize the supposed profits of members. By doing so, it is possible that the people behind IQ Option is instead receiving a cut of this money.
Some have also released statements claiming that it is merely a data-mining program or that they keep canceling withdrawal requests, preventing people from receiving the money they have worked hard to earn.
Falsified Positive Reviews?
There are even people saying that the positive reviews for IQ Option are nothing more than paid statements to try and add to the legitimacy of a scam. Apparently, IQ Option lures people in with "small wins" that would encourage them to put even more money into the program.
They also use promises of large bonuses once a member reaches a certain amount of earnings to accomplish this. Some bonuses are apparently specific to certain regions, but there is no data available regarding what type of bonus is available for a certain region. These could also easily change, as per the IQ Option terms and conditions.
This change may result in one of two things. First, the system may, in fact, be rigged and once a member deposits a large sum, a considerable chunk of it may be "lost," but in reality end up in scammer's pockets. Second, it has also been reported that after reaching an upper limit of an exorbitant $1,000, IQ Option will find a way to terminate a person's membership and even block them from the service using the multiple loopholes in their terms and conditions, leaving people unable to withdraw their hard-earned money.
The customer service for IQ Option is not much help either despite their claims of "24/7" customer support. There is also no contact information available for any specific person who is behind IQ Option.
This would make it difficult for people with qualms against the platform to point their finger at a single person, making it quite difficult to know where to begin regarding making a complaint, which subsequently reduces the risk of IQ Option being at the wrong end of legal action.
There are other more certain options available if one desires to earn money through online means. For example, working online jobs reassures a person regarding their earnings because, if legitimate, they will usually not have to make a monetary deposit to begin working.
Although this type of job may entail more time, effort, and other resources, people can rest assured that they will actually get the money they deserve, as earnings from these correspond to actual work done and often solely on chance.
Conclusion
Binary trading is actually like gambling. You will bet if the commodity you are betting will go up or down. This scheme is the selling point of binary trading. They will let you think that you are actually trading on stocks if you select stocks as the commodity you will be betting. You can even select which stock exchange you want. How legit it seems but it is not.
Remember anybody can use the stock exchange as a reference on anything.  Then you will place your bet if that commodity will go up or down. In the case that you are right in your prediction, you win but not totally. If your prediction is wrong, you will lose your bet.
Going back to winning, why not entirely? It is because they will make a cut from your winnings, like a casino. For example, if you bet $1 and you win, you will not get the whole dollar. They might give you 70 cents (depending on what you are betting on) on top of your bet. If you lose, they will get your one dollar bet.
It does not matter if you win or lose,  they will still make money from you. If you really want to gamble, do it in a casino, at least those bandits are paying taxes to your government.
Feel free to ask questions, post comments or subscribe to my email list so I can answer your questions directly at Wealthy Affiliate .com ( link to my profile page )
At a Glance
IQ Option Binary Review
Summary
Name: IQ Option
Website: iqoption.com
Owner: Unknown
Price: Free to Join with $1000 Demo Account (Not Real money) Then $1 Minimum Bet and $10 Minimum Deposit to Start Trading in Real Money
Rating Stars: 1/5
Bottom Line: Binary trading is gambling. If you want to make real money online, educate yourself and learn the skills required. I suggest you try my #1 recommendation for free.