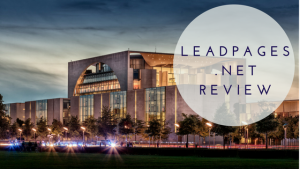 Leadpages is a platform that offers a software that can build stunning pre-made website landing pages. It is one of the leading providers of this service online. 
Modern business is much more challenging and requires entrepreneurs to stay ahead of the eight ball. 
Keeping an eye on critical parameters such as leads, sales, and many others have become the basic need of every business in order to help them grow and excel.
Especially with such tough competition these days, businesses have to equip themselves with the latest technologies and software services in order to stay on top of the chart all the time.
Software services have risen greatly in the last 17 years as businesses have been digitalized to a large extent. 
Whether it's managing finances, providing services or marketing the products, it has become easier to communicate and manage business operations through software.
In this review, we will talk about one such software which can help you expand your business range to a great extent.
After my review, you will have more understanding of this website and hopefully will guide you in making an educated decision.
Leadpages Review
Summary
Name: Leadpages
Website: leadpages.net
Business Type: Landing page builder
Price: Starting at $25 a month
What is Leadpages?
If you're looking for a software service which can help you to measure important parameters such as ROI, customer engagement and web traffic, etc.
Leadpages can be a good option because of a variety of features that it offers. The software was introduced in 2013. With some simple yet efficient features, Leadpages can take care of your business analytics needs.
In many ways, it is a must-have tool. You can get your personalized software and web apps.  These apps measure and analyze your brand performance and what your customer response might be to your products.
Leadpages – A Brief Introduction
To enable your business to grow, you will require more leads.  Leadpages helps you to collect more leads enabling you to drive more sales.
Ultimately, it helps to generate a better return on investment. Moreover, the tools and features in this software help you to convert more visitors into customers. 
Leadpages lets you reach your customers everywhere introduce your product to them.  We will take a look at all the features in details but here is a quick look at the multitude of things you can do with this software.
Customize all your landing pages according to your brand.

Sign up your customers through Website, Social Media, Text Messages, Email and Landing Pages.

You can manage the accounts for your customers.

You can host the landing pages and that too at incredible speed.

Make use of templates to design mobile-friendly landing pages.
There are several more features which work well in combination to provide you with the best analytics services as well as they give you a firm grip on your business decisions.
The Pricing
The pricing plans have been well elaborated on the official website for Leadpages.  It is one indication that Leadpages is no fraud and that all the details are well presented to the customers before they make any deal.
With a wide range of features, Leadpages can target almost any business size and therefore, there are three different pricing packages available.
These plans are quite flexible and can help save cost to some extent. The Standard Plan is priced at $25 a month. If you choose annual payments, you can save up to 33%.
Further discounts are available for a two-year subscription.  This plan has all the basic features you will require to run your business operations smoothly.
It is a good place for smaller startups because of its lower prices. The Pro Annual Package is available for $48 per month with a 38% discount on annual payment.
At the moment, this package is probably the best seller at Leadpages because of its wider range of features. The Advanced Plan is offered for $199 a month.
It is for larger marketing agencies who wish to avail the complete feature set at Leadpages. If you have an established business and you are looking for ways to expand, the Advanced Plan can be quite helpful in this regards.
Summary Overview
Leadpages Review
Summary
Name: Leadpages
Website: leadpages.net
Business Type: Landing page builder
Price: Starting at $25 a month
A Quick Look at the Features
While Leadpages has a variety of features in its arsenal, we will take a look at some of the top features here:
Simple A/B Testing Features
Before you introduce your page to your customers, you can now test your landing pages.  With Leadpages, you can test different templates to understand which one should work the best for your business site.
Also, designing these pages is simple because you can graphically make all the changes. No need to write complex codes.
Templates and design features are incredibly simple to use.  You can choose from a wide range of ready to use landing page formats.
There are customization options for color, font and much more so you can create your personalized website with ease.  These templates have been designed to work faster on both desktops and mobile devices.
Two of the primary features of this software are reporting and analytics.  These features ensure that all your efforts and operations are being documented so that you can access them whenever you want.
Also, these reports are visually more engaging, and so you can look at the most important parameters at just a glance.
A Word on API and Integrations
It is not all that clear whether there is an open API available.  However, available integrations for this software are MailChimp, iContact, Salesforce, ShoppingCart, HubSpot, Google Analytics and many others.
Pros of Leadpages
Some of the best advantages of Leadpages are listed below.  These are only a few of the many pros that you will get in this software service.
The tools are simple to use, and there are quick action tools to improve work speed.

The SEO based solutions ensure that your online presence is maintained and improved further.

Leadpages is used in many parts of the world, so there are no real concerns regarding its quality and authenticity.

You can access reports and analytics with just a click, so the information is always available at any instant.

It's a mobile-friendly service so you can design apps and templates for both desktops and mobiles helping yourself to a larger customer pool.

You can test different headers and webinars as well as customer engagement.

The features are updated on a timely basis to make sure that your services are always up to the mark.
Cons of Leadpages
Among several advantages of Leadpages, there are a few drawbacks as well.  These can be improved in order to maintain flawless service the customers.
Smartphone optimization is completely web-based.

There is no dedicated mobile app for Android and iOS-based mobile devices.

There is room for improvement in support options.
All in all, there isn't much to pinpoint as far as Leadpages features are concerned.
What are Users Saying about Leadpages?
The customer response to Leadpages has generally been quite positive.  The majority of the users seem to be happy with its services and Leadpages as it continues to grow and help businesses to expand their reach in the cyber world.
On the other hand, some customers have also shared the problems that they have faced with this software. According to a web source, more than two-thirds of Leadpages users have given it a five-star rating.
According to the users, Leadpages is a great tool for small and starting businesses. Users have commended the templates and easy to build landing pages.
They suggest it saves them a lot of time and effort it usually takes to build a landing page.  Users also praised the pricing and packages.
They suggest that Leadpages pricing is quite competitive and offers a great value for the money. Facebook-friendly pages also help users to target audience through social media.
Some of the customers complained about the support services and suggested that they can be improved further. Other than that, it all seems good.
All in all, the customer response to Leadpages has been satisfactory. There are no real complaints regarding this software which makes it a reliable online service.
Is It Popular?
According to SimilarWeb, Leadpages ranks among the top 15,000 websites across the globe.  In the recent past, its ranking has gone down to some extent, but it continues to drive good traffic every month. In the last month, it had nearly 3.2 million visits. 
The bounce rate is more than 53% which is quite high. Alexa suggests that Leadpages ranks among the top 8,000 websites in the world.
It's ranking in the United States is among the top 3300 websites which are quite acceptable.  Most of its traffic comes from the United States and the average daily on-site time is more than 4.5 minutes.
The rankings suggest that Leadpages has been able just to maintain its online presence, but it can improve further to get more acceptances in the cyber world. 
Conclusion
There is no real reason as to why Leadpages should not be recommended to the users.
With some highly flexible features and pricing packages, Leadpages is one of the best online services for landing pages builders and website analytics.
Integrations such as Google Analytics, HubSpot, Salesforce, and MailChimp, etc. ensure that Leadpages is an authentic online service.
Having served brands such as TechCrunch, The Huffington Post, Fortune, and Forbes, etc., it pretty much stamps on the authenticity of this software.
Therefore, if you need to acquire a web page builder and analytics tool for your business website, Leadpages is going to be just the right product for you.
There you go, you just found a very good landing page builder for your business. Do not forget to check out the best way to make money online which is my #1 recommendation.
Feel free to ask questions, post comments or subscribe to my email list so you will be the first one to receive updates and offers.
You may also visit me so I can answer your questions directly at Wealthy Affiliate.com as it is where I hang out most of the time with my buddies (link to my profile page)
At a Glance
Leadpages Review
Summary
Name: Leadpages
Website: leadpages.net
Business Type: Landing page builder
Price: Starting at $25 a month