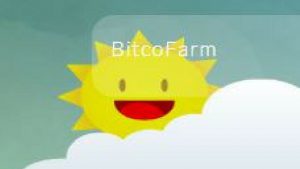 What is BitcoFarm.com? Is BitcoFarm a scam? This review will provide the answers to the questions regarding this unique PTC site.
Instead of gunning for a refined and more professional look, this site went for the more playful approach and was designed to look like a farm filled to the brim with cute animals.
There is no rhyme or reason given as to why this was done, and it surely does not add to the platform's appeal.
Since the site is presented as farmland, the members are called farmers and the products they are purchasing are referred to as cows and chickens.
In accordance to the theme, the chickens lay eggs, which is the name used for the cryptocurrency Bitcoin.
Again, there is no concrete rationale as to why this was done, but in any case, it only serves to lower the legitimacy of this site.
After reading my review you will have the detailed information about this website and hopefully will guide you avoid this site.
BitcoFarm Review
Summary
Name: BitcoFarm
Website: bitcofarm.com
Owner: Unknown
Star Rating: 0.5/5
Final Verdict: This is a website with a preposterous claim of between 400% to 1200% ROI in a month is too good to be true. Their own forum section implicates them to their bogus claims.
What is BitcoFarm?
This site claims that it gives out instant Bitcoin payments to all of their members; however, there is no concrete proof available of this despite extensive searching.
In fact, no evidence supports that their business is 100% legitimate despite their exorbitant promises.
This is because sites would not be able to sustain the amount of income this program is promising without having to resort to underhanded tactics.
What is even more suspicious is that the people behind this platform claim that they can sustain this income stream at a fixed rate, unlike similar sites that provide their members with fluctuating payments.
One of the ways this platform attempts to sustain this rate of income for their members is through the use of a Ponzi scheme.
A number of former members claim that the bulk of the site's money comes from this referral scam and the PTC Bitcoin platform is merely a front to hide this illegal operation.
A Ponzi Scheme? 
There are no limits to the number of direct referrals an existing member on this site can make.
For each of these referrals, a person stands to make as much as 20% bonus for the other member's upgrades and as much as 200% supposedly for each click of their upgraded referral.


If the person referred does not upgrade their account then no kickback is made because, as this platform is nothing more than a Ponzi scheme, no money went in to pay for the supposed income of the existing member.
It is important to keep in mind that this website first pays out points in the form of "eggs" and "milk", which could then supposedly be converted into usable currency.
However, there is no assurance that this conversion process will be smooth sailing or if it will be accomplished at all.
If a person feels as though their points total is not going up quickly enough, they could choose to waste more of their money by investing it into this scam.
A way this platform attempts to milk more money out of their unsuspecting members is through their store section.
Here, users can purchase the previously mentioned cows and chickens to increase their production, but these expire just 30 days after they are purchased, thereby forcing members to by more and more of them.

The chickens come in different tiers as well such as bronze, silver, gold, white, and black, among others, which respectively offer unique perks and income levels.
Chicken packages are available as well, which provide members with a bundle of chickens that would cost cheaper compared to when they are purchased individually.
While chickens are available for purchase by all members of this site, cows are only available for those who avail of a premium membership.
Cows supposedly provide steady daily income at an increased amount compared to the chicken's eggs and also never expire.
However, there is still no trustworthy source that has stated that these products are convertible to actual currency.
Aside from purchasing animals, there is another section of the site which lets members purchase "boxes" at random.These boxes are paid for using credits, which can be purchased on the site using Bitcoins.
The standard box is worth the least and contains 2,000 points, an egg, a bronze egg, a white chicken, a black chicken, a standard chicken, and a gift supposedly worth half a Bitcoin.
On the other hand, a bronze box is worth around twice as much and contains 4,000 points, a bronze egg, a silver egg, a black chicken, a standard chicken, a bronze chicken, and a gift worth the same as in the previous box.
A standard box costs four credits while its bronze level counterpart is priced at six credits.
On the pricier side of things, a silver box is worth eight credits and contains 6,000 points, a silver egg, a golden egg, a standard chicken, a bronze chicken, a silver chicken, and again, a 0.50 BTC gift.
Lastly, a golden box is priced at a whopping 12 credits and contains 10,000 points, a golden egg, milk, a bronze chicken, a silver chicken, a golden chicken, and the same gift as the previous boxes.
Most probably the chances of getting a bronze box are astronomically high compared to the others in order to force members to keep spending money and push their luck until they get what they desire.
Unfortunately, the purchases made on this site are non-refundable, meaning that once a person realizes that they have wasted so much time and hard-earned money, it would already be too late.
Other forms of chargebacks or failed transactions could lead to suspension of accounts. This is done to prevent unsatisfied members from harassing them regarding refunds or missing payments.
Summarized Overview
BitcoFarm Review
Summary
Name: BitcoFarm
Website: bitcofarm.com
Owner: Unknown
Star Rating: 0.5/5
Final Verdict: This is a website with a preposterous claim of between 400% to 1200% ROI in a month is too good to be true. Their own forum section implicates them to their bogus claims.
Red Flags and Inconsistencies
The next part of the website is a forum containing news and announcements, member discussions, and success stories, among others.
This part of the site also contains the support and bug reports pages, which have hundreds of posts on multiple topics, which is definitely unsettling.
In fact, even in the success stories part of the forum, formal complaints are being made from people not receiving their payments or members receiving only a fraction of the payments they were promised.
Further adding to the suspicion surrounding this platform is the fact that while there are a lot of posts on the discussions praising the site and its services, a majority of the posts concerning a lack of payments or those asking whether or not the site is a scam do not get any replies.
This could mean that the people behind the site just write up random posts and replies in a feeble attempt to add to their platform's failing legitimacy.
This could also mean that they have been hiding these posts, so people will not find out that they are signing up for a scam.
If the people running this site deem a post to be detrimental to this platform, the account who made the post could be suspended indefinitely.
Accusations without proof against any member of the site will also receive a similar punishment. The lack of information regarding the entities behind this operation is also very alarming.
More often than not sites like these are based outside of the United States so they may avoid jurisdiction from the proper authorities, allowing them to continue their illegal scheme for much longer.
Because the information of the people behind this website is not revealed, it would be hard to file a formal complaint against them. This site also has a page dedicated to showcasing the supported payouts of their members.
It is important to point out that while this platform's statistics boasts over 250,000 members, there are no trustworthy reviews available for it in spite of the recent boom of interest surrounding work from home platforms.
This would also mean the supposed total payout of nearly 4,700 Bitcoins (around $11.7 million) this site has made to its members is falsified as well.
If all of these supposed payouts were indeed listed on a single page for all to see, it might pose a serious threat as some members use their actual name, or part of it, as their username on the site.
Luckily, these statistics are once again only made up in an attempt to make potential members believe that this site is trustworthy.
There are a lot of other, more legitimate online job platforms available out there that allow people to be their boss and work from the comfort of their own home.
While these may require more time and effort, at least they pay out the amount they promised.
Because a lot of scam sites share red flags and inconsistencies, people will learn to watch out for ones similar to those listed above so they may avoid being scammed in the future.
Conclusion
SCAM!
The claims that you can earn between  0.45 BTC up to 1.35 BTC in a month for investing 0.11 BTC by buying a cow is Holy Cow indeed.
That's a preposterous 400 % to 1200 % ROI in a month and no business model could earn and sustain to pay that much to its members.
Their forum is self-implicating as there are complaints of missing funds and other anomalies which are not even replied by whoever runs this site.
This is just a combination of a Ponzi scheme and a PTC site and utilizing Bitcoin as the form of currency.
This is a total scam and should be avoided at all cost as it does not offer any value to the members who will invest on this platform.
Click here to learn more about cryptocurrency
Feel free to ask questions, post comments or subscribe to my email list to be the first to get the updates. You may also visit me so I can answer your questions directly at Wealthy Affiliate.com as it is where I hang out with my buddies most of the time ( link to my profile page ).
At a Glance
BitcoFarm Review
Summary
Name: BitcoFarm
Website: bitcofarm.com
Owner: Unknown
Star Rating: 0.5/5
Final Verdict: This is a website with a preposterous claim of between 400% to 1200% ROI in a month is too good to be true. Their own forum section implicates them to their bogus claims.