What is Cash East? A scam or legit? You came to the right site to know more about this website that claims they pay real money to their members for posting links.
This site is very much similar to Dollars Plug and even how they work is exactly the same.
Even the offers, the website design,  the logo is very much the same.
They just change the name and the featured image.
After reading my review, you will know more about this website, how they operate and it should guide you to make an educated decision.
Cash East Review
Summary
Name: Cash East
Website: http://casheast.com
Owner: Unknown
Price: Free
Star Rating: 0.5/5 SCAM!
What is casheast.com?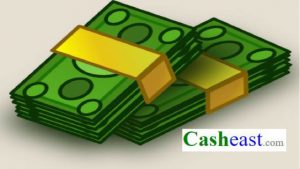 One of the most striking things about this website is how it looks eerily similar to some websites that claim to give great amounts of money to their members in a short time.
There is a firm indication that they are run by the same people because their presentation is very similar.
Simply looking alike is not enough to write the site off though. However, other pieces of evidence implicate this site as a rather untrustworthy one.
Like the sites similar to it, this one claims to be able to make its members money through posting links on different social media platforms.
How Does it Work?
This method is similar to affiliate marketing, but there is no actual product being promoted, which is quite suspicious to say the very least.
The link posted will simply redirect to the site in question, which is a glaring red flag.
They claim that each task in this line of work only takes about five to six seconds to accomplish, but could already net a person around a $10 income.
Actual affiliate marketing only makes a person money if other people click on the links they have posted and end up buying the products those links are redirecting.
Even so, on most legitimate affiliate jobs, the commissions that members receive are not even close to the $10 being promised by this platform.


What is even more suspicious is the fact that people also receive a $25 signing on "bonus."
The simple answer to this is that they will not end up paying their members.
Despite their accounts on the site showing that their balance is rising, the people behind this platform will continually find ways to avoid paying their members.
For example, they could claim that a person broke a particular rule in their terms and conditions.
Another possible reason for termination is inactivity.
People may find their accounts have been terminated because they have not worked for 30 days while waiting for their payment.
This will void all of the supposed income that they have accumulated on the site.
What is even worse is that there is a $300 minimum withdrawal amount set, which means that unsuspecting victims may continue working on the site until they reach this amount.
Unfortunately, they will be disheartened to find out that they will not receive their money no matter how many times they ask for it or complain to the supposed administrators of the platform.
If a person does reach the amount that enables them to withdraw, they will find that clicking on the link to do so will only redirect them to a page filled with unrelated advertisements.
If all of these facts still do not make a person turn the other cheek when it comes to their misplaced interest in this site, then they will be glad to know that it is rather easy to sign up for this platform.
This is because even putting invalid and non-existent information in the required fields would still allow people to create functioning accounts.
It is likely that the only reason they ask for this information to "create an account" is because there are people who use the same email address and password combination for online payment services such as PayPal.
Aside from online payment services, they also claim to pay their members through cheque, Western Union, Money Gram or bank transfer at the end of every month.
These claims are not to be trusted because there is no guarantee that this information would be protected.
The people behind this scam could gain access to certain accounts with this information then proceed to take the money out of them.
It is also possible that they sell this data to third parties to make extra income.
This platform claims to have a strong "anti-cheat" system, which prevents users from sending fake traffic to generate a larger stream of income.
However, a person may click their own link and still see that their "total earnings" have increased.
Red Flags and Inconsistencies
The first example of the inconsistency that a person may see on this site are the statistics featured at the top of the landing page.
These statistics are the totals earned today as well as that paid to users. Upon the first visit, one may say an unbelievably high amount listed here.
The amount claimed is usually close to $100,000. However, a quick refresh of the site reveals that this is merely a randomly generated number.
Once the site loads up once more, the amount quickly changes by an amount that is not possible within the time frame.
For example, the site may show that an extra $10,000 or so was earned within five seconds of a person first visiting the page and them refreshing it.
There are also times wherein the amount actually decreases, further implicating this platform as nothing more than a scam to get people's hard-earned money.
There are other sketchy pieces of information scattered across the site. At the bottom of the member's dashboard page is a list of the countries that have supposedly received the highest payouts of all time.
It is important to keep in mind that the previously mentioned statistics claim that the platform claims to make its members close to $100,000 every single day.
However, the amounts listed on the top payouts list is only a fraction of this with a plus symbol added at the end in a feeble attempt to justify that the numbers fall within that range.
The list is not even written down in order. If this were a legitimate site, then they would have at least put in an extra effort into updating the site on a somewhat regular basis.
The site claims that their top earners make around $300 every day, although they also state that there is no limit how much a member can earn while working on this site.
If there was, in fact, no limit, then why would the "top earners" only choose to make a couple of hundred dollars? If this job was so easy then why would they not just spam the links and make thousands?
It is because these are just more of the false statements being made on the site to persuade people into believing that this site is legitimate when it is obviously not the case.
There is not much information present on the site, which is why it is hard to trust, especially for those who are visiting for the first time and do not have an account.
If a person is not a member, then there is no information available on the site regarding how it works and how it can make a person money. There is also no information listed about who owns and operates the site.
This is because if this were made public information, then that person or group of individuals may be embroiled in many legal battles, which they will most likely be on the losing end.
It is possible that the same people behind the scam sites that function and appear similar to this one are the same ones behind it.
A lot of these other dubious sites were shut down within months of being set up, so it may come as no surprise if this one gets taken down as well.
There is also a possibility that this is just a refurbishing of a site that was proven as a scam and merely moved to a different domain to avoid being caught.
It is also not revealed where this site is based. Most likely, it is based outside of the jurisdiction of more powerful authorities so they would not have to deal with them.
There is also no contact page available on the site so it would be hard to get support or file a complaint.
Clicking on the link to the site's terms of service redirects to a "page not found" screen, which is never a good sign.
If a site has no terms of service, then they can exploit various loopholes to possibly get away with scamming other people.
Summary Overview
Cash East Review
Summary
Name: Cash East
Website: http://casheast.com
Owner: Unknown
Price: Free
Star Rating: 0.5/5 SCAM!
Just Skip This Site
These are the reasons why this site is included on the "avoid" list of many other reviewers.
It is possible that other reasons were not touched in here; however, the evidence presented is more than enough to prove that this is a scam.
Hopefully, learning about these red flags and inconsistencies would help people identify which online job platforms are legitimate and which ones they should avoid at all cost.
There are so many other legitimate work from home platforms available, which enable a person to be their boss and accomplish the tasks that their job requires at their own time.
These may entail more time and effort, but at least a person could be sure that they will receive the money that is fair and equivalent to the work they have done.
Conclusion
SCAM!
Nobody gets paid from this website, and its main purpose is just to capture emails to be sold to a third party.
The worst scenario here is if some members use the same emails and passwords as their Paypal account.
It is not safe to enter any information to this website as you could be a victim of identity theft.
This website is a blatant scam website, and it should be avoided at all cost.
The type of people who fell prey to these sites are individuals who are always looking for easy ways to make money online.
I earn money online by learning the skills first and built this website from scratch.
I did not have any knowledge about building websites when I started, but Wealthy Affiliate taught me everything.
I am monetizing this website through legit affiliate programs like Amazon, eBay, Aweber, Shopify, SEMrush, Jaaxy and of course Wealthy Affiliate.
I am in the final stage of quitting my day job as an Aircraft Mechanic of a Major Airline.
It is my dream job, and it pays very good, but there are other passions I want to do in my life.
Online business is making it a reality for me to "quit that day job." Don't you think it is about time you start your journey towards that goal?
Just remember the saying "Those that do not make money while sleeping will die working."
Feel free to post comments, ask questions or subscribe to my email list to be the first to get the updates.
You may also visit me so I can answer your questions directly at Wealthy Affiliate.com as it is where I hang out most of the time with my buddies. ( link to my profile page )
At a Glance
Cash East Review
Summary
Name: Cash East
Website: http://casheast.com
Owner: Unknown
Price: Free
Star Rating: 0.5/5 SCAM!