What is Dollar in Pocket? A scam or legit?  You found the right site to know more about this platform and about the right way to make money online.
Dollar in Pocket is one among the sites that have surfaced over the past couple of years which promises great amounts of money to their members.
We will soon find out if such claims they make is attainable and we will find out if they can really give the promises which they are making.
After reading my review you will learn more about this platform as well as the best way to make money online which is my #1 recommendation.
Dollar in Pocket Review
Summary
Name: Dollar in Pocket
Website: dollarinpocket.com
Owner: Unknown
Price: Free
Rating Stars: 0.5/5 SCAM!
Bottom Line: This platform will not give its members even one cent. There is no value offered on this site.
How Does it Work?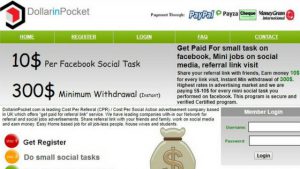 It apparently only takes three simple steps to start making money off of this online job platform. This begins with getting registered, then doing "small social tasks," and last but not least is earning money on every visit.
The way this site works shares a lot of red flags and inconsistencies with how other scam sites function.
For starters, this site claims to be able to make its members money through them accomplishing certain tasks on social media.


It is not specifically stated on the site what these tasks are before signing up, but they are most likely link posting and referral jobs done to get more people to invest their hard-earned money into this sketchy platform.
We will see more details as we dig deeper into the site further. Apparently, this job includes having to manage Facebook groups and pages of companies.
It would be highly unlikely that any company would entrust their social media accounts to a random person who just so happened to join one of the many affiliate sites that can be found online.
They do not even ask for a signing on fee in exchange for training or any evidence of previous work experience.
Aside from that, they list that the job entails generating traffic for advertiser's websites. Another glaring, suspicious aspect of this site is how much they pay for doing such an easy job.
The people behind this site claim that they are willing to pay $10 per "social task" completed.
In fact, there is another inconsistency here in that one statement on the site claims that they pay $10, while another says that they pay anywhere in the region of $5 to $10.
Either way, that is still far too much money for simply posting links on social media platforms and having other people click on them.
This site is not set to gain much, especially if their members are ordinary people who do not have a sizable following on social media.
The most probable reason why they claim to pay that much is to ensnare people to believe that they could actually pay this ludicrous amount.
They even have a $10 sign up bonus, which further adds to the suspicions surrounding their already sketchy service.
Legitimate affiliate link posting jobs only make people money if others click on the links they have posted and end up purchasing the products they are redirected.
However, it seems as though this is not the case for this service as they promise to pay after just having people click on and open the links posted.

For the money they will spend in the long run, it would have been easier for them to develop a program that would post links for them instead of paying such a large amount to people.
Luckily for them, but not for people hoping to get paid, none of the money listed on their accounts will actually be paid out.
This is the reason why payments are made to accounts first. Members will be egged on to work after seeing their supposed income on their accounts climb at a fast and steady rate.
The minimum withdrawal on this platform is currently set at a steep $300, which means that people will actually have to do a substantial amount of work first before they could ask for their money.
By the time this does happen, a member would have already posted 30 links, which is a considerable amount of work.
If it is true that this site does not pay, then that is a considerable amount of work done, unfortunately, for free.
People who still have not been put off by all the red flags listed above will be happy to know that it is fairly easy to sign on to this service.
This statement is especially true since registration will be counted as successful even if all the fields on the sign-up sheet are filled with invalid and falsified information.
In fact, even putting in the most unbelievable bits of information will still be accepted. There is no guarantee that the entered information on to this form will be protected.
Perhaps another way this site makes money is through spamming its members or by selling their information to third party entities.
They are just fishing for email addresses and passwords that are the same ones being used on Paypal accounts of unsuspecting potential members.
Then identity theft will be the new scenario here as they can easily log on to the users Paypal account and take their money.
There are many ways by which this platform claims to pay out its members. They claim to do so through the use of cryptocurrency, PayPal, cheques, Western Union, Money Gram, or bank transfer.
The transfers are Net 30 meaning they may take up to 30 days to be processed and transferred. This is done to postpone the payment for as long as possible.
People will not be likely to ask any questions regarding where their payment is if they were told that it would be arriving within that certain period.
However, one cannot just simply wait for their money in this particular situation.
People will be forced to keep working on the platform within this timeframe because this site automatically shuts down accounts that have not been active within the past 30 days.
There are other ways this site could terminate a person's membership without prior notice. If this is done then all the money in the account will be void, meaning that all the work of that person would have been for nothing.
They claim to have a robust anti-cheating system, but there is no readily available information about what is considered cheating and how they will determine certain activity as such.
All they apparently say about this matter is that people must only send "real people from real pages."
This is again dubious because even if the person visiting the link is the same person who posted it, money will still be added to the account.
Does this mean that their cheating prevention measures are not as good as they claim they are? Do these measures even exist at all in the first place?
Also, the people behind this site could gain access to a person's e-commerce accounts, if the owner of the account used the same password for this platform and for say, their PayPal.
Summary Overview
Dollar in Pocket Review
Summary
Name: Dollar in Pocket
Website: dollarinpocket.com
Owner: Unknown
Price: Free
Rating Stars: 0.5/5 SCAM!
Bottom Line: This platform will not give its members even one cent. There is no value offered on this site.
The Same Unknown Owner Behind Other Scam Sites
Perhaps one of the largest mistakes on the site is the sheer amount of grammatical errors present. For example, there are dollar signs after the number instead of before.
There is also a lot of poorly written English such as "get paid for small task" and "get register," among others.
There are many instances wherein this work from home platform claims that it is a registered entity with all the necessary certifications.
However, a quick online search for this site does not yield any results for such verifications.
Instead, the results shown are other reviews that speak very lowly about their experiences on the site. The member support on this site is also not the best.
Unlike other, similar sites with forums, message boards, and lots of channels for direct contacts with the people behind them, this one features just a single email address.
If every single member sends their concerns to this address, then it would take a fairly long time before they can deal everyone's issues.
Some former members state that despite waiting for a very long time that their concerns were not given any attention.
It is not known who owns this website, likely because if this information were available, he or she would be embroiled in a lot of legal battles with unhappy members.
It is also possible that this website is based in a territory outside of the jurisdiction of more powerful authorities in a further attempt to avoid legal issues.
It has been pointed out that the people behind this site are the same ones behind proven scams including, but not limited to My Cash Duty,  Net Duty, and Dollars Plug.
They share a lot of similarities regarding how they look and how they supposedly work to make their members money.
There are a lot of legitimate online job platforms available these days that allow people to be the boss and work from the comfort of their own home.
Working for these sites may take a bit more time and effort, but at least they will be paid the money they rightfully deserve.
Conclusion
This platform is another one of those series of scams that do not intend to pay a single cent to its members.
I would not even put my good email address in the sign-in form as I am sure what would happen next.
Recommendation
If you want to avoid scams like this, you should avoid the easy money offers as it is that mindset that the scammers are trying to manipulate.
I suggest that you start learning the skills needed for an online business which is the way to go.
Wealthy Affiliate offers free starter membership, but by the way, you will not earn money just by joining. You have to setup your own online business for a full-time income like a lot of successful Wealthy Affiliate members.
I am in the final phase of leaving my good paying job in aviation as an Aircraft Mechanic. So follow me and "quit that day job" as it is what this website is about.
Feel free to post comments, ask questions or subscribe to my email list to be the first to get the updates.
You may also visit me so I can answer your questions directly at Wealthy Affiliate.com as it is where I hang out most of the time with my buddies ( link to my profile page ).
At a Glance
Dollar in Pocket Review
Summary
Name: Dollar in Pocket
Website: dollarinpocket.com
Owner: Unknown
Price: Free
Rating Stars: 0.5/5 SCAM!
Bottom Line: This platform will not give its members even one cent. There is no value offered on this site.