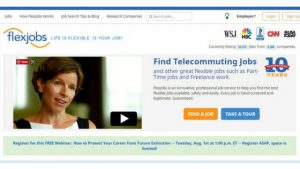 What is FlexJobs? Is flexjobs.com legit? I am not affiliated with Fexjobs so you can expect an unbiased review of this service.
There are many job search platforms available online, but it seems as though many, if not all, of them, falter in comparison to FlexJobs.
After reading my review, you will have the information how this service operates, and hopefully, you will find your dream job.
Flexjobs Review
Summary
Name: Flexjobs
Website: https://www.flexjobs.com
Owner: Sara Sutton Fell
Price: $14.95/ month
Star Rating: 4/5
What is FlexJobs?
This service has provided its user base with jobs for companies such as Amazon, TeleTech, LanguageLine Solutions, and Cactus Communications.
Aside from the more "traditional jobs," there are also online jobs available here which allow employees to work from the comfort of their own home and basically on their own time if they can manage to do so.
How Does it Work?
Upon visiting this site, users are greeted with a simple questionnaire to help narrow down and personalize their job searching experience.
Afterward, they are prompted with a few selections as to why they were drawn to the service in their search for a new job.
The options available are quite diverse and are likely to fit the criteria for most, if not all, of the site's visitors.
Multiple selections could be made off of this list if they so apply. The next step requires a person to select the category which they are most interested in working.
There are many categories in fields such as accounting, marketing, arts and creative, as well as entertainment and media, among others.
The amount of diversity in these opportunities will make it easy for a person to find work that they would be most passionate.
Again, multiple selections can be made if they apply to an individual. Then, a potential employee is asked about their preferred working schedule.
They can select anything from working long-term to working on merely short-term endeavors.
However, unlike previous selections, only one of the options can be selected.
It is also asked in this portion of the questionnaire if the user is interested in the prospects of telecommuting.
Lastly, a user is asked to input their country and zip code. After all of the required information is inputted, a list of refined search results are revealed.
This service works well because it can weed out unwanted search results such as too good to be true job offers and other forms of sketchy business opportunities, as well as offers that are just not worth it or too far out of an employees skill set.
Through the simple steps listed above, this site claims to be able to find the jobs that suit their users the best.
Every single job that is listed on this service is screened by the team behind this platform.
All of the jobs presented adhere to four key elements that ensure their worth to potential employees.
First, the job must be professional, meaning that jobs from both ends of the spectrum could be found on this service.
Whether it be a CEO position, a job as a customer service representative, or anything else for that matter, this program claims to have the right job.
Secondly, the jobs here have flexible working options. This method allows people to work at their own pace either full time or maybe even on a project to project basis.
There are also part-time jobs available on this platform for those looking to make extra money to supplement what they are already making.
This platform is also good if they are currently studying or just looking to make something on the side.
Next, this site ensures that all jobs on offer are legitimate due to meeting their "high" standards, although these standards are not specifically listed.
Lastly, they offer a guarantee of satisfaction to all of the users of their service.
If a user is not happy with their service, they say that they are more than happy to cancel the user's membership and offer them a refund.
Aside from these four elements, they also list down a couple of the main reasons as to why a person should consider making use of their service.
They claim to offer instant job search gratification, cutting down the countless hours it used to take to find the perfect job.
However, in the case of a person still having lofty standards, they may still find it difficult and time-consuming to find the job, which suits them best.
Users also get the best variety of jobs while being protected from scams and fraud.
Seeing as this is a paid service, there are also no advertisements or any other form of clutter on this site.
Customer service is paramount to this site's administrators, which is why aside from offering refunds to unsatisfied customers, they also make an effort to connect with people who have questions or concerns regarding the platform.
Upon contacting this site's customer service team, users will be glad to know that they are receiving help from a real person and not some automated answering machine.
What is perhaps most important is that the jobs featured on this platform claim to offer prospective employees a great balance between their work and what they enjoy most in life.
Again, as mentioned above, this is a paid service, and this may put some people off from signing, but then again, the service is worth the amount you pay.
Each subscription provides users with unlimited access to all jobs on offer as well as free skills tests to check and indicate to employers that these people have what it takes to accomplish the tasks required of them in their job.
Email notifications will be given out to interested parties when new jobs that fit certain criteria are posted.
This platform also offers job search tips and resources for the people who find themselves still needing a bit of extra help. Setting up a profile on this site is easy and allows employers to find their next hire faster.
Summary Overview
Flexjobs Review
Summary
Name: Flexjobs
Website: https://www.flexjobs.com
Owner: Sara Sutton Fell
Price: $14.95/ month
Star Rating: 4/5
Pricing
A month-long subscription to this service costs $14.95, which is a rather small investment if it someone can find their dream job within that time frame.

A three-month subscription costs $29.95, coming down to less than $10 every month, and is a "smart option," as this would give users a sizable time frame to narrow down their search and find their dream job.

The final option on offer is a yearly membership, which costs $49.95, presenting up to 72% savings compared to purchasing a year's worth of monthly subscriptions.
This option is good for this who prefer working on shorter jobs or those who are looking at a longer job searching process.
There are multiple ways to pay for membership on this site. They accept Visa, Master Card, and American Express credit cards.
Payments made through online means such as PayPal are also accepted.
Finding a job could be a free to do task, but it may be grueling and not even provide a person with a job that they enjoy doing.
For those not willing to pay or for those who just cannot afford it, this service still offers a bunch of free information.
But those are nothing compared to what the paid members enjoy.
Once a person finds the perfect job, they can terminate their account in one of two ways.
They can end their membership immediately by canceling it, or they can set it to not to renew once the current subscription they paid for expires.
Memberships can also be upgraded if a user chooses to do so. A lot of members try out the service on a short term basis then upgrade when they are impressed by its benefits.
However, it is important to remember that signing up and even paying to join this service does not guarantee those job seekers will be able to land their dream job.
This service just aims to make the process of doing so easier.
A Legitimate Service
Unlike the scam sites, which one could fall victim online if not careful, this service has been featured multiple times on credible news and media outlets.
In fact, CEO Sara Sutton Fell was interviewed by CNN anchor John Roberts on a segment about work at home jobs.
Aside from the previously mentioned interview, this job searching platform has also been featured on CNBC, CNN Money, The Washington Post, and USA Today, among others.
Forbes has even released a list of what according to this site are the "Top 100 Companies Offering Remote Jobs." This was done to help their readers find a job that will suit them best.
If these large corporations trust this service enough to recommend them to their audience, then their legitimacy is secured.
The Better Business Bureau or the BBB has accredited this service, which has received a composite score of 4.98 out of 5, giving it a five-star rating based on 13 criteria.
This service is also certified Norton secured, with the identity of the people running the site also being confirmed through the use of official records.
The privacy policy of this site protects users personal information by only disclosing information to other parties when the user consent.
They will also share the information if the company is legally required to do so, or if the third party owns a substantial portion of the site or if they function on its behalf.
Companies Hiring from Flexjobs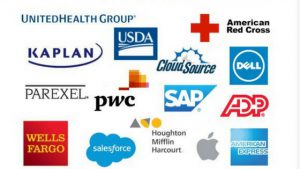 Conclusion
Very Good!
This site offers a legitimate service with a very reasonable cost, and people should utilize the service as it will make their job search a lot easier.
Bear in mind that there is also a legitimate service to make money online and you do not need to leave your home.
Good Luck to Your Job Search!
Feel free to post comments, ask questions or subscribe to my email list to be the first to get the updates.
You may also visit me so I can answer your questions directly at Wealthy Affiliate.com ( link to my profile page )
At a Glance
Flexjobs Review
Summary
Name: Flexjobs
Website: https://www.flexjobs.com
Owner: Sara Sutton Fell
Price: $14.95/ month
Star Rating: 4/5