What is Job Bravo? A scam? Definitely. Job Bravo is one of the many link posting job platforms currently available on the Internet.
It works in the same way as the other sites similar to it; however, it promises a considerably higher amount for every track completed by a member.
This platform claims to be able to make its members "easy money" daily from working online.
Link posting is an actual way of making money on the Internet; however, doubts have been raised over the legitimacy of this particular service.
After my review, you will know how this website is operating to trick people to believe their easy way of making money online.
Job Bravo Review
Summary
Name: Job Bravo
Website: jobbravo.com
Owner: Unknown
Price: Free
Rating Stars: 0/5 SCAM!
How Does it Work?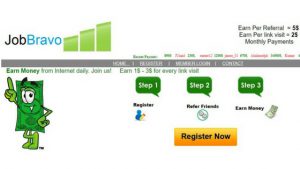 Working for this company involves a three-step process, which includes registration, referral, and earning money.
In the landing page; however, there is no explanation provided as to how these steps work nor their respective requirements.
It is completely free to join this program, and a member could supposedly earn money in one of two ways.
There is also a sign-up bonus of $5 given to every new member of the platform.
The first of which is through posting links on a variety of websites and social media platforms in an attempt to get people to click on them.


The other way is by referring people to join the program.
People stand to earn $2 for every visit to a link they have posted, while they could earn $5 for every referral they make.
This seems suspicious as it is almost impossible for any online job platform to sustain paying $2 every time a random person online clicks on one of their links.
Legitimate link posting platforms pay only a fraction of what this site claims to be able to pay out, around one or two cents.
Also, most, if not all, link posting jobs involve the person clicking the link posted and purchasing a product it redirects to generate a steady stream of income.
Payments are made on a monthly basis but require a minimum of $50.
There is no easy to find income disclaimer on the site, so people may find themselves working day in and day out without seeing their earnings rise, and be left wondering why they have not met the minimum for withdrawal yet.
Unfortunately, because the payments happen only once a month, members may find themselves working continuously after seeing their income totals go way above the minimum amount required for withdrawal.
While this may seem enticing to the continuously increasing number of people wanting to be their own boss working from the comfort of their own home, they should be wary about something this too good to be true.
Once a member does make it to the minimum amount and wanting to make a withdrawal, they will find themselves redirected to another site in which they have to accomplish certain tasks to get their money.
People withdrawing are asked to complete a captcha to supposedly confirm that they are not some form of robot or automated program and after completing this task they will then be asked to answer a survey to receive the payment that they deserve finally.
However, as claimed by some former members, accomplishing the survey requires that a member pays a certain amount of money.
Once the survey is completed though, this site will still not pay, while some of them also charge a small daily amount to those who accomplished them in the hopes that these payments will not be noticeable.
While this site makes itself appear as a revenue sharing platform, this is not how it generates income.
Apparently, according to reviews from former members, this platform thrives on identity theft, which includes potential members providing their PayPal email address and hopefully for them, signing up with the same password they used for the previously mentioned email.
This site claims to make payments to members either through cheque or MoneyGram as well aside from PayPal, meaning they could potentially gain access to these as well.
These are just a few of the ways how this job platform continues to thrive despite being free to sign up to.
They could also use the other information these "members" provide to try and access accounts on other platforms such as Facebook, Twitter, and other social media.
The people behind this site can then spam your connections on these sites, while getting away with it because it is your account that they are using.
Members of this site will probably never get paid despite reaching amounts of income well over the minimum amount.
Unfortunately, once most people realize this, it is too late as they have already provided the people behind this site with their highly valuable personal information.
Some former members also claim that the site sells their members' personal information to third party organizations.
Apparently, this information can be used in creating fake identification such as passports and citizenships, among other things.
Red Flags and Inconsistencies
The primary target of this site, and other eerily similar to it, are beginning online workers who have minimal knowledge regarding how to differentiate scams from legitimate opportunities. This would make it easy for them to fall into the trap set by those behind this job platform.
This site boasts over 71,000 members, which is hard to believe since, despite extensive searching, it is difficult to find a legitimate review site which says something positive about this program.
A lot of the results from online searches for this websites are current or former members doubting its legitimacy or asking why their payments have not yet been received.
Below this statistic is that of the supposed total earned money of their members as well as what the site claims their members have been paid since their service began.
There is a large discrepancy between the two, and again, extensive searching does not reveal any concrete evidence to back these claims up.
On the top of the site is a scrolling marquee which lists all of the supposed latest payments made by the company.
This could prove to be dangerous if true, as some of these "members" use their real name as their username, but thankfully, this is most likely done merely to try and add to the legitimacy of the program.
On this portion of the site, there is also a statement which claims that this platform is the "leading online advertising company."
However, the next sentence on this statement seemingly promotes a different service, Money4refer, as an "easy money earning system by sharing referral links to your friends, family, and others."
This makes it difficult to determine which service one is working for. This could raise suspicions since a lot of scam sites regularly change the name of their service to avoid legal prosecution.
There are a lot of supposed testimonials available on the Internet in support of this site, even including what look like proofs of payment.
However, these are either just paid, false testimonials or statements and proofs of payment from the people running the site.
This site also makes use of a similar template as other scam sites and is filled with a variety of grammatical errors.
A lot of people may notice that this site is merely a rehashing of the Job2Ref website, which previously been taken down due to being proven as a nothing more than a scam.

The people behind this site are most probably the same as those who run other programs that have either now been taken down or are on the verge of being so due to being exposed as a scam.
They just recycle their platforms in the hopes of tricking people that they are different and investing into the same thing multiple times.
In the entirety of the site's landing page, there is no information provided regarding who runs the site or where it is hosted. This was, again, probably done to avoid any legal matters.
The contact page merely contains an email address supposedly for use fro send concerns and general queries regarding this site.
Unfortunately, a lot of former members have stated that their support tickets were not paid much attention to and no matter how many they sent, they still were unable to get the response they were hoping for, if they were lucky enough to receive one in the first place.
It would prove to be quite difficult to file a complaint against people who have not been named, while more powerful authority figures may not be able to crack down on this site if it is located outside of their jurisdiction.
Hopefully, people will now be more knowledgeable about the wide variety of red flags and inconsistencies that a lot of scam online job platforms share.
Learning about these could help people make informed decisions to avoid scams in the future as well as to learn how to determine which are trustworthy.
There are many other, legitimate work platforms available online. These may require a bit more effort on the part of the worker; however, at the very least they can be sure that they will be receiving the money they deserve as a result of the job that they did.
Conclusion
This is a blatant scam, so beware and do not even enter any personal information on this website as you could be a victim of identity theft.
If you are tired of scams online I recommend that you study to learn the online skills like building websites, SEO and online marketing.
Wealthy Affiliate has a free starter membership that requires no credit card information. Try it then see if it is for you. You will lose nothing. You will not earn money or become rich just by joining though.
This is actually an online learning platform where they will teach you online skills to earn real money. This is where I earn passive income and I am in the final stage of quitting my job in aviation.
It also made a lot of members become successful in their online business and you can check some of it on this link. Wealthy Affiliate Success Stories.
Feel free to ask questions ( click contact me on the right), post comments or subscribe to my email list to be the first to receive the updates.
You may also visit me so I can answer your questions directly at Wealthy Affiliate.com as it where I hang out most of the time with my buddies there ( link to my profile page ).
At a Glance
See you at Wealthy Affiliate,
Den
Job Bravo Review
Summary
Name: Job Bravo
Website: jobbravo.com
Owner: Unknown
Price: Free
Rating Stars: 0/5 SCAM!