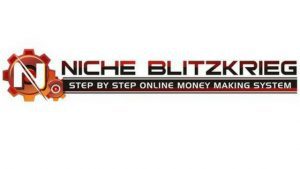 Niche Blitzkrieg is a platform that offers training on how to build a website and optimizing it for the search engines to have good website traffic.
With all of the scam work from home platforms popping up left, right, and center, it would seem that it would now be pretty difficult to find a site that works. The kind that will not just take a person's hard-earned money and disappear without a trace. Niche Blitzkrieg is one such site.
After reading my review you will have all the information about this site and will guide you in making a smart decision.
Niche Blitzkrieg Review
Summary
Name: Niche Blitzkrieg
Website: nicheblitzkrieg.net
Owner: Michael S. Brown
Price: $4.95/ 7-day trial, $77 if you want to stay and $107 for a premium membership
Rating Stars: 4/5
Bottom Line: I finally found a platform that is legit and not out there to scam people. While it is not my #1 recommendation, this platform is definitely worth the investment.
What is Niche Blitzkrieg?
This site may have kicked off with a cliche statement asking if the person visiting the site is unhappy with their job or if they downright want to quit, but it immediately redeems itself with its next few statements. The site asks if the person visiting has limited free time or has been duped by a particular scam, then offers them a solution that circumvents these problems.
People will no longer have to answer to countless higher-ups and be stressed about their requirements. They will no longer have to dread having to go to work every morning. Hopefully, they also regain the spirit and freedom they lost when they invested the majority of their time into their work.
This platform does not involve cash gifting, multi-level marketing (Ponzi or pyramid schemes), envelope stuffing, answering surveys, or members being paid to surf online for hours on end. It reiterates that not only are these methods ineffective, but they are also highly illegal.
Doing such things will not only be a waste of time but if they require an initial investment before starting, they will also prove to be a huge waste of money. Below the list of things this site does not involve is a list of how it will work in favor of its members and not merely for a bunch of people looking to make money out of their unsuspecting victims.
Instead, the people behind this site provide their members with a beginner-friendly step by step system that requires nothing more than a functioning computer and a stable Internet connection. They say that this method may take some time and effort, but sooner or later, a person using it can become their own boss and supplement their income right from the comfort of their own home.
The jobs this platform provides could also easily be done in a person's spare time.  There is an initial investment required to take part in this program, but it is extremely cheap compared to most, if not all, sites similar to it.
With the way this site works, it would be useful to anyone no matter what their age or skill level.  Plus, because they offer 24/7 support, their beginner-friendly system becomes even easier than ever before.
Five Easy to Follow Lessons
The first lesson in this program involves learning how to select a profitable niche market. This course is less than 20 minutes long and begins with teaching which markets to avoid to make the maximum amount of profit.
It is compelling enough to show even the most novice of online marketers just what it takes to get their products to the top of the main search engines. This first lesson alone already contains so many bonuses including a guide on how to write an effective and marketable blog as well as how to choose the perfect domain name.
It includes a list of close to 300 niches that are currently the best to invest in at this time as well. There are also tests and challenges listed in this tutorial to see if what was taught has been successfully integrated. The second lesson involves how to set up a profit stream even without the slightest bit of technical skill.
This program includes what they call a "What You See is What You Get" website editor that does not require any coding skills at all. With the help of this tool, a person's website can be up and be running in no time, and they could be able to put advertisements on it in as fast as seven minutes.
Other people only need to click on these ads in order for the site's creator to make money. There is no need to purchase the products they redirect to, unlike in affiliate marketing. This tutorial also contains tests like the previous lesson along with its 18 step by step videos and fully illustrated walkthrough.
The third lesson included in this program involves how to get found and indexed fast, meaning how to get as many hits on search engines such as Google and Bing as possible. Unlike traditional methods, this program will teach you how to do so quickly and without the need for paid advertising.
In just a couple of minutes, doing the steps here can lead to the website created in the previous step to be among the top results of search engines in as fast as two days. Once a person's site appears among these top results, they will see their visitors and buyers, as well as subsequently their income, grow at an exponential rate.
Once more, a test is included to see if the necessary skills have been learned. In total, there are four easy to understand videos and a comprehensive walkthrough included for this part of the program. The fourth lesson involves how to drive free traffic to a person's site.
With this, it is possible that their site could take over the number one spot on any search engine, even Google. This portion of the program is also useful, as it teaches how to write quality articles in a matter of minutes. With the help of this tutorial, people will also learn how to use social media to their advantage to make an even larger profit.
Immediate traffic can also be garnered thanks to the use of "answer sites," which will also be taught. The bonus part of this program teaches how to write top notch articles in around six minutes or how to make other people write said articles instead.
The final lesson included in this program teaches one how to grow a site. This part of the program also includes a master checklist, which shows people what to go over to ensure that their website has all the makings of a money-making hit.
It also teaches how to effectively go mobile as well as how to track sales and even has a "30-day super challenge," which entices participants to expand their websites to generate an even larger stream of income. It was previously mentioned in this review that this program offers 24/7 support for all of its members.
They also offer private support, which is done through a support ticket system, which is always answered as soon as possible. Free site critiques can also be requested from on-site experts and experienced members. Aside from these, there are also over 24,000 posts available containing very valuable information regarding how to make as good of a site as possible.
There is no lack of help here as everyone involved from the founder up to fellow members can chip in and hopefully answer any concerns raised. Also in this program are "interview files," wherein successful members teach others how they got to where they are.
These include easy to follow PowerPoint-style videos that are almost an hour long. There are even audio files and full-length transcripts available for these tutorials, which make it that much easier to follow along.
A Cheap, One Time Payment
The people behind this program are currently offering potential members a chance to try out the system on a 7-day trial basis for just $4.95. If they decide to stay after this trial period, only then would they be charged the full $77 amounts, while a premium membership is also available for $107.
This payment is only a one-time, unlike other sites that may not even be as effective, which charge their members on a monthly basis.  Even better is that this website does not rely on cheap tricks such as fake salary tables and claims of limited slots to try and entice people to avail of the service they are offering.
They are so confident in this system, in fact, that they are offering a 100% 60-day money back guarantee for those who do not find the results they are getting to be satisfying enough. Forums are filled with positive comments about this programs, and the testimonials on the site contain links to the people's websites, adding to the overall legitimacy.
If a person can follow the instructions they are given, then it is almost certain that they will find success with this program.
Conclusion
I finally found a platform that is legit and not out there to scam people. While it is not my #1 recommendation, this platform is definitely worth the investment.
Post comments, feel free to ask questions or subscribe to my email list to be the first to get the updates. You may visit me so I can answer your questions directly at Wealthy Affiliate.com as it is where I hang out with my buddies most of the time ( link to my profile page )
At a Glance
Niche Blitzkrieg Review
Summary
Name: Niche Blitzkrieg
Website: nicheblitzkrieg.net
Owner: Michael S. Brown
Price: $4.95/ 7-day trial, $77 if you want to stay and $107 for a premium membership
Rating Stars: 4/5
Bottom Line: I finally found a platform that is legit and not out there to scam people. While it is not my #1 recommendation, this platform is definitely worth the investment.