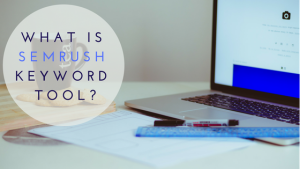 SEMrush is the best tool for Search Engine Marketing and Search Engine Optimization. It is an essential tool if you want the best in website content optimization.
The modern world in digital business holds a pivotal position in blogging. If you want to maintain your online presence, you would know what we are talking about.
Bloggers are obsessed with keywords and similar SEO tools.
If you're looking for a tool that offers quality backlink checking, keyword tracking, and research, and if you wish to see where you stand among your competitors, then Semrush is just the software for you here today. Ever since the introduction of Google Panda in 2011, the blogging world has been revolutionized.
Since keywords hold an instrumental place in SEO, one has to incorporate all the related features that can help you create quality web content.
Anything short of this is disastrous to your business. With a clean and intuitive dashboard, SEMrush will get everything done for your content optimization and that too in a jiffy.
I will provide information in detail in the next few paragraphs about SEMrush Keyword Tool and why it is popular among bloggers and website owners.
After reading my review, you will have the detailed information about this popular keyword tool.
SemRush Review
Summary
Name: SEMrush
Website: semrush.com
Pros: Top of the line web tool that does a lot of things
Cons: A bit costly.
Bottom Line: This tool is the sweetheart of serious bloggers and big companies who take their online presence seriously.
What is SEMrush?
SEMrush is a keyword tracking tool that gives you accurate information regarding keywords. When you are writing a piece of online content, you can target the most searched keywords on top search engines such as Google, Bing, and Yahoo.
With some exciting features such as Geo-targeted keywords, you can even track keywords which are being searched in a particular country.
Several added features such as website rank tracking make it a complete and comprehensive software module.
Having domains in excess of 40,000,000 with more than 120,000,000 keywords available in the database, SEMrush is all set to provide you the ultimate SEO experience for efficient content optimization.
SEMrush – A Brief Introduction
Introduced in 2008, SEMrush has been one of the leading Adword research tools in the modern market.  Just to give you an idea how SEMrush can be the game changer for your website or blog, here's a quick look at some of the best features in this software.
You can keep an eye on your competitors' position on a gradual basis.
Monitor and analyze competitors' ad texts.
Compare domains based on keyword search.
Compare SEO metrics.
Track different metrics.
Track and search long tail keywords.
Incorporate Organic Research.
Monitor progress through comprehensive analytics and reporting tools through trends and charts.
 

SEMrush Pricing
Before we look at the features in detail, here is a quick look at the pricing packages available for this software.  To ensure that all types and sizes of businesses can make use of the product; SEMrush offers versatility in prices and features.
Although it might seem a bit costly, the efficiency and variety of features are just too compelling.
Pricing starts with the Pro Plan at $69.95 per month and you can analyze 3,000 reports on daily basis and view 10,000 results for each keyword query.
SEMrush Guru Plan is available for $149.95 per month. It offers 30,000 results per query and 5,000 daily report analyses. You also get to view historical data in this plan.
SEMrush Business plan is for larger companies. It is priced at $549.95 per month. 50,000 query results 10,000 report analyses per day are available in this package. It also offers multi-user management.
There are SEMRush deals also available which can help you save up to $1,100 per year. To make sure that you are completely satisfied with the software, SEMrush is also available in a trial version.
A Quick Look At the Features
Is SEMrush just a keyword tool? Here is a look at some of the top features in this software.  These are just to give you an idea. Once you get your hands on SEMrush, you will find out how great this product really is.
The Analytics reports module offers a set of versatile features.  You can find out what tactics your competitors are employing for budgeting and ads. Measure the online ad strategies and keywords for your competitors.
You can carry out link analysis with depth. Spot geo-locations for your links and also check types of backlinks.  It helps you understand the areas which have more potential for your online business.
Domain vs. Domain Analysis
You can compare two domains side by side. Monitor unique and common keywords.  With visually engaging information, you can carry out a comprehensive analysis and make a smarter decision regarding your blog content.
SEMrush gives you millions of ideas for keywords.  You can use keyword grouping tool to chain together multiple keywords which are relevant to your topic.
Sometimes one doesn't pick out their competitors which lie close to them.  With SEMrush, you can now discover local competitors and help you stay ahead of the game.
Device targeting also adds to your tracking capabilities and give the edge ahead of your competitors.
A Few More Features
Since the feature set is so vast in SEMrush, we will quickly skim through a few more features here:
 Site Audit
 Content Tools
 Social Media Tools
Video Advertising Research
PPC Keyword Tool
Organic Traffic Insights
Brand Monitoring
Content Tools
Product Listing Ads
Other than that, the tool can also do a lot more.  It can help you check on the competitor's online ranking and positions after regular intervals of time.
This makes it a very useful tool for competition analysis. You can view a wide list of different rankings for each domain offering you a clear idea about your competitor.
As "long-tail keywords" are the latest trend and more productive, the tool also helps you do detailed research into long-tail keywords.
You can also use Crawl Audit Tool for better analysis of on-page and off-page SEO for each webpage. You can also make use of line graph and pie chart and other graphical reporting options for better visibility and clarity.
If you are launching a PPC campaign, this tool can do wonders for you with its detailed and in-depth reporting and ad campaign data.
Summary Overview
SemRush Review
Summary
Name: SEMrush
Website: semrush.com
Pros: Top of the line web tool that does a lot of things
Cons: A bit costly.
Bottom Line: This tool is the sweetheart of serious bloggers and big companies who take their online presence seriously.
A Word on API and Integrations
To let you expand your range online, SEMrush also offers a few integrations for its users.  These integrations include Kompyte, Skyword, Web CEO, Klipfolio, and Bitium.
SEMrush Pros
To understand why SEMrush can be a valuable addition to your business plan, here is a look at the advantages of this software.
You can search volume and difficulty changes to keep an eye on trends.
With the ability to view ad trends, you can now use the latest advertising options for your website.
You can check CPC distribution country and search engine wise.
It's mobile friendly so you can view analytics from anywhere.
Integrations with several other apps make it easier to connect different aspects of your business.
Everything is presented on a single dashboard so you can get a complete view of things.
SEMrush Cons
No product is free of cons and SEMrush has its downsides as well. Here is a look at a few disadvantages of this software:
Compared to some of the other software, SEMrush is a bit costly but given the feature set, one is tempted to pay that extra bit.
Backlink calculations have been found erroneous at times, but the frequency of errors is quite low.
Although the software is quite easy to use, it does take the time to get used to the software.
What are Users Saying about SEMrush?
Generally, the customers have taken a liking to all the features of this product. However, they have particularly praised the competitor tracking and analysis features.
According to them, it gives them an edge over their competition.  On the other hand, a few users believe that backlink reporting has room for improvement.
The tool in most popular among content marketing teams for its effectiveness.  With detailed keyword and long-tail keyword research, content marketers have reported a boost in traffic after publishing content based on SEMRush keyword research.
It is more popular among bloggers and content writers as most rated it as their go-to tool for all their digital marketing needs.
Is it Popular?
Alexa suggests that SEMrush has had a rise in its ranking in the recent past.  It now ranks among the top 1700 websites globally.
It's ranking in the United States is among the top 1900 websites which indicate that it is more popular internationally than locally.
According to SimilarWeb, SEMrush may not have the best global ranking as it lies near to the 4400th spot.  However, when it comes to the category wise ranking, SEMrush ranks at number 11, which is quite exceptional.
The Final Word
There are no or very few reasons why one should overlook SEMrush for an alternate keyword search tool.  The range of features and tools are too extensive which creates quite an appeal to the potential customers.
Even if you are concerned about budgeting for your blog, SEMrush is still worth a try.  Now that you have the information about a very good keyword research tool it is about time you use this with the best way to make money online which is my #1 recommendation.
Feel free to ask questions, post comments or subscribe to my email list to be the first to get updates and offers.
You may also visit me so I can answer your questions directly at Wealthy Affiliate.com as it is where I hang out with my buddies most of the time ( my profile page ).
At a Glance
SemRush Review
Summary
Name: SEMrush
Website: semrush.com
Pros: Top of the line web tool that does a lot of things
Cons: A bit costly.
Bottom Line: This tool is the sweetheart of serious bloggers and big companies who take their online presence seriously.