My Dollar Saw review. What is Dollar Saw? You arrived on the best page to get the detailed information about this website.
Due to the alarming rise of scam websites nowadays, we should be more diligent in learning more about these programs.
We need to seek valuable information about specific websites to avoid wasting time, money and resources.
After reading my review, you will get the necessary information so that you will be aware if this site is worth its claims or not.
You will also get the information about the best way to make money online which is my #1 recommendation.
What is Dollar Saw?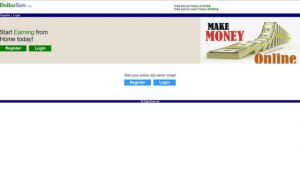 We came to the point that asking about the real score about this website is an essential task.
Many people who have tried participating in the system have mentioned that Dollar Saw is not a legitimate online business.
Dollar Saw Review
Summary
Name: Dollar Saw
Website: dollarsaw.com
Owner: Unknown
Price: Free
Star Rating: 0.5/5
So What is Dollar Saw All About?
Dollar Saw is a website that offers online jobs that will make users earn up to $2500 per week.
This is an attractive offer for those who want to increase their income from online businesses.
However, this is just a simple offer that doesn't have complete information, so we need to research more about the website.
If you check the link to their site, you will find its simplicity, and this is very similar to Dollars Plug.
Probably, the first thing that will attract you to join the business is the increasing number of people being paid after joining it.
As of today, the total amount earned by users is $92267, and the total about paid to them is $85759.
Apparently, the program looks lucrative since a glimpse of the total payout is attractive with a higher possibility of earning more money.
Let's dig deeper to find out if this is legitimate or not.
How It Works For Users
I have decided to participate in the program to investigate if the website is legitimate or not.
Through my personal experience, I can relay to you my thoughts about Dollar Saw and will guide you before coming across this online money-making scheme.
I just clicked Login and entered my username, password, and email at the account registration page.
It was so easy to register on this platform, and I was not even asked to verify my email address.
The account registration page just showed off a link to login to the account area and checked the page.
So I did what was asked me to do first, and this process is very much similar to Dollars Jet.
When I clicked the link, I had the chance to enter my username and password to login the website.
Fortunately, it was really quick for me to log in and I eventually found the account area.
The account area will show you the tasks that you will do to earn cash.
First, I was asked to share a unique link to social media websites such as Facebook, Twitter, Google Plus, YouTube, forums, chat rooms, blogs and more so I can earn $5-10 per unique visitor to the website.
In other words, the first task is a traffic generation job, and your goal is to attract unique visitors to earn a lot of money.
There is even a tip for you to invite more visitors and that is to put the link in Facebook and Skype chat opportunities.
Based on my account, I can earn $10 if I use the link provided to invite visitors to the website.
After that, you will see below the first task the amount of $25 given to you as a welcome bonus.
This amount will easily add up as you increase your number of new visitors.
The Payment Methods
After sharing with you the process of doing the first task, let me share the payment method of the website.
This process is also visible once you signed up and see your account page and by joining the program, your payment status will be automatically enabled.
The withdrawal type is Cheque, and your payout status is logged as not requested yet and honestly, I thought the primary payment method is PayPal, but it is not the case.
I've learned that PayPal is the safest and fastest way to get paid and I wonder why they're not offering this one.
Aside from that, it was stated on my account page that the minimum withdrawal is $300 so I only need to earn $275 since I was given a welcome bonus of $25 upon registration.
Telltale Signs of Being a Suspicious Website
I like the idea of receiving $25 bonus amount after joining the website, and this is similar to the website Dollar Tell.
However, I  know that I still need to reach $275 to get paid as there are a lot of websites operating like this.
Many online money-making websites only ask you to arrive at a little amount of income to get paid so this one is uncertain for me.
Also, you can never see other ways to earn money aside from sharing the link.
The information provided on my account page is too general, and it appears questionable.
So I tried to share the link anywhere possible to see if I would earn from new website visitors.
Terrible Payout Experience
Due to a constant invitation sent to many people online, I was able to attract many visitors to visit the Dollar Saw website.
At that time, my only purpose is to know whether I will get paid or not and the catch is that I need to answer surveys before I eventually get paid cash.
There is no need to continue with doing the surveys for me to get paid since there is a fee for completing each survey.
It is not a surprising experience because as expected I didn't get paid like what happened to me in Cash East and a lot of eerily similar websites.
Is This Website Fake?
Yes, this website is not real and don't bother to join the website as it is certainly a scam online money-making program.
I supposed to have read the ways to earn through the website, but there is no information listed at the home page.
I know the real purpose of this website, that is to scam unsuspecting new users, but I  sign up just to confirm it.
The owners of the website didn't mention the information beforehand to lure more people to pay money to answer surveys.
That is certainly the best way they will earn from the website at the expense of unaware users.
Just by looking at the website over and over again, you will know that they are hiding something.
It is true that you will not pay anything upon signing up, but you will be forced to pay each survey to get paid through this site.
Will you get paid after answering the surveys that you paid?
It is a big no and just imagine how terrible this system is.
Don't get fooled by the empty promises such as earning $10 per unique customers on top of the free $25 cash.
Summary Overview
Dollar Saw Review
Summary
Name: Dollar Saw
Website: dollarsaw.com
Owner: Unknown
Price: Free
Star Rating: 0.5/5
More Inconsistencies
The contents mentioned at my account area are very suspicious.
As explained earlier, I need to earn $275 to get paid since I already have a bonus amount of $25.
Meaning, the minimum payout is $300.
Upon reading the member guide, I can see that it is inconsistent with the Payment Withdraw feature.
I can see that I should be paid through Cheque only, but it was stated in the member guide that users would get paid through PayPal, Western Union, Money Gram and bank transfer other than Cheque every end of the month.
It could have been better if it was explained beforehand so I can have ideas on how to get paid.
Aside from that, it promised that payment that reached the minimum amount of withdrawal would be paid every month, but it is not true since there is a need to answer surveys that are not free.
Simply put, you will not get anything from them, but you will be obliged to pay the surveys in the hope of withdrawing your income later.
It was also stated in the member guide that there is a possibility for you to earn without limits similar to other users who earned $300 per day and $5,000 every month.
This statement is highly suspicious knowing that there are no other ways to earn aside from sharing the referral link.
We know that it takes a lot of hard work to earn such amount of money and it would be impossible earning it without doing physical tasks.
Meaning, this platform has glaring inconsistencies, lack of valuable information and transparency for people who want to earn extra money online.
Lastly, you need to login to your account once a month because your earnings will be lost if you failed to login for more than 30 days.
This reminder is also very baseless since it doesn't make sense losing your earnings by not logging in to your account regularly.
It is too strict for this website to enforce this to its users who will probably lose a lot of earnings if they're not able to work for them regularly.
Conclusion
SCAM!
This website is a blatant scam, and it should be avoided.
If you are tired of all these scams, I suggest you try Wealthy Affiliate for free and see if it is for you. Join the community of over 800,000 online entrepreneurs willing to help each other.
Feel free to ask questions, post comments or subscribe to my email list to be the first to get the updates and offers.
You can also visit me so I can answer your questions directly at Wealthy Affiliate.com as it is where I hang out with my buddies most of the time  ( link to my profile page ).
At a Glance
Dollar Saw Review
Summary
Name: Dollar Saw
Website: dollarsaw.com
Owner: Unknown
Price: Free
Star Rating: 0.5/5