What is Digital Altitude? My honest review.  In this post,  I am going to share my Digital Altitude review with you to clarify whether it is legit or not. 
As we all know, it is better to dig the facts of the program rather than jumping in blindly. 
Let's move on to the review and be aware of the real truth behind this money making program.
After reading my review you will get the detailed information about this website and you will also know the best platform to join to make money online.
Digital Altitude Review
Summary
Name: Digital Altitude
Website; www.digitalaltitude.co
Owner: Michael Force
Price: $1 with upsells up to $27,997
Star Rating: 1/5
What Exactly is Digital Altitude?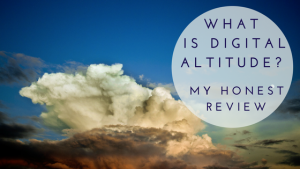 Digital Altitude is a company that claims to help online entrepreneurs to earn money online through their program.
Digital Altitude claims that they have a tier program for all the people who are looking for a way to make money online. 
There is also a commission system that claims to provide you a handsome amount in the form of a commission from their core product which is Aspire.
The company was officially launched in 2016 and assures that you can make the mentioned amount in only fourteen days with the help of their system.
A personal coach will guide you all through the process so you can earn money with ease in no time.
They are also selling courses related to online marketing and business and these courses come in two forms as a digital content and seminars.
The digital content can be accessed online easily.
The Person Behind Digital Altitude
Michael Force is the man behind Digital Altitude and he introduces him as a guy who is a former U.S. Marine.
He has become an industry expert, speaker, and entrepreneur who has built a successful business by the age of 27.
You may be thinking that Michael is a nice and successful guy in the industry and also helping other people to make successful future.
But the real truth is that in the past this guy was involved in many money making scams that include Empower Network, Mobile Money Code, Carbon Copy Pro and other MLM's.
Most of these programs are not working now, so he has made a new way to cheat people through Digital Altitude.
First Step
The very first trick Digital Altitude uses is that they say you can start from just $1. Seems Nice? Right.
Starting from just $1 and then costing people more than $27,000. That is a huge amount of money to consider.
How is Digital Altitude Playing the Game?
Digital Altitude is a scam, but the question is that how people get caught in this?
The answer is that they are using mind tricks to trap people in the best way possible. 
They play with the mindset of people and create a perfect successful future scenario in front of them.
They promise everyone that they will be the next millionaire very soon by using their products and online system.
Many websites have also written positive reviews about Digital Altitude online.
Some of the owners are already caught in their fraud and promoting Digital Altitude through their articles that it is a legit program to entice people to join.
Another powerful trap that they are using is $1 membership with an offer of canceling it anytime.
They say that you can get $1 anytime if you cancel your membership and yes, you can become a member in this small amount.
In the first step, they provide no evidence that you will make real money by using their system. They are fooling people through their membership.
Once you get into the membership at $1, you will realize that you won't be able to get any benefit.
They will give you just a simple overview of the whole system with that membership.
Your personal coach will convince you that you are required to get these memberships to enjoy all benefits from the system. 
They say that properly follow the system and take actions according to their instructions otherwise you will not get any money.
When you join the system, they will tell you to recruit members to their system.
Everyone invites other people like friends, family, etc.in the hopes to get a commission.
They have created a system in such a way that once you climb one step, they will make you believe that you should go to the next step to move forward. 
They will keep on asking you to always purchase the next higher ticket product and promising that you will earn higher commissions that way.
The main purpose of Digital Altitude is to get the attention of all those people who are looking hard for a way to make money online. 
Further, they have made their own different products and membership plans to get as many people as they can. 
Anyone thinking about purchasing all the products or memberships will end up spending more than $27,000.
You have to bring other people to their system and spend an enormous amount of money just to get rich right. But is that right to do all of this?
One other disturbing fact is that they ask you to pay to promote their company. 
You have to think that why a company is charging money from you to promote them? 
There is something wrong here that you need to understand.
Another important point is that if they want you to get rich then why they are charging you. 
They should, in fact, give you money rather than taking it.
Now let me tell you about the amount of money that they will take from you in the name of their products, courses, and memberships. 
Once you have gone through the trial level, the next step would be to become an affiliate, and it will cost you $17 per month. 
You also get a coach that guides you in everything. 
Summary Overview
Digital Altitude Review
Summary
Name: Digital Altitude
Website; www.digitalaltitude.co
Owner: Michael Force
Price: $1 with upsells up to $27,997
Star Rating: 1/5
Pricing
When you become an affiliate, you are also called an ASPIRE, and you can choose from three levels that include.
Aspire Walker:
$37 per month

Access to Members Area

40% commission

1 tier payout  

Start Up Training Videos.
Aspire Hiker:
$67 per month

2 Tiers of Payout

Access to  Members Area

Up to 50% Commission

Weekly Training

Start Up Training Videos and more
Aspire Climber:
$127 per month

Access to  Members Area

Up to 60% Commission

3 Tiers of Payout

Weekly Training and more.
Affiliate Membership
Base Membership:
It costs a one-time payment of $597

up to $360 commission per sale

 One-Time Payment
Rise Membership:
It costs a one-time payment of $1997

Up to $1200  commission per sale
Ascent Membership:
It costs a one-time payment of $9,997

Up to $6000 commission per sale
Peak Membership:
It costs a one-time payment of $16,997

Up to $10200 commission per sale
Apex Membership:
It costs a one-time payment of $27,997

Up to $16800 commission per sale
It is sad that you cannot earn a commission on the products if you do not buy them and you will not get the commission if your referral bought a product higher than your level.
You can learn internet marketing and online business from many online resources without even buying any product or course.
They will make you feel that they have a coach, but they are not coaches but just another person whose job is to who convince you to buy their memberships and products.
You will also lose your commission if you need your coach help in closing a deal.
I think that I have provided you enough points to understand the real purpose of this system.
In the end, you will lose a huge amount of money.
This platform is not the right program as it indulges you in a scenario where you have to spend more in order to earn continuously.
This site is selling a beautiful dream that people try to turn into reality but sadly turns into a nightmare.
In the end, most of the people face disappointment after losing money in the wrong place.
Conclusion
NOT GOOD!
We all need to understand the fact that no system, scheme or product can take you on to the heights of success in just a few days. 
There were so many cases in the past that people not only lose their money but their valuable time as well. So please beware of scams like this, save your money and time.
Sometimes people get trapped due to the difficult time and the bad financial condition they are in, but whenever you see a great offer on the table in front of you always use your common sense to take a better decision.
We can learn from history that successful people have spent a reasonable time and hard work.
I have never heard from anyone that success can be achieved in just 14 or 90 days because it is a long way to go.
Why would somebody spend that much money?
I started my online business with $19 and $359 a year which is less than a dollar a day in this awesome program and I am getting great results.
Feel free to ask questions, post comments or subscribe to my email list so you will be the first one to receive the updates and offers.
You may also visit me so I can answer your questions directly at Wealthy Affiliate as it is where I hang out most of the time with my buddies ( link to my profile page )
At a Glance
Digital Altitude Review
Summary
Name: Digital Altitude
Website; www.digitalaltitude.co
Owner: Michael Force
Price: $1 with upsells up to $27,997
Star Rating: 1/5