What is Dollar Surveys? My Dollar Surveys review. You landed on the best page to know the detailed information about this website.
There are many websites around, promoting money generating means to people. Which of them is true, which is not?
One of the things that people are looking forward to experience is earning without the need of spending too much effort and time.
A friend of mine asked me if the compensation which can be made by doing surveys is better on this website than on other platforms.
I have tried other sites before which offering money for doing online surveys, one of them is Clixsense.
After reading my Dollar Surveys review, you will have a clear understanding that may help your decision to join or not and it will also give you the information about the best way to make money online.
What is dollarsurveys.net?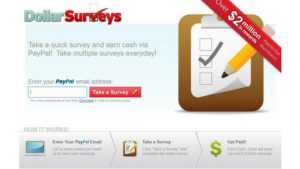 There are so many dollar survey reviews online, and I will try my best to give you an unbiased review as I am not an affiliate.
To learn what is dollar surveys about, I decide to join the website.
So I visited the website, I was asked first to log in using my Paypal account, so I did, and after entering my information I was routed to their website and asked me to confirm my login through the email address I supplied.
I went to my email and then got the email from them spontaneously as I key in my information on their website.  Clicking on the confirm email button, and then routed back to their site. It was so smooth and fast; I became a member.
As soon as I registered successfully, I got $5 compensation, it is considered as first payment for registering to their site. I was immediately prompted for a site tour.
It was starting to get exciting as, then I started to scan through the website, what I can say is that the platform is straight forward. It takes me just minutes to understand what I need to do to earn money.
Everything is just in front of you, they have all the tabs you need, to make the work a lot easier for you. If you have questions, their FAQ tab is more than enough to provide you the response you are looking for.
Their privacy tab, on the other hand, will give you the security that all your information is handled with confidentiality.
My guards are all up to secure my details; they give me the confidence to give them information like my email address and PayPal account.
What made me believe and trust them better is by them, giving out their physical address, not all websites do that.
Another good point about them is that they are transparent as they let you know where they will utilize the information they gathered and the purpose of their business.
Everything is on their website, very detailed and understandable and you will have the feeling that the surveys will not be used for any reasons other than improving their products and services.
When you log in, you will automatically see available surveys you can pick, and it can be from different companies, products, and services, including movies and the like.
It was good, since the questions are not too personal and not repetitive at all, it is exciting and at the same time let your brain process a little.
I was once given the opportunity to answer a survey about travel clothing and get paid after two days of $1.
Answering one-minute simple survey and in return, get paid $1 was far than what I expect since I am working for long in front of the computer and just get around $8.
Some of their surveys will give you $.75, $.50; I have no idea how are they decide the rates, since questionnaires are almost the same, anyway, I do not care, as long as I am getting paid, I am fine.
The payment is being processed a day or 2 after the survey was completed, the longest I experienced was getting paid after 7 days.
The payment is credited directly to my PayPal account, thus not an issue for me. I use my PayPal account to all my transactions online, thus this payment option is advantageous for me.
There are surveys where you need a minute or less, but there are somewhere you are required to spend more or less 20 minutes.
The best about this website is that you are not obliged to report to a specific time, you can log in to their website anytime you have free time.
This is ideal for people like me, who have a lot of responsibilities on hand.
You will be given the opportunity to earn as much as you can, as you can answer as many surveys as your time permits.
This only means that you have full control of the money you can earn. Their customer service could be improved though.
I am not expecting to get an immediate response from their support team after I submitted a dispute regarding none payment of a review.
I was given a clear and detailed response, which is good as they professionally handle concerns you send them, they do not give general responses, just like any other websites.
Another factor that is good with this website is their non-obligatory promotional emails.
I am getting updates on what is new in the market automatically, without being forced to place an order or service.
The emails, by the way, are labelled accordingly, you are not in any way misled that the email is something else, than what it is they send.
You are free to opt out if you want, the advertisements are purely not obligatory.
They also have other affiliations from other websites, where you can get free stuffs and gift cards, same as how they are operating, it is not obligatory.
You exactly know what you are getting yourself into and will give you easy time opting out if you wished to.
Summary Overview
What I Don't Like.
On the other hand, just like any websites, there are things that I think they need to improve on, one is the availability of surveys you can answer.
There are times, very rare though, that there are no available surveys for you to pick, thus leaving you with a zero bank account or balance.
Not ideal especially to those who have regular expenses on hand.
There are also instances, where they disqualify you to a specific survey, without letting you know the reason of disqualification.
Yes, I understand, that it is initiated by their client, nevertheless, as their member, I believe I have the right to know why I was disqualified.
There was a time as well, when you are in the middle of taking a survey, and prompted, that you are disqualified on that specific topic, it is definitely irritating, that you wasted almost 15 minutes of your time for nothing.
Every minute counts for sure, and instances like this will not help you at all.
It is better if you are disqualified, they need to let you know upfront and not while you are in the process of taking the survey and almost finishing it.
You are assured you will get paid, but there are instances when the pay is taking a little longer than expected, thus making you feel uncomfortable and dissatisfied.
Their commitment is a day or two, seven is the longest, after taking the survey, but there are times that it is taking longer than expected.
There are times as well, that you need to report it to their team before they take action.
I must admit, not all time it is their fault, as there are instances when PayPal is at fault.
What bothers me, is why they need to wait for that long or for a report to be submitted before they take action.
If they can straighten out their payment system, it will really make their user experience much better.
It is all about the money, so I am hoping huge improvement on this aspect sooner.
The minimum balance you are qualified for a payout is $30 though I know that this is part of the agreement, still, I am hoping that this can be changed.
I would be better if they lower down the limit to $20 but not $30, as it may take some time for you to earn and complete the required $30.
Conclusion
This is a legitimate website but you could never make a full-time income by doing online surveys.
Even if this website will come to the point that it can operate perfectly, it is still a waste of time and I wasted my time so you will not have to.
What bugs me is why PayPal still supporting this website considering the numerous complaints online, when they stop supporting other legit sites?
Recommendation
You should consider finding ways to start an online business not an online job.
I suggest you try my #1 recommendation for free and see if it is for you. You will have two free websites.
Join a community of over 800,000 online entrepreneurs willing to help each other and it is a real business you will be learning.
Feel free to post comments, ask questions or subscribe to my email list to be the first to get the offers and updates
You may also visit me so I can answer your questions directly at Wealthy Affiliate.com as it is where I hang out most of the time with my buddies ( link to my profile page )
At a Glance