What is Secure Job Position about, a scam or legit? Let me explain.
Many people check every website online to find good programs to earn money by working from home.
However, it isn't straightforward without the guidance from those who have already tried any system that offered work from home jobs.
Now I am willing to share my experiences through this review, and you will no longer be left in the dark as to finding out if this is a legitimate website that offered home based jobs.
After reading my review, you will have the detailed information about this platform and hopefully, will guide you in making your decision.
Secure Job Position Review
What is Secure Job Position?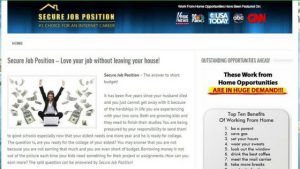 It is one of those programs that claim you can earn money online by just posting affiliate links.
The website allows you to create accounts at different social media portals to post links in exchange of opportunities to make money.
The price in participating in its program starts at $77, but it can be lowered to $47 if you changed your mind and started to go away.
The problem starts to appear when you will discover that you are helping the website owner earn money from the people who clicked the link that you have shared since the said links are redirected to Secure Job Position.
Meaning, you are just allowing more and more people to get scammed by the website owner without realizing it.
The worst thing is that you won't even earn decent money as promised by this platform.
Is Secure Job Position a Scam?
There are tons of reasons that make this platform a fraud program that will affect so many potential users.
Fortunately, I have researched about the system diligently and have discovered its inconsistencies so far.
I did this for the same reason that you can't discover the same scammer alone or without the help of others.
The primary consideration in checking an online money making website is to research about its owner.
In this case, the name of the owner is Kelly Simmons, and that is unconvincing from the very start.
To know about its irregularity, I looked for a picture of the owner so that I can have more information about her.
To my dismay, I can find the same picture all over the internet, and each is always linked to the illegitimacy of different websites.
The same image is being used in Automated Daily Income and her name was Raena Lynn and also on Extreme Home Paycheck where she stayed nameless.
Obviously, the photo was reused  I am sure all of this websites are owned or run by the same person or persons, and even the layout of the site is eerily similar.
The name Kelly Simmons is also nonexistent because I can't find other information about her except those negative reviews written against this platform as a fake website that is linked to her name as the owner.
Who wouldn't want to question a website that is owned by an imaginary person?
That's obviously a telltale sign that the program offered by the site is illegitimate and unreliable for users.
Fake News 
If you check the site, you will see a bunch of logos that the owner of this site wants you to believe it is connected but it is just a fake.
Essentially, the purpose is to attract potential users seeing that the website is obviously backed up by famed sites such as ABC, CNN which is, of course, a fake.
This process is misleading because the site owner can just place any logo on the website without the knowledge of the logo owners for the sake of adding credibility to their program.
If you are also wondering about the videos shown on the site, just think of it as fake news that was created by people who have the talent to make it appear authentic and trustworthy.
If there will be cases filed against this platform in doing such misleading act by using a logo without permission from its owner, there would be no easy way to make it successful knowing that Kelly Simmons is not even a real person in the first place.
Also, the owner of this site can just take down the website to evade authorities, thereby taking all the hard-earned money of its users.
After all, people like the one behind Kelly Simmons can create more websites with the same nature in the guise of a different name and continue scamming many people.
There is another thing that is suspicious about this website, and that is the underlying position to trick any user to stay with the program by giving attractive offers.
Every time you will close your account, there will be striking messages such as discount offers that will surely make you stay.
Don't fall victim into the said trap because it will just ruin your dreams in finding a perfect work from home opportunity.
How It Works
If you try to check the website, you will be given three steps to follow in the pretext of earning money online.
The first step is to enter your account and copy the unique link that you will get after logging into the site.
Here's the second step.
Just like a seasoned affiliate marketer, you will be given links to post for customers that will be listed on your account 24 hours daily.
While it is true that you will get paid by posting these links, it will only happen if potential customers click the link and purchase products.
Meaning, there is no guarantee that you will earn a lot of money in just a short period as promised through the website.
This business model is just another get-rich-quick scheme that other scammers are trying to show off these days to mislead a lot of new users online.
Be careful of this trick so you will not lose your hard-earned money so quickly and waste time by sharing links that may or may not allow you to benefit from it.
Now let us talk about the earning calculator that you will see upon registering in the program.
Obviously, the earning calculator will be your tool to calculate your expected earnings.
Isn't it an amazing way to attract you to join the system?
It is possible that the earnings are just fabricated for you to believe that it will surely work for you.
Think twice before believing this lie.
Before you earn a lot of money in just a short period, you'll need to have a genuine system and true leverage of your business.
In that case, hard work is the ultimate tool, and it seems that it isn't part of the nature of the website's program.
That's totally suspicious.
Summary Overview
Secure Job Position Review
Misleading Affiliate Marketing
If you're familiar with affiliate marketing, this site is offering the same thing but with a little twist.
You will never know that each link that you will share will be linked to other websites.
It is just like finding a cloaked link that will make you feel dismayed once you will eventually discover that you're just wasting your time because your earnings didn't go up.
No chance of Making Money
Here's the thing if you participate in the program offered by this platform.
You will only earn little money, and it is not even close to what Kelly Simmons promised you before registering on the site.
There will be a lot of motivating words, but it won't be helpful for you in any way you want because you will become dependent on it just to earn cash.
In the end, you will realize that you will not become independent and you will end up wasting your time, money and efforts while participating in the system.
Things to Remember
First and foremost, you will feel the illegitimacy of the website by not having an opportunity to have a test drive.
The availability of free trial within a reasonable period is necessary especially if you are planning to spend money just to join the program.
This trial period is not offered here so you should suspect it as a fake website.
The site is a duplicate of other scam programs so you should be careful in your search of work from home jobs.
By checking the sales offer feature found at the website, you will find the story of Kelly Simmons as a way to capture the emotion of potential users.
This story is a major red flag because anyone can just claim any story to attract the attention of unsuspecting website visitors.
Make sure that you have done a diligent research about similar sites so you will understand the things mentioned in this review just in case these are not familiar to you.
Lastly, think about the strategy used by Kelly Simmons such as scarcity of spots for potential users.
It is not obvious that limited spot isn't real, so you have to be very careful about this by not falling into the trap so easily.
Conclusion
SCAM!
This website is a scam like the similar  Automated Daily Income and Extreme Home Paycheck.
The claims that you can earn $379 a day by just posting affiliate links on social media is a blatant lie.
If you are tired of all these scams, check out my #1 recommendation as it is proven to provide a full-time income.
Feel free to post comments, ask questions or subscribe to my email list to get ten free lessons plus free two websites and the support of the community of over 800,000 online entrepreneurs willing to help each other.
You can also visit me so I can answer your questions directly at Wealthy Affiliate.com as it is where I hang out most of the time with my buddies ( link to my profile page )
At a Glance
Secure Job Position Review