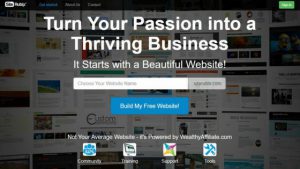 SiteRubix is the best free web hosting and site builder today, and it comes with free SSL.
You may or may not have heard about this platform yet.
Hence this review will help you assess further whether this is the hosting and website building platform you need, or you may want to consider something else.
Best Free Website Hosting Review
What is the Best Free Web Hosting for WordPress?
SiteRubix which is Wealthy Affiliate's platform for hosting and building websites is the best free web hosting for WordPress.
You can access it through the WA Free Starter Membership. They will provide you two free websites in a subdomain. It doesn't end there as you are also provided free training on how to build your website.
How Does it Work?
Just like any free platforms, there are advantages and disadvantages, and it is free, therefore do not expect that you will get the best of everything.
I want to start discussing the advantages and later on the few disadvantages that you may want to know.
This platform takes the technical issues out of your hands when hosting a site, this being the case you can start up without too many worries about things that you do not understand.
This platform is perfect for beginners who know nothing about hosting, as the steps they will ask you to follow is so easy that almost anyone, if not everyone, can follow successfully.
If you ever used a hosting platform before, HostGator or Godaddy to cite few names, you know how hard it is to set up a site.
Some may need to call their customer service support and seek for one on one assistance just to be able to establish their site.
The story is different with WA platform, as even a kid can follow the instructions perfectly well. Another factor that impresses me is the fact that they do not only make the set up easy but they also use the WordPress platform.
The Advantages:
So, this means you will be able to have a fully functional WordPress site up and running in just a few minutes.

If you do not have an idea what WordPress is all about, learning the process may not be as easy, yet if you are using this platform, you are half way against the learning curve since you already have a site ready to go and run.

The advantage I see is mostly for beginners who are pursuing affiliate niche site. If you are one of those individuals who is just starting up in this type of business, this as an excellent platform to kick off.

I have many reasons why I say this is the best option. First, this will not only help you start up your website, but this will give you helpful information that will make you successful using your website to earn money.

Other free platforms feature large banners of different ads, but SiteRubix is ad-free. Even your site visitors will not notice that you are using a free site, thus putting your business somehow on a good note.

You will also have the opportunity to incorporate ads and affiliate links to your free website giving you all the chances to make money.

You even have the potential to make money as an affiliate of WA by referring members to its site while being a free starter member.

Lastly,  it is free without the need for credit cards.
Communication rights to ask questions to the community is only seven days although it can be extended up to twenty-one days if you are active in the community.
Summary Overview
Best Free Website Hosting Review
Is There Anything Else that Hosting on SiteRubix can Offer?
A lot when you upgrade to premium membership of Wealthy Affiliate.
You will have twenty-five free sub-domain sites

You can host up to twenty-five Domain Name websites (.com,.org,.net, etc.) for free. This alone is a business by itself already if you host your client's websites on SiteRubix.

Free SSL on all those twenty-five Domain Name websites.

You can activate SiteSpeed to speed up your Domain name websites for free.

Access to all free WordPress Themes and Plugins ( even your free sub-domain can avail this )

Unlimited free access to the community of over 1,200,000 online entrepreneurs (LiveChat, Private Messaging to every Premium member including the owners).

Access to weekly Webinars for free.
The process of transferring your website from the free sub-domain to the domain you own can be completed with just one click. Trust me, and it is far too easy that it can be done in just a few blinks of an eye.
Once you click the transfer button, your site will be transferred and redirected completely to your paid domain very smoothly.
Conclusion
All of this is designed so that everybody can try without spending a penny, so, if you decide that this type of business model is not for you, you will lose nothing.
However, if it turns that you find the platform is suited for you, the premium membership is worth every penny you will invest.
The free website is good enough for starters to help their business progress in a smoother and faster manner.You will get not only functioning and working sites but also a website that looks satisfactory and ranks in different search engines, like Google and Yahoo.
Although you may get limitations on training, you can access and things you can do to your site, still, this is good enough to let you know whether you want to invest in such industry without losing any penny.
Anyway, you can always progress your site by upgrading your free sub-domain websites to your domain ones anytime you want without any troubles and issues.
Click here and join today to get the two free websites.
Feel free to post comments below, ask questions using the "Contact Me" form on the right or type your email address on the top right portion of this page to get the updates and offers.
At a Glance
Best Free Website Hosting Review