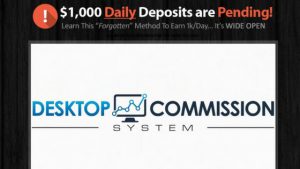 Desktop Commission System is a platform that promises their members that they will earn $1,000 per day using their system and also claim that the program is totally free to join.
The online world is full of opportunities for everyone to earn money by applying different ways to earn a commission.
Since there are websites that offer such kind of services, we think it is proper to check the resources to make sure that it is legitimate for its users.
There are many questions to answer such as the best ways to earn commissions, how to spot the legitimate programs, where to find useful information and more.
In order to learn more about earning commissions, I even check all valuable resources that I can find on the internet.
Many people share their ideas online, especially those about finding work-from-home opportunities. After all, we owe it to others to inform them about a certain product or service if we apply the value of ethics in using the Internet.
After reading my review, you will know the detailed information about this website that hopefully will guide you in making an educated decision.
Desktop Commission System Review
Table of Contents
Click on topic for quick navigation or scroll down
What is Desktop Commission System?
The program being reviewed is popular to those who have been working online to increase their income. It is also known for its promise that you will earn thousands of dollars every day by following their secret formula.
The thing is, they will just funnel you to another scam website, so beware as this platform do not offer anything of value as they have so many red flags which I will discuss below.
How Does Desktop Commission System Work?
Let me explain further so that you can understand better. The platform will do everything in its power to attract you and promise you that you will earn thousands of dollars daily by just participating in the work-from-home opportunity.
Essentially, their technique is to show you several success stories with many cars and cash in the process. If you're really a beginner, it is not difficult for them to catch your attention knowing the effectiveness of selling dreams. Imagine the hype and excitement of enjoying your dream life?
Knowing the value of the return on investment that is $37, anyone who would like to enjoy a rich lifestyle will be interested to join the program.
Then, you'll be surprised at the results after paying the money to be a member of the platform. You'll have nothing in return; there is no training for you to move forward, and no support from the creator of the website to help you along the way.
The Red Flags
The platform is owned by Jeff Carr that has an attractive profile picture posted in the sales video of the program. This is an overhyped system that demands the attention of many people including the newcomers in the industry.
Based on research, the profile picture is not believable as it came from a stock photos website. If you want to check this out just right click on the image and do a Google image search and you will see a lot of websites using this picture.
The Sales Video Did not Mention How the System Works
For this review, I've also watched the marketing video so that I'll know how the program works for its users. Basically, the video is really long with no specific explanation about the program and the ways to earn money online.
False Claim of Free Membership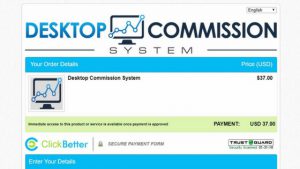 You can read a promise that the platform is free and you don't have to spend cash to participate in it. However, this is not true because you'll be asked to pay through the sales page in order to be a member of the system.
The program is not really free because you need to pay $37 in order to start using it. Think about this system so many times before paying money so that you can be sure that there's something in return.
You'll also notice that you will be redirected to a program named Click Better that is a payment portal for digital products. This may sound familiar and popular for many people but the platform is not even trusted by many users.
Do you know the reason why? It's simply because the platform accepts many scam operations on the Internet and don't have rules in effect to do a background check on its clients.
The long video that was created to highlight their promises are full of lies, they're a compilation of the testimonials done by paid actors to deceive potential members of the platform.
You'll probably find more reasons to believe this when you research about Fiverr wherein many people buy the services of paid actors to help them create attractive videos.
There is even one testimonial that uses the same person in Millionaire Biz Pro. What is absurd is he is using the same setting and wears the same shirt. They'll just take your cash, get away with it, and then go on deceiving a lot of people in the industry.
Is it Possible to Make Money Through this System?
The answer is no. So to understand the whole system, here's a quick summary of what we have learned from this review. There are no advantages of joining the program.
There are many disadvantages such as the deception that it is free when you have to pay $37 to join, no valuable product or services offered, just a complete hype, no support for its members and it is not even recommended by experts.
Summary Overview
Desktop Commission System Review
Is Desktop Commission System a Scam?
Obviously, the platform is a scam. The program offered is full of empty promises and you can't even rely on the sales video to understand the business.
Since it is clear that the system is not legitimate, don't pay $37 just to have access to their program. It is one way of wasting your money, time and efforts in the process.
Aside from that, they're using ClickBetter which is not trusted online. If you think about it, the program is already questionable because there is no customer service to help you answer questions and no support to rely on.
So is there really a possibility to earn money in this program? After checking all resources, there is nothing that you can get out of this platform after paying money.
Lastly, you can't trust their claim about 60-day money back guarantee because it is totally false and one of the ways to let you believe that the creator is not a scammer.
Once you have paid the amount of $37 to participate in the platform, there is no guarantee that you can get back what you have already paid if you don't like the system.
Conclusion
You should be wary on those outrageous offers online as most of the time they are scams. Desktop Commissions System offers no values as they are just selling dreams.
You may not realize it but there are still so many people who fell prey to these scams. It is human nature to seek out those shiny objects online.
You have to stop chasing those shiny objects online and learn how to start an online business. It is not that easy to make money online but it is still possible.
You need a set of skills though to really start an online business. To acquire these skills, you need to have proper training and the guidance of a good community.
You also have to be motivated and willing to learn how to start a blog and build a website. You do not have to be a writer to be a blogger.
I am not a writer myself but now I am running this blog and built it without professional help. I started from zero and progressed because the platform that I  joined is the best online.
It will teach you everything from building a website up to the part where you can monetize your website. I could not have done it without this platform and of course with the guidance of the community of online entrepreneurs.
Online is the way to go to do business these days as more and more people are buying online. If you do not have an online business running, you are left behind.
Recommendation
I suggest you join my #1 recommendation and you will not lose anything. It is free to join and you do not need credit cards. You will have two free websites so you can start your online business right away.
The training includes Video Training, weekly Webinars and there is a LiveChat so you can have quick answers to your questions.
All the members of the community are there to help you in case you run into problems with your online business. So join the community now!
Click here to learn more about the business.
Feel free to post comments, ask questions using the "Contact Me" form on the right or type your email address on the form on the top right-hand side of this page to get a free 7-day email guide on how to start an online business.
At a Glance
Desktop Commission System Review