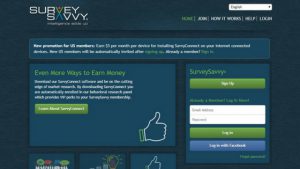 Survey Savvy is a  website that pays its members for doing online surveys, and it is operating since 1999. It is a Better Business Bureau Rated Survey Platform. It is operated by Luth Research, LLC under Ms. Roseanne Luth.
Everyone has a different story and experience to share. Most of these people share their experiences on social media since they know how powerful this tool can be.
If you are one of them, instead of wasting your precious time sharing different information online, then why not use that as a source of income?
You heard it right, you can use your opinionated characteristic to earn and this website, in particular, can help you do that.
After reading my review, you will know the detailed information about this website and if it is possible to make money doing online surveys.
Survey Savvy Review
Summary
Name: Survey Savvy
Website: surveysavvy.com
Owner: Luth Research, LLC.
Price: Free
Star Rating: 2.9/5 Legit!
What is Survey Savvy?
This website has been around since 1999, under the same ownership of Luth Research LLC, and it is currently stationed in San Diego, California, and they have been in the industry performing market research since 1977.
They claim they have about 1.5 million members worldwide and the fact that they have been operating for a long time is a plus factor.
How Does it Work?
You do not need to worry about paying any here since joining is free. It costs you nothing to take surveys, and you just need to fill out forms.
The form will ask you personal information about your age, household members, income, and location. Your location will prequalify you to take surveys.
The client, on the other hand, will set criteria for choosing candidates. Then this website role is to use the criteria set by their clients and match it to their member's qualifications, based on their demographics.
They use an application called  SavvyConnect, which other surveys websites do not have in comparison. After signing up for this service, it will collect information regarding your browsing habits, may it be streaming, shopping, social media or anything else.
It will monitor your browsing history, and that they will use to collect information and provide their clients. If the client feels like the information collected by SavvyConnect is useful to them, the website will invite their chosen members to share their inputs about a particular service or product being offered by their client.
SavvyConnect filters your information to qualify you for different surveys available. If they see you qualified, you will receive an email including the invite to participate in the survey.
After completing the survey, you will get paid depending on the attached reward. There is a current promo running for US members, and that is getting $5 if they decided to use SavvyConnect.
Although, not doing so will still qualify you to participate in surveys. Yet, you will get more qualifications if you use the tool.
They also state that you will get more chances of getting qualified if you complete other optional questions to answer in regards to your profile.
They also recommend that you use their mobile app where you can get the chance of winning $10, which they give away every month. Joining is free on this site, all you need to be is you have to be above 14 years of age and have a dependable internet connection.
Summary Overview
Survey Savvy Review
Summary
Name: Survey Savvy
Website: surveysavvy.com
Owner: Luth Research, LLC.
Price: Free
Star Rating: 2.9/5 Legit!
Is Survey Savvy Legit?
With the BBB rating of A as of this writing, I would say that this platform is legit. This platform is open to anyone, anywhere, and in case your country is not part of the list in their application form, they encourage you to contact them.
If you are asking for the expected money you can earn from this website, it is best if you do not ask nor expect.
The Compensation Structure
The income is dependent on your qualifications, some of their clients pay $2, but most of the time it is lesser. The only amount guaranteed is for the users in the US where they can collect $5 each month as they use SavvyConnect.
They send their members payment in the form of a cheque via mail. When requesting for withdrawal, you need to pay a dollar and should wait for about 4 to 6 weeks for your check to be received.
If you want to earn extra from this website, all you need to do is refer a friend. There are two ways to earn from this program, first is through direct referral and second is from the referral of your direct referral.
So meaning, you will still get paid for your referral's effort, unlike the usual affiliate program where you will get paid for your direct referral only. That would mean they are running on a two-tier system.
You can do this method if you want to earn without taking surveys or when you are waiting to get qualified. For me, they are generous in this aspect and to add, they open this program to anyone in the world, so giving their members better chances of recruiting or inviting more members.
This method in my idea is the best way for you to earn more income and to utilize the most out of this website. The surveys may not be something that can please your bank account, but this option for me could work to your advantage.
And before I forget, they have an A+ rating with the Better Business Bureau, so I guess that is good enough to check on their business legitimacy.
Not all companies running their business online receive that rating, so you may have an idea now what to expect from them.
Is There a Hint that Survey Savvy is a Scam?
There is no hint whatsoever that this website is a scam. With all the positive characteristics I stated, just like in any good companies, they have their drawbacks and few things to improve on.
Survey Savvy Complaints
For me, this website is better if they offer their members other payment option other than cheque by mail, I mean, okay, it is a nice thought that there is no required minimum to withdraw your money, but four to six weeks for me is a bit long.
Another complaint is about your qualifications in taking the surveys.  You may not get an invite every day, and it may take days or sometimes weeks. So for me, their surveys are not sustainable enough for anyone to leave their day jobs.
It can be true that you can get more qualifications if you sign up with the SavvyConnect. You can even earn a regular $5 a month if you are from the US, but unfortunately, not everyone is okay with the idea of sharing the activities they do on the internet. I think that is too much to handle for some.
But having all the negatives, we always go back to how long this business is running in the industry. For me, it is long enough to consider not just their legitimacy but the satisfaction they provide to their members.
Conclusion
So there you go, you have a legitimate company there, and maybe this is what you are looking for a long time.
By the way, before you go, I want to ask you one thing. Aren't you looking for financial freedom that's why you are here? Do you dislike your job so much that you need a life changer?
If the answer to those questions is yes, then read on; otherwise, the information I have given you is enough to make your decision.
Would you believe me when I say that the best way to start an online business is by blogging?
I know that the more  I tell you something, the more questions pop up in your mind.
I don't blame you; I had the same experience when I started.  I thought it was impossible to be a blogger when I am not a writer plus the fact that my native language is not English.
I built this website all by myself, without any professional help. Of course, there are skills required which anyone can learn.
You just need to join a community that will guide you each baby step of the way. By the way, I love my job, but I chose the freedom that only online business can offer.
Recommendation
My # 1 recommendation will teach you everything you need to start and run an online business. The training is the best you can find online and it includes training videos, LiveChat, and weekly Webinars.
Even the community members are creating their own training to supplement what is offered and on very specific topics when required.
Join the community for free without the need of credit cards, and you will also have two free websites to start your online business.
Click here to learn more about this business.
Feel free to post comments below, feel free to ask questions using the "Contact Me" form on the right or type your email address on the form on the top right portion of this page to get the updates and offers.
At a Glance
Survey Savvy Review
Summary
Name: Survey Savvy
Website: surveysavvy.com
Owner: Luth Research, LLC.
Price: Free
Star Rating: 2.9/5 Legit!