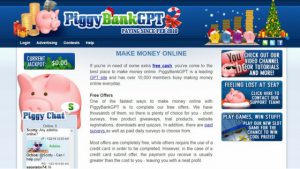 Piggy Bank GPT is a website that pays its members to do some minor tasks. It is a "Get Paid To"  site where most of the tasks to do is answering surveys.
If you are new in the industry of online money making, you might be deceived too easily. Websites who claim they are the "real one" turn to be not the good ones. You have to weed them out.
After reading my review, you will get the necessary information about this website and will guide in making your educated decision whether to join this platform or not.
Piggy Bank GPT Review
Summary
Name: Piggy Bank GPT
Website: piggybankgpt.com
Owner: Unknown
Price: Free to join
Bottom Line: Not Good
Star Rating: 1/5
What is Piggy Bank GPT?
At first glance, you may think that this website is legitimate, as there are no red flags of scamming or any actual issues at all. But is it enough to trust a site by how it looks?
You cannot decide on website's authenticity just how their site was built, and you have to be smart enough to look into the details and differentiate true to too good to be true.
Programmers and web designers and developers now are very creative that they can create a website that seems legitimate even if it is entirely not.
That same goes for this particular website that if you are just looking at how it was made, it will make you feel that you are at the right place to earn online.
This website claims that they are paying since 2010, this for others is good enough to believe that they are paying. Before you get too excited and believe their claims, let us get more into the details and discover whether they are worth to take or not at all.
How Does it Work?
The first thing I want us to discuss is how this website works. So, it is supposed to pay people by just doing straightforward tasks like watching videos, taking surveys and the like.
GPT is the abbreviation for "Get Paid To", if you connect it with how this website works, you will get paid to perform simple tasks.
It is unknown who created this website, as there were changes along the way since they started the year of 2010, but needless to say, this is not the topic or issue I want us to focus more on.
This way is how it supposedly works, and you will either watch a video or fill out a survey form then you will get rewarded with cash or coins that can be converted to gift cards.
This is how it operates way back, but a lot has changed resulting to negative impacts both on their members and site.
Summary Overview
Piggy Bank GPT Review
Summary
Name: Piggy Bank GPT
Website: piggybankgpt.com
Owner: Unknown
Price: Free to join
Bottom Line: Not Good
Star Rating: 1/5
Inconsistencies
The bad news is there are changes of this website causing a lot of complaints, and things went downwards on all aspects of their business. This change is also the reason why these issues arise, but of course, and there are complains that they are not paying lately.
But if there is a problem, my thought is they should inform their members. They should be transparent about what is happening so there is no reason at all why you would not trust them.
I suggest that you wait for things to smoothen first before you try registering to this website. Even the task is easy, you still need to spend some time and efforts to perform the job, and a minute or two of wasted time is again wasted time.
Do not take chances especially now that there are a lot of negative news spreading about how the website has changed lately. As per their members, this platform used to pay them before, but everything changed.
I am pretty sure, and they have members before who received a right amount of money from easy work they do. I cannot say that this is a scam, but I still do not recommend that you join them.
I do not see any reasons as of yet, maybe soon once they have picked up all pieces together and pay all their pending payouts, then you can give it a shot.
There is no information on is running this site. Their about us page did not mention anything at all.
Price
Joining Piggy Bank Gpt is free.
Compensation Structure
If it was running as to how it was supposed to be, you could actually make from $.20 up to $2.50 per task completed. The other way to make money from this website is inviting other people to do exactly what you are doing.
There are that are tasks paid only in coins. One coin is worth one cent but cannot be converted to cash but only gift cards and can also be used for jackpot entries.
You will earn 25% of the earnings of your direct referrals, and you will get 5% from their referrals total revenues.  An additional 1% comes from the earnings of up to 3 level referrals. So this is a type of Multi-Level Marketing that is up to 5 levels.
If this is true, then absolutely this is a website which is good for you to consider. You will also have a bonus of $.50 once you direct referral finishes an offer worth $.25 The money is just coming, and with the little effort, you make you will get paid with a good amount of gift cards.
That was before, and it is a lot different now. So you better just wait and see if things will get any better.
Is PiggyBankGpt a Scam?
My verdict for this website is that this is not entirely a scam, but I will not recommend it at all. The main reason why I am not labeling this as a scam is, you do not need to use your hard earned money to join.
Since joining their website is free of charge, so meaning you will not lose money only time and a bit of effort, a lot better than any sites that will steal not just your time and effort but your money as well.
And since they were paying before, and we do not know happened now so we cannot declare that they are scammers.
I believe the solution is for them to pick up everything together, make things right and start paying their members again.
We may never know when will it happen, but all their members for sure are all holding to their hopes that they will get paid from the work they finished just like before.
Conclusion
There are many money generating sites over the internet, but not because they say you can earn money, they mean it. A lot, I mean hundreds to thousands of websites that just promise a lot but do not deliver.
Their number is more than the legitimate ones, and they are all over the internet trying to deceive people and not only wasted their time and efforts but their money as well.
I suggest that before you get yourself anywhere online, do your homework, do thorough research about a specific website and give yourself enough time doing so.
Do not rush as rushing will just lead you to invest money, time and efforts to somewhere that will not give returns and will only end you up hoping for nothing.
Earning the easiest and fastest way is a dream for everyone, but unfortunately, the world does not work that way.
Recommendation
Even if you find a paying GPT site, I still do not recommend that you join as it is just a waste of time. The reason why you are looking for an online opportunity is mostly to be free from your day job.
GPT is still a job, and it will never give you a full-time income. The best thing for you is to run an online business. That will be the time that you will be the boss and be financially free.
Is it as easy as answering those surveys? No way, as there are sets of skills required. It can be learned though if you are willing and there is training that will make you an online entrepreneur.
Is it going to be overwhelming? No, I started from zero but I am now doing this full-time, and I love it I would not go back to a day job.
I am not computer savvy and not a writer at all, yet I build websites for myself and my clients, and I am blogging. Blogging is fun, and actually, it is about helping people solve their problems.
It is nice to earn money by solving people's problems, and I am sure you will agree to that. Now I suggest you try my #1 recommendation for free and see if it is for you.
You will have two free websites and me as well as the whole community of over 1.2 million online entrepreneurs will be guiding you through the training.
Click here to learn more about this business.
Post comments below, type your email address on the form on the top right portion of this page to be the first one get the updates and offers. Feel free to ask questions using the "Contact Me" form on the right of this page.
At a Glance
Piggy Bank GPT Review
Summary
Name: Piggy Bank GPT
Website: piggybankgpt.com
Owner: Unknown
Price: Free to join
Bottom Line: Not Good
Star Rating: 1/5