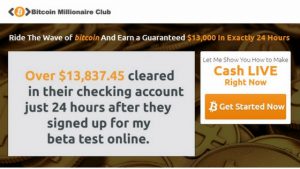 Bitcoin Millionaire Club is a website that claims they have a software that can make you winning trades in binary trading and you will earn $13,000 per day.
It is this website's promise to make you $13,000 richer a day while on autopilot. Every naive person who hears this very enticing offer would immediately register and immediately plan on what to do with the huge money they are about to earn, or better say they thought they will earn.
Join me in this review, and you will have the full details after reading, then I hope it will guide you in making an educated decision.
The Bitcoin Millionaire Review
Summary
Name: Bitcoin Millionaire Review
Website: http://bitcoinadvertising.co
Owner: Steve Banks?
Price: Minimum $250
Pros: Nothing
Cons: Too much red flags!
Bottom line: You have to avoid this website.
Star rating: 0.5/5
What is Bitcoin Millionaire Club?
It is the guy named Steve Banks who shares his success story putting up with this website, but the question is, is the story he shares true to his experience or something he makes up to deceive?
In this article, I want to share with you the red flags I found out while getting to know this website. Just like anyone interested in getting the information about a website, giving it a visit is the very first thing you should do.
How Does it Work?
The landing page of the website will welcome you to somewhat a sales video where Steve banks, the founder of the site, narrates information you should know to get hooked on them.
So, he shares his achievements and life milestones, and he is inviting you to join them to experience the same. His promise is instant $550 just an hour after joining and a guarantee of earning $13000 in 24 hours.
His biggest selling point is you can start here free of charge. As his video goes on, you will learn that he, Mr. Banks, started working on a huge Wall Street investment company as a software developer.
His work is developing software that can create money flipping bitcoin ads with no need of owning one. There is no clear explanation given, on the meaning of the bitcoin ad and the reason why flipping ads is something you would want to do.
The first information you need to provide them as you join is your contact number. Then after that, you will receive a phone call from one of their financial adviser.
They are not the person they introduce them to be, as they are binary brokers who are aiming to deceive you to earn huge commission.
The Red Flags and Inconsistencies
I cannot make pros and cons here as there are no good points to talk about this platform. So I will drive straight to the red flags and inconsistencies.
As you go on watching the video, you would see a very familiar face. He gave testimonials on money making online products and services, and now he is doing it on this platform.
Check him on Fiverr.com, his name is "generatecashbiz",  and he is still using this username in his account on Fiverr as of this writing.
His face is on a lot of money generating online sites and it is just too rampant now that he can be easily identified.
There are dozens of websites that he is giving scripted testimonials and they are too many to list here. I cannot blame him as it is his job to do it, but at least he should not take jobs that would hurt a lot of people in the process.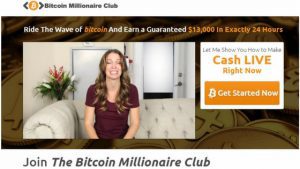 The other person giving testimonial is a lady with the user account  "TameraK" on Fiverr.
She is getting so popular as she appeared on a lot of websites saying different testimonials.
I don't blame her as she is just trying to make a living giving scripted testimonials.
A Rehash of Another Website
If you look at The Bitcoin Code which I reviewed before, they have the same logo and the same owner's pictures, albeit different family names. To make it more dramatic, this is the same website, they just change the name of the owner, the website name and the domain name.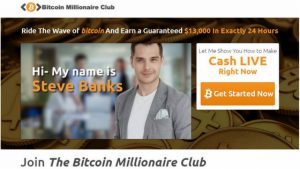 Why did I say it is fake? I thought his name is Steve Mckay on The Bitcoin Code. It is the same picture as the one they use on this platform.
This incident alone can erase all the necessity of the other red flags. This red flag is enough for people to avoid this website at all cost.
Inconsistent Statements About the Price
The video kept saying it is free but the testimonials are saying that the minimum investment is $250.
The video claimed that their business is about Bitcoin advertising but in reality, they do not have anything to do with Bitcoins.
In addition to the mentioned red flags and inconsistencies, this platform has no product. They will just funnel you to the binary trading brokers.
Summary Overview
The Bitcoin Millionaire Review
Summary
Name: Bitcoin Millionaire Review
Website: http://bitcoinadvertising.co
Owner: Steve Banks?
Price: Minimum $250
Pros: Nothing
Cons: Too much red flags!
Bottom line: You have to avoid this website.
Star rating: 0.5/5
What Will Happen Next?
I want to start with their initial tactics, actually, it is a small investment at first. The telemarketer will first ask you to invest $250 to open a trading account.
The bigger scam will happen after you give away your $250. So, the software goes whir, lights will flash and the numbers on one of the stakes start to increase giving you the thought that you are truly earning money.
Just in an hour, you will earn $500 and as Mr. Banks promises, $13,000 in 24 hours. These are all illusions and there is nothing real to the money you thought you earned. So your illusion of earning $13,000 will be used against you as your "financial adviser" will contact you again.
This time, he will ask you to deposit $10000, and their promise is to make you a millionaire in just little as 90 days. As someone who thought that the promises that were made previously are real, $10000 in return of a million after 90 days is heaven to the ears.
So, the poor victim will gladly deposit their hard earned money and will be left dreaming of something that will never ever happen.
The $10000 is all gone and went to pockets of people that you actually do not know if truly exists.sting these people would be one of the biggest mistakes you would do in your lifetime.
Is The Bitcoin Millionaire a Scam?
I will not label this a scam but I highly recommend that you avoid this website at all cost. Let us go straight to the point with this red flag, why would Mr. Banks opt to use fake images and fake testimonials?
I mean if they have members that are really happy and rich with this platform, Mr. Banks should invite them to do the testimonial instead. It just clearly shows that they have no successful or happy members.
To tell you honestly, they do not have millionaire members. What they have are members who lost money and suffering profound humiliation.
You might be thinking that they are related to bitcoin, do not get deceived just like others, as they are not anyway related to bitcoin and you would never own bitcoin ads joining them.
This site is just one of those websites who are deceiving people to get their money, in short scammers. They will make you believe that you are making money but actually, you do not.
Conclusion
There is no magic software that can give you that much amount without doing anything because if there is, the owner of it will never sell it to a price a lot lower than what it can supposedly make.
And besides, if that is real, you should have thought that the offer should not reach you in the first place. There is no need to market offers as such as people will beg to have them.
If you want to trade in Binaries, you can do it on your own. If you want to try it just open a demo account in Iq Option and use play money to trade. I will not recommend that you use real money as for me trading in binaries is a form of gambling.
If you want to gamble I think it is better to gamble in a casino, at least they regulated and they pay taxes to your government.
I will only gamble if I will have a chance to win a dollar for every dollar I bet. It doesn't happen on casinos as they take at least 35% of the prize of your winning bet.
It is almost the same in binaries. When you lose a bet, they take all your money, but if you win they will not give all the money.
I believe in the saying that if you are a gambler, you are a loser, but I do not know about you. Earning online is possible and real, you just have to be very picky which one to believe.
Recommendation
If you want to make money online you should have a website. Then you should learn the skills needed. There is no shortcut and you should stop chasing those shiny objects.
Click here to learn more about cryptocurrency!
Post comments below, feel free to ask questions using that " Contact Me" form on the right of this page or type your email address on the form on the top right-hand portion of this website to get the offers and updates.
At a Glance
The Bitcoin Millionaire Review
Summary
Name: Bitcoin Millionaire Review
Website: http://bitcoinadvertising.co
Owner: Steve Banks?
Price: Minimum $250
Pros: Nothing
Cons: Too much red flags!
Bottom line: You have to avoid this website.
Star rating: 0.5/5