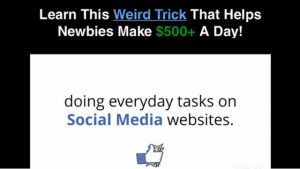 Instant Income at Home is a platform founded by Angela Crisper that claims you can make a minimum $500 a day by doing social media tasks.
You came to my review because you need a solution to your problem which is trying to confirm the legitimacy of this site.
I will promise you that after reading my review, you will have a better understanding of this website and hopefully will guide you to make a smart decision to join or not.
Instant Income at Home Review
Summary
Name: Instant Income at Home
Website: instantincomeathome.com
Owner: Angela Crisper
Price: $37
Pros:
Nothing
Cons:
A lot of red flags
Bottomline:
You should stay away from this site.
Star Rating. 0.5/5 SCAM!
Table of Contents
Click on the topic for quick navigation or scroll down.
What is Instant Income at Home?
Many people want to know the truth behind this system because of the hype surrounding it. As a member of the site, all you have to do is work for about one hour per week and $500 or more every day participating in social media networks.
In other words, you just have to be Internet savvy, and you'll earn a lot of money by just spending a little time on social media channels.
How Does Instant Income at Home Work?
If you're researching about the enticing offer of the program, you'll learn a lot from this review. By starting your research in knowing how it works for everyone, you'll discover a lot of things about the platform.
The marketing strategy of the system is showing two videos for prospective customers to know more about the website.
The first video talks about the benefits that you can get as a new member, and it is more on selling hopes for potential users.
This part is where the hype is being built so they can start to attract people on the internet. It discloses a meeting of a certain Angela with Mark Zuckerberg and Bill Gates regarding the loophole of Facebook and the chance of earning a lot of money.
Is this believable for those who understood the business of technologically-advanced people? Obviously, the claim is a trap for many people who are searching for online opportunities.
Knowing these claims alone will raise red flags because huge companies will know if there's something wrong with the system.
On the other hand, the second video focuses more on how to earn a lot of money on Facebook and other social media channels while working from home in just a short period per week.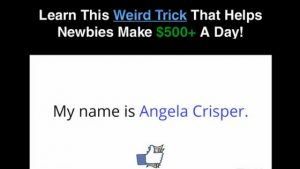 If you're familiar with scammers, you will notice that Angela isn't true because it is just done by a paid narrator.
Aside from that, Angela doesn't even exist in real life. Those who are realistic will find these offerings inconsistent and impossible because no one earns a lot of money without effort and without spending the time.
This system is a get-rich-quick scheme and the videos shown to attract new members are disturbing to watch, especially for those who aren't aware of these marketing tactics.
By just listening to the video and analyzing the amount given as potential income, you will notice the inconsistencies present in the marketing information.
After all, it is too good to be true for a person to earn $150,000 or more by just being active on social media within a few hours every week.
It takes some hard work for a person to earn huge money in a given business and the time spent to build it is even longer than expected by the most business creator.
The Red Flags and Inconsistencies.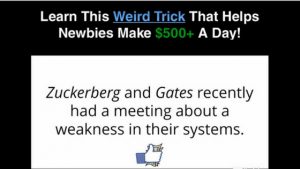 There are three negative things to consider in this program.
First, the videos shown are not trustworthy and very manipulative.
These two screenshots of the video can prove that the whole system is a scam. Why?
If it is true that Angela has the insider information on Gates and Zuckerberg's systems, she doesn't have to peddle that for $37. Even an ordinary person knows how valuable that information is in the financial world.
Angela should be a very prominent personality in the financial world to be able to be an audience of a meeting between two of the most influential persons in the finance world. How come we never heard of her? It is because she is a fake.
Bill Gates and Mark Zuckerberg are smart people, and it is the reason why they are successful. Are they stupid to discuss their business problems if ever on public? If those problems are real, they will bury it so deep only them will know for sure.
I can't believe somebody will attempt to use this as leverage for sales. Poor Angela, people are smarter than that, but I think they are counting on the saying that "there is a sucker born every minute."  Believe me, people will still fall for these scams, but I hope, it will not be you.
It is not true that the platform is something that can solve your financial burden without even giving correct steps in earning money. The claims are vague and questionable in most cases.
Second, there is a possibility of identity theft by the owner of this website because you'll be asked to give your email address.
If you're going to do so, there is a possibility of spamming your inbox that will just annoy you in the end. Aside from that, they could sell your personal information to third parties, so the creators of the platform became richer through you.
As a recommendation, you should be very careful in giving your email address to them especially that it is part of the process of becoming a member of the program.
Third, the marketing claims shown in the two videos are not real and considered fake by experts online.
Granting that the money is real, there is no supporting evidence that that cash earned by them came from joining the system.
In that case, the points are misleading, and it will just lead you astray. It will even result in losing time, money and resources.
Also, it is not even possible to earn a lot of cash without knowing some skills online. Many people who became successful online have skills set that made them provide excellent services to others in exchange for money.
Summary Overview
Instant Income at Home Review
Summary
Name: Instant Income at Home
Website: instantincomeathome.com
Owner: Angela Crisper
Price: $37
Pros:
Nothing
Cons:
A lot of red flags
Bottomline:
You should stay away from this site.
Star Rating. 0.5/5 SCAM!
The Compensation Structure
There is no clear compensation structure offered by the owners of the platform. If you can see the videos, the first attractive offer is to earn $500 a day by just playing on the Internet in just a few hours.
Primarily, this claim is considered an empty promise because there is no clear process on how to complete the work. Aside from that, it was also mentioned in the video that you can earn $150,000 or more without an explanation on how to do it.
There is a presentation with a screenshot of proof of earnings, and the monetary figure is really attractive for many job-seekers online.
However, the amount is too tremendous, and there is no further discussion as to the process of obtaining the said income. Obviously, the presentation of revenue is illegitimate because anyone can just include a screenshot of any video.
Also, the photos of cash, mansions and other properties are very questionable. You cannot confirm if those amounts of money are acquired through the program.
If you are going to join the system and you have no skills, it is not possible for you to earn that massive amount of money. Their claims are genuinely ridiculous and untrue.
These days, legitimate companies offer a reliable and dependable compensation structure for members to participate in the job.
Here, all the statements are baseless and shouldn't be taken seriously. Lastly, there is no clear compensation plan that you can rely.
The Price
It will cost you $37 to join.
 Is Instant Income at Home a Scam?
It has red flags that could easily qualify as a scam website. It is a poor attempt to deceive people, and I hope they will not fall into these traps.  I would like to educate them and guide them to stay away from scams like this one.
Conclusion
People who are looking for easy money online are the ones being targeted by scammers. These people have a mindset that making money online should be that easy. Then they will realize they are being scammed.
It is possible to make a full-time income online, I  quit my job in aviation to concentrate on my online business, and I did not regret it a bit. Is it easy money?
No, you have to run it just like any business.  It offers more financial freedom, while you have time on your hands to do other things in life.
Recommendation
Are you tired of this scam sites like this one?  Please stop chasing those "shiny objects" online as most of the time they are used as bait for scammers.
I suggest you try my # 1 recommendation as it will teach you the skills needed to start an online business. It is free to join without the need of credit cards, and you will have two free websites.
Click here to learn more about the business
Feel free to post comments below, ask questions using the "Contact Me" form on the right or type your email address on the form on the top right portion of this page to get the free 7-day email guide on how to start an online business.
At a Glance
Instant Income at Home Review
Summary
Name: Instant Income at Home
Website: instantincomeathome.com
Owner: Angela Crisper
Price: $37
Pros:
Nothing
Cons:
A lot of red flags
Bottomline:
You should stay away from this site.
Star Rating. 0.5/5 SCAM!