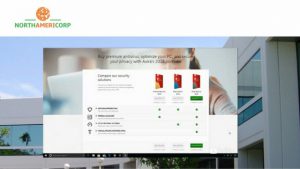 NorthAmericorp is a platform that claims they can pay you $27.25 an hour for a copy and pasting job and without any expense on your part whatsoever.
You probably need a job online to supplement your income or hoping that you can find the platform that can help you to quit that day job you hate.
After reading my review, you will know the details about this platform and hopefully will guide you in making a smart decision.
NorthAmeriCorp Review
Summary
Name: NorthAmeriCorp
Website: instantonlinejob.com and northamericorp.com
Owner: Trevor Harris claim to own onstantonlinejob.com but northamericorp.com owner is unknown
Price: Trevor claims it is free but it is minimum $51.99
Star Rating: 0.5/5
Table of Contents
Click on the topic for quick navigation or scroll down.
What is NorthAmeriCorp?
It is a company who claims to provide people with a flexible job at home. It was Trevor Harris explaining on the site's video on how someone can make money by just processing easy and simple worksheets at home.
The jobs supposedly give people $27.75 per hour of work by just copying and pasting stuff online. So, he continuously claims that there are real jobs available for people to work on and he claims that there is no fee doing so, unfortunately not the case.
How Does NorthAmeriCorp Work?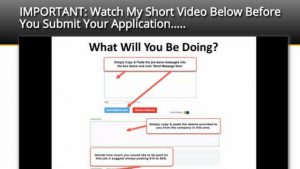 The website summarizes three steps that you are required to take so you can access the "job". The company uses tons of marketing, which you honestly won't understand really.
To make it easier for you, I will translate their statements in the plain language.
First, you need to buy an antivirus software from the link they are affiliated with, second, you have to email them as proof that a purchase was made and third, wait for an email on how you can access your "job".
Let us go straight to the point, and this website is a clear affiliate marketing company. What they do is sell people with different antivirus software, and they will get commissions from it. The company is just an affiliate of varying antivirus software.
They are affiliated with the different company manufacturing antivirus software, and at some point, they will route you to the antivirus software websites.
You can verify that they are affiliate marketers, as the link located in the top area of your screen changes before reaching the site which they are connected.
So, let us discuss their process one by one to make it clearer for you.  So first, once you are on Trevor Harris site which is instantonlinejob.com, you will be introduced to this amazing job opportunity as per his claim.
Then after that, once you entered your email address, you will be redirected to the second landing page and video, and you will be explained about the supposed job you have to do.
Then you will be redirected again to northamericorp.com.  You will be asked to click a button to buy an antivirus software which they are an affiliate.
After clicking you will be routed to a sales page where you can buy the software and finally, once you get into their bait and pay, they will get an instant commission from you.
I just want to make it clear; affiliate marketing is never a scam. The way it is being marketed can be the reason why they are tagged as "scammers."
Many people are in the industry of affiliate marketing, mind you, they may or may not be working reasonably, and it depends who is behind the website or the program. In this case, I completely do not agree how they run their marketing strategy.
They are misleading people. They state that people will have the opportunity to earn money just by copying and pasting, but the reality is, they are just selling an antivirus software that they are an affiliate to earn commissions, plain and simple.
Red Flags and Inconsistencies
Unfortunately, there are a lot, too many actually, but I will discuss only the most evident.
Their claim is after you make a purchase the money will be refunded 100% once you are already working at the training center.
This is something I cannot get, why would they ask you to pay the software in the first place, they are the employers so as expected they should be the one to supply this to their employees. Will the money you pay for buying the software get refunded? Think again.
Dubious Marketing methods
Is there a legitimate company that will let their affiliates market their products this way? I do not think so, as what they do is sell their items to customers who truly and sincerely like their products and not for the reason that someone will pay them back after buying.
There is no indication anywhere on who is running the show. It is not even Trevor, as Trevor only explains how to earn but nowhere in his video states that he is the owner of the site.
The information about the people behind the site is missing, so who to run if the boat is sinking? No one knows at all. You should never trust a website that is not transparent on who their founders are.
That is a clear indication that something will mess up somewhere in the middle of your relationship with their company.
Why will you need to buy an anti-virus software before you can start working?
Why do you need to buy software before starting work? They say its free, then all of a sudden you need to buy software, this is just too odd for me.
Inconsistencies in the Statement on the Sales Video
And finally, the changing of the statement of Trevor is enough to make you think twice or even thrice before subscribing.
On the earlier part of the video, Trevor says you will get $27.25 every hour doing the "easy task". Then as he goes on, it changes to $15 up to $25 per task, then when you are in the website's landing page, it changes to earning of $12.33 up to $27.90 an hour.
So, what is the real deal here? Which of his statements is true, or is there anything true here. Inconsistent information on a video with 10 minutes length is odd. How can you trust a company or a website that cannot even make a consistent remark to a very short video?
First landing page links redirection
All the links in the bottom of the page, which is the "contact, privacy policy, terms of use and the earnings disclaimer will redirect you to the first sales video. It is very clear that they don't intend to be transparent.
Third landing page links at the bottom of the page are not secured.
When you go and click on any of the links, you will have a privacy error message.
Summary Overview
NorthAmeriCorp Review
Summary
Name: NorthAmeriCorp
Website: instantonlinejob.com and northamericorp.com
Owner: Trevor Harris claim to own onstantonlinejob.com but northamericorp.com owner is unknown
Price: Trevor claims it is free but it is minimum $51.99
Star Rating: 0.5/5
The Compensation Structure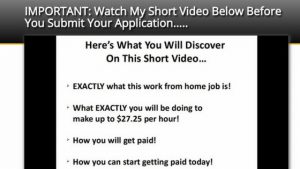 There is none, as you will not get compensated at all. You will enter their site with the hopes of earning from them but actually, it is the other way around.
They will encourage you to join their website by giving you flowery words like you can earn $27.75 by just working on an easy task, which is copying and pasting to be exact.
If you get into their bait and proceeds, you will be routed to another site, which they are an affiliate, to purchase antivirus software.
Let us be real, antivirus software is beneficial, but you would never purchase it to earn money or should I say because of wrong reasons.
The Price
Trevor Harris said on the first and second video that everything is free, but once you reach the third video, you will have to buy the Avira Antivirus Software that ranges from $51.99 to $109.99.
Is NorthAmeriCorp a Scam?
It is apparently a scam. There are so many red flags and inconsistencies that can label this platform as a scam. They are using the weakness of the people that are desperate to get a job online.
Conclusion
Online jobs like this do exist but not with this platform. It is just a sales funnel for Avira Antivirus Software. There is nothing wrong to promote a product as this is affiliate marketing. The issue is that they are trying to lure the applicants that it is part of the job requirement. It is a scammy act.
What's funny is, this is a double sales funnel. Trevor Harris of instantonlinejob.com will funnel you to northamericorp.com then it will funnel you again to an antivirus software website which is in this case, Avira.
Recommendation
Are you tired of this scam sites like this one? There are legit websites that offer jobs to applicants. If you need a legitimate job listing, check FlexJobs which I have reviewed before.
Do not confuse it with Legit Flex Jobs. I am not an affiliate of FlexJobs so trust me on this. You have to pay some money though.
Now if you want a full-time income from an online business, I suggest you try my #1 recommendation. It has a community of over 1.2 million online entrepreneurs willing to help each other. It is free to join, without credit cards and you will have two free websites as well.
Click here to learn more about the business.
Feel free to post comments, ask questions using the "Contact Me" form on the right or type your email address on the form on the top right portion of this page to get the free 7-day email guide on how to start an online business.
At a Glance
NorthAmeriCorp Review
Summary
Name: NorthAmeriCorp
Website: instantonlinejob.com and northamericorp.com
Owner: Trevor Harris claim to own onstantonlinejob.com but northamericorp.com owner is unknown
Price: Trevor claims it is free but it is minimum $51.99
Star Rating: 0.5/5