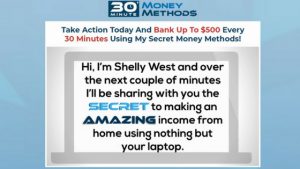 The 30 Minutes money methods is a website founded by Shelly West that claims its members can earn $500 in 30 minutes using her secret money methods.
Get rich quick schemes like this one is making a buzz these days as the opportunities they claim is way too good to be true.
You came to my review wondering if these claims could be valid as the feeling of receiving $500 in just 30 minutes is hard to resist. After reading my review, you will get your questions answered and hopefully will guide you to make an educated decision.
30 Minute Money Methods Review
Summary
Name: 30 Minute Money Methods
Website: 30minutemoneymethods.com
Owner: Shelly West
Price: $37 then discounted to $27 if you try to leave.
Star Rating: 0.5/5 Avoid!
Table of Contents
Click on the topic for quick navigation or scroll down.
What is 30 Minute Money Methods?
Apparently, it seems a very enticing opportunity that many people would like to try on the internet after learning more about the method.
Based on the claims mentioned by Shelly West, this is possible online, and all you have to do is pay her $37 to know the helpful tips and tricks.
Or maybe you can just sit back and relax, then read this review before joining the program right away. This type of platform is popular among those people who are looking for opportunities to earn cash quickly.
However, it is safe to join the platform? Will you be able to earn money quickly after becoming its member? Read on to know the answers.
How Does it Work?
Let us answer these questions by understanding how the program works for you and the other users who are considering to be a member of the platform.
There are many ways to find opportunities online such as searching for work-from-home jobs, joining online programs and more.
It also considered an online opportunity to participate in affiliate marketing or any referral program that allows you to recruit other people to join the system that you've involved lately to get a commission.
Aside from that, it is also popular to become a member of websites that offer opportunities to work with other people through web design, writing and more.
Don't fall into this trap because once they get your payment, you will only receive PDF training materials about different topics that involve
Voice-overs,
Stock photography,
Playing online games
Freelance work online.
Aside from that, you will receive bonus training materials such as affiliate marketing and social media campaign methods.
You might think that it's not a scam after all because you receive training materials after paying the fee. However, it is not the case because the offer is questionable if you will try to study it further.
By the time you will watch the sales video again, you'll notice that the promises stated in it aren't real because you only get the training materials only.
There are no real money methods that will help you accumulate $500 in thirty minutes or more than that. The promises are obviously false that you will eventually wonder how to earn that amount of money in a very short period.
The Red Flags and Inconsistencies
At this point, I'll explain to you how the scam works for those who want to become members of the platform. You will be asked to pay a fee of $37 that they consider as very affordable for potential members.
Once you pay the said amount, you'll probably think that you will earn money quickly by just becoming a member of the website but check this out first.
First, the person in the sales video named Shelly West is apparently an alias, or it is not her real name. Knowing how the system was offered and the vague promises found in the sales video, it is wise not to believe it right away.
Once you sign up, you will have access to a system to earn $500 in just 30 minutes or more than that every month, $50, oo0 per month or $600,000 a year.
If you're very observant, the sales video shows examples of earnings from those people who joined the program but in reality, it proves nothing.
Who knows the earnings shown are just invented to invite more people to join the platform immediately? Don't believe the claims quickly so that you will not lose money in the process once you join the system.
It is so easy to create fake earning proof nowadays, and you should never forget that before considering the platform.
See they have to go the trouble of hiring actors from Fiverr just to make their claim legitimate.
First Fake Testimonial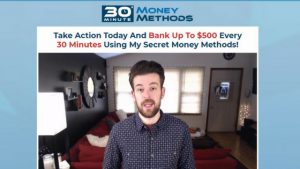 The Fiverr Actor
Here's another one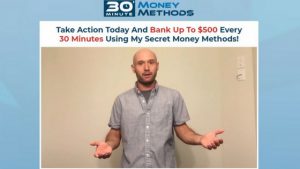 The Fiverr Actor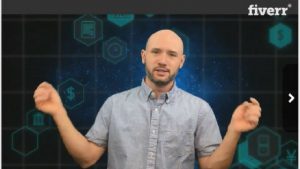 While it is possible to earn cash through online work, it is not possible to earn that amount without exerting too much effort and spending a lot of time doing it.
It will take years and years of hard work to earn up to $600,000, and you should have the right methods to do it.
In other words, the offer mentioned in the platform is not realistic, and you will only lose money in the process. The endpoint is that the scammers will earn a lot of money from those who joined the program without studying it first.
The testimonials shown in the sales videos are just created by people from Fiverr who support the owners of the website in exchange for cash.
If you take a closer look at the testimonials, you will also discover that they're just adding hype to the system. They're selling dreams so that potential members will hope for opportunities to become rich quickly.
Comment section used as a double opt-in form?
There's another trick to know the telltale signs that the platform is not reliable is they also have a comment section that will not only grab your email address but will also redirect you to the order page.
This scheme is a new method they are using which only adds the red flags to this site. If you leave a comment on the comments section of the sales page, you will be sent to the order page, and your comment will not be visible on the sales page.
You will also notice later on that you will receive a lot of spam emails in your inbox. It is spam when they send people an email without your consent. They should ask you to subscribe first before they can send you emails.
The creators of the website will most likely sell your email address to third parties online. Judging by the system, you'll be dealing with sneaky marketing strategies if you will try to join the program.
Leveraging affiliate marketing struggles to entice people
I agree her point about survey sites, and monetizing ads on websites. There is a strong indication that Shelly West has been doing affiliate marketing and failed.  Well running a scam site like this is much easier for her I guess.
Summary Overview
30 Minute Money Methods Review
Summary
Name: 30 Minute Money Methods
Website: 30minutemoneymethods.com
Owner: Shelly West
Price: $37 then discounted to $27 if you try to leave.
Star Rating: 0.5/5 Avoid!
The Compensation Structure
They claim you will earn $500 in 30 minutes, $50000 per month or $600000 per year and it is not clear how you will earn that money.
The Price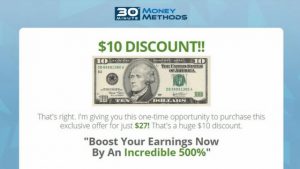 It is priced at $37 if you want to join but if you try to leave and you will get a $10 discount meaning you will only pay $27.
Is "30 Minute Money Methods" a Scam?
This platform is a scam, and you should be careful while checking it out so that you will not lose money, efforts and time. Even if you receive the PDF training materials, it doesn't mean that you'll earn such amount of money quickly.
Conclusion
If she has a secret money system that can earn $500 in 30 minutes, she will not bother to be peddling the system for $37 then dropped it to $27.
She claimed she made millions. She should also have claimed that all members of her family, her friends and neighbors are also millionaires.
All of them will stop doing whatever they are doing and use the system and be a millionaire. If you were Shelly, would you bother to sell the idea for $27? I don't think so.
She will not need cheap actors in Fiverr to fake her story. She could have a lot of people to give legit testimonials.
Recommendation
Are you tired of this scam sites like this one?  Please stop chasing those schemes online as most of the time they are used by scammers.
I suggest you try my #1 recommendation as it will offer you all the training and support to start an online business without the hype and BS. It has a community of over 1.2 million online entrepreneurs willing to help each other. It is free to join without the need for credit cards, and you will have two free websites.
Click here to learn more about this business.
Feel free to ask questions using the "Contact Me" form on the right, post comments below or type your email on the form on the top right portion of this page to get the free 7-day email guide on how to start an online business.
At a Glance
30 Minute Money Methods Review
Summary
Name: 30 Minute Money Methods
Website: 30minutemoneymethods.com
Owner: Shelly West
Price: $37 then discounted to $27 if you try to leave.
Star Rating: 0.5/5 Avoid!