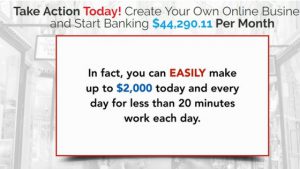 eCom Profit Sniper which is owned by a certain Tom Parker is claiming that you can make  $2000 per day, $42000 per month or more than $500,000 per year.
After all, the first step to do before joining a specific program is to conduct diligent research of the site.
By doing so, you will know which of these programs are legitimate and which ones are a scam.
After reading my review, you will have the necessary information that will guide you to make an educated decision.
eCom Profit Sniper Review
Summary
Name: eCom Profit Sniper
Website: ecomprofitsniper.com
Owner: Tom Parker
Price: $37 to join plus other expenses once you are a member.
Star Rating: 0.5/5
Table of Contents
Click on the topic for quick navigation or scroll down.
What is eCom Profit Sniper?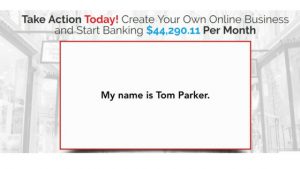 This platform is popular among those who want to focus on e-commerce. It is a system created by Tom Parker, and he promotes it by stating that regular people earn as much as $10,000 per week or more by just participating the site.
How Does eCom Profit Sniper Work?
Is it possible to earn that massive amount of money online? Is this the correct platform to join when it comes to e-commerce these days?
Apparently, there is a need to review the system so that no one will be deceived of the marketing tactics showed off by the owner of the system.
The hype that made the program popular is too good to be true. This platform is one of those sites that sell dreams and promises that unsuspecting users try to consider as an online opportunity.
Obviously, the platform is questionable for me because there are many telltale signs that it isn't a legitimate money-making opportunity.
The Red Flags and Inconsistencies
Let's start rediscovering the sales pitch of the system. The marketing strategy is uncertain because of the absurd claims mentioned in the sales video.
For me, this is part of the scam sites that I recently reviewed, and these shouldn't be included in your list of legitimate websites.
Tom Parker claimed that even beginners could earn $2,000 a day. Just by thinking of its possibility, I can say that it is a lie.
Shofipy his secret for making money online?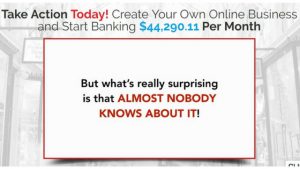 A statement supports the claim of the site's creator that users follow a little secret that other people don't know.
There is no secret in this platform as opposed to what the owner of the website mentioned in the sales pitch. What he is trying to explain is the wonderful things that you can get through Shopify.
Is it possible to earn $2,000 per day through the e-commerce website? There is no direct answer because it depends on the techniques used by the entrepreneur.
If using the platform to take advantage of Shopify, then the answer is in the negative side. The creator didn't explain clearly about Shopify, and the description of the site is vague and misleading.
The truth is that Shopify is a service that provides web hosting and simple interface to build an online business. They will only give you the tools to have a successful business, and it doesn't mean that through the website you will instantly earn a lot of cash.
It is not just a simple way to earn extra cash through the internet just like how the creator proposed about the system. The platform teaches you how to make money through the services offered by Shopify.
With this proposition alone, there is something to check before believing it. Why not utilize the free training services offered by Shopify instead of paying for this platform?
You'll be able to spot the inconsistencies here by just checking the website alone.
You will do almost nothing
Tom said that if you can spare 20 minutes a day and work using the system, the vast amount of money promised in the sales pitch can be earned quickly.
To finish off the sales presentation, Tom Parker mentioned that there is only simple work to earn the said income on the internet.
Because of what he said, you're probably concerned if believing his claims is indeed a positive thing to do. So what is the little secret that makes it easy to earn money online?
You need to have a marketing strategy and skills set to attract more customers and gain profits. In this case, there is a lot of work to do.
Paid traffic is very costly, and you have to be prepared to spend thousands of dollars, on Facebook Ads, the paid traffic system, utilized by this platform.
The training you will get is how to set up Shopify and how to run a Facebook Ads campaign, and that is all you can get for your $37.
The Compensation Structure
The business model offered is drop shipping that is not a new concept for me. By drop shipping, it means that you don't own the products and there is no inventory needed.
You will have to take the order on your website, but that's about the only thing you have to do as the drop shipper will take care of the shipping to your customer.
In other words, you're selling the products from drop shippers, and they will also ship the products to your buyers.
The drop shipper websites sell cheap products so it making money is possible. If you sell an item that costs $20 from your drop shipper and someone buys the item from you for $30.
You will order that item from your drop shipper and have it shipped directly to your buyer. In that case, you have earned $10 as profits.
The big issue here is that Tom sensationalized the whole story and claimed he has a system that can make you $2000 you on the first day, more than $10,000 per week, more than $40000 per month and more than $500,000 per year.
Drop shipping is big business, but it is not as simple as how Tom says in the video. To make $500000 per year, you must spend thousands of dollars for paid traffic such as Facebook Ads.
Then you must have a very established e-commerce website to handle this amount of traffic and sales volume. When Tom said you would only spend 20 minutes per day, I almost die laughing.
Summary Overview
eCom Profit Sniper Review
Summary
Name: eCom Profit Sniper
Website: ecomprofitsniper.com
Owner: Tom Parker
Price: $37 to join plus other expenses once you are a member.
Star Rating: 0.5/5
The Price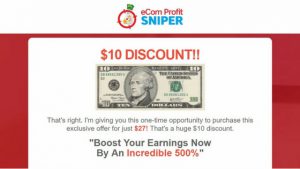 It will cost you $37 to join but be prepared for other expenses such as paid traffic. One funny thing is, when you try to leave, Tom will give you a $10 discount so you will have to pay $27 only.
Is eCom Profit Sniper a Scam?
This platform is nothing but a scam. It offers no value to its members, and it is selling dreams. The training they claim they will provide is to their advantage only, not for the member's education or advancement.
It is better to take advantage of the training materials and webinars offered by Shopify if you want to try drop shipping.
You can join Shopify on your own and start your drop shipping business. Mostly, a program that asks you to pay a membership fee without a clear and valuable offer of any product is not legitimate.
This issue is something that you should consider before joining the program and pays money to them. Lastly, don't waste your time reading paid training materials and webinars if you're not sure about it.
You can start by reading free materials first before spending money to gain knowledge. Granting that you can do this job even if it's not easy, you still need to increase website visitors on your website.
Going back to the training offered through the system, it's not as extensive as you expected it to be. You'll be trained on how to use Shopify and Facebook marketing.
You will not have training on how to get free traffic to your site.
Conclusion
There is too much hype on this platform and Tom is using deceitful methods to attract new members to the platform. Shopify is just a hosting platform for e-commerce, and it will not make you any money.
You will have to do the monetization itself. You can also join Shopify on your own without using Tom's over-hyped system.
Recommendation
Are you tired of scam sites like this one? If your answer is yes, I have a solution for you. Please stop chasing those shiny objects online as most of the time they are used as bait for scammers.
I suggest you try my #1 recommendation as it will teach you how to build a website and start an online business, whether it is affiliate marketing, e-commerce, online store or service-oriented online business.
It is free to join without credit cards, and you will have two free websites.
Click here to learn more about the business.
Feel free to post comments below, ask questions using the "Contact Me" form on the right or type your email address on the form on the top right portion of this page to get the free 7-day email guide on how to start an online business.
At a Glance
eCom Profit Sniper Review
Summary
Name: eCom Profit Sniper
Website: ecomprofitsniper.com
Owner: Tom Parker
Price: $37 to join plus other expenses once you are a member.
Star Rating: 0.5/5