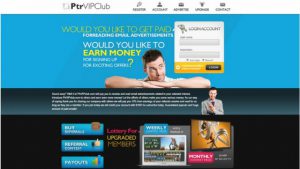 Ptr VIP Club is a PTR or paid to read site that promises its members to earn $100 by reading just one email. So what is Ptr VIP Club about, is it a scam?
The most critical question is, is this the website worth to give your time and effort or is this another scam that will put all your money and time to waste?
You came to my site looking for answers regarding the legitimacy of this site. After reading my review you will have the information that will answer your questions regarding this site.
Table of Contents
Click on the topics for quick navigation or scroll down.
What is Ptr VIP Club?
It is a platform that offers both payments for clicking ads and reading emails. If you are new in this type of industry, PTR means paid to read and PTC is paid to click.
You will be surprised as this platform is offering unbelievable amounts for both their PTR and PTC and that alone can make the people run away from the site.
How Does Ptr VIP Work?
For legitimate PTR businesses, the process is either an individual or a company will hire them to advertise their business and they will send emails to their members to read and will pay them afterward.
And I must admit, there are legitimate businesses that really pay people to read advertisement emails. Legitimate PTR will not make you rich and it won't even give you a stable earning.
None of them pay as much as what this platform is committing to members that they will pay. How can a company or a business earn by letting their employees or members read emails?
The amount they will pay is far, actually very far from the $100. That alone should make you think twice about this site. Where will they get sources to pay their members?
Another thing is the job description. Reading emails to get paid? This alone should make you feel doubtful as to how this website works.
When you are looking at an industry to pursue, it is wise if you compare their rates to their counterparts, if the discrepancy is huge then might as well step back a little and study further.
The Red Flags and Inconsistencies
To make things easier for you, I have listed things that you should know before you even start giving your time and effort to this site.
First off, the amount they are committing to pay is too absurd, which is a $100 per email read. This website commits not only $100 but even $200 to those who are willing to pursue their premium membership.
To make it clearer for you, $100 is just so impossible, why? Companies pay very little to legitimate PTR businesses mainly because more often than not, the people who will click the email and read the advertisement are not interested in the products or services they offer.
In short, they are just getting paid to read the advertisement and the company or the individual will not get any from it. So, why would they pay a lot more out of getting nothing?
A company or an individual gets little to zero results from this advertising technique, they are just taking chances here, needless to say, no business owner will spend money taking this high-risk terms.
Crazy minimum withdrawal threshold
Another factor that made me suspicious about this site is their minimum cash out amount. The only time you can withdraw your earnings from them is if you reach $20,000.
Yes, you read it right, $20,000 is their minimum withdrawal amount. How in the world can you make $20,000?
Actually, if they are really paying $100 or $200 it takes only around 100 to 200 emails to achieve that enormous amount of money.
But if you will come to think of it, why would they make their minimum this high? This is one of the highest, if not the highest minimum withdrawal amount I have encountered so far.
It is really hard to believe that you can make $20,000 from this website and second which is the most disappointing part is after you have reached $20,000 you will still not get the amount you thought you earned.
And besides, this website has no way to give you the $20,000 since in the first place they never earned that much from you just by reading the emails they have sent, right?
$100 per click PTC for premium members?
They also have a paid to click feature for advertisement but their claim of $100 per click for premium members is plain crazy.
I do not see, and I believe you do as well, any reason why would they pay this website more than 100 times costlier than more famous and established advertising platforms like Google Adwords and Bing Ads.
I have tried Google Adwords and I find it as the most expensive but it pales in comparison to this website.
Who's going to advertise here? They are paying the free members $50 per click and the premium members $100  per click. So how much should they charge their advertisers? $60 and $120 per click?
C'mon guys, you can do better than that.
There is payment when you withdraw
Stated in their terms section, a premium member has to make a payment before they can withdraw as per their new rule.
It does not mention about the free member, but I am sure there is also a system that will prevent them from withdrawing their money.
Anyways, can somebody tell me how can you reach the minimum withdrawal payment of $20,000? I bet nobody can. Just to add salt to the injury, they even stated on their website " Low minimum withdrawal amount of $20000." How convenient.
Your personal information is at risk
Never rush giving out your personal information on the internet. Another way for scammers to earn big is by selling their member's information.
After you register and provide them your email address, expect to get tons of spam emails.  The worst case scenario is for those people using the same email address as their PayPal accounts.
If you want to pursue and try registering to different websites as such, I suggest that instead of providing them your principal email address might as well indicate an email address that you do not care too much.
You can create a new email address dedicated to these activities, this is only just a suggestion, it is all up to you whether or not you will do it.
Summary Overview
Is Ptr Vip Club a Scam?
This website is a blatant scam and people should avoid them. They do not intend to make money from their business model. Their only aim is to make money from the members itself.
It is very obvious they cannot make money from their PTR and PTC businesses. They are just there to lure the people to join them.
The high payment offer for both PTR and PTC and the high minimum withdrawal is for the gullible to just gobble up the bait and be sorry later.
In reality, there are websites that can really allow people to earn money and work at the comfort of their home, but you have to be highly cautious on which to believe. There are some signals that are obvious and evident.
Those who claim too good to be true commitments and promises are most of the time scammers, same as with this website who claims to pay their members with a ridiculous amount of money just by doing almost nothing.
You have to assess as to how the website you are about to register can commission or earn from the work you do. Do not assume that the world is just too kind to give away money, a huge amount of money, as easy as that, you have to work hard for it to earn.
They will tell people that they will earn a huge amount but ended up earning nothing and with all false expectations.
Recommendation
There are legitimate PTR sites where you can definitely earn money, yet I do not suggest you focus on this type of online job.
They pay just too little and definitely not enough to provide you a living. The time and effort you spend doing so is definitely not worth it.
Try other options by reading different reviews from trusted people and make sure that you take time reviewing before you even click links and input your information.
You start your own online business and stop relying on those microtasks that do not pay. Building your website is the first step towards being an online entrepreneur.
I suggest you join a community of over 1.2 million online entrepreneurs willing to help each other. It is absolutely free to join and you will have two free websites.
Click here to know more about the business.
Feel free to post comments below, ask questions using the "Contact Me" form on the right or type your email address on the top right portion of this page to get a free 7-day email guide on how to start an online business.
At a Glance