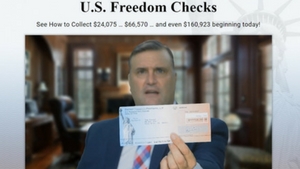 Freedom Checks is a website that is a sales funnel to  Banyan Hill Publishing. They are promoting the product called Real Wealth Strategist by Matt Badiali.
You came to my website to confirm the legitimacy of this website that claims to have the means for you to avail of huge earnings using their system.
After reading my review, you will have the necessary information that you will need in making an educated decision.
Freedom Checks Review
Summary
Name: Freedom Checks
Website: freedomchecks.com
Owner: Matt Badiali
Price: Starting at $47 per year
Star Rating: 0.5/5
Table of Contents
Click or scroll down.
What is Freedom Checks?
This platform is a website owned by Banyan Hill Publishing that was launched 1st of February, informing American taxpayers that they will receive payouts from some scheme.
And, they are willing to provide these people assistance to have access to their 'freedom checks' in return for a fee.
The most significant question here is not whether they can assist but if there is such a thing as 'freedom check'.
How Does it Work?
Let us start discussing where these checks are coming from, at least by what this website claims. So, the checks here are apparently should be paid out by 'designated entities'.
Who are the designated entities?As per Matt, they are companies that are in the sector of natural resources like gas and oil companies. You might be asking who Matt is?
Matt, or Matt Badiali, is the real man behind this website. According to this website, Matt is an expert in fields like energy, agriculture and mining industries.
He states that his solid experience as a financial analyst and geologist has let him perfected the means and ways of seeking for profitable investments in the field of natural resources.
So Matt here was claiming that he has made some historical analysis about these sectors and he saw great gains by up to a whopping 39.832% since there was a decline in production of oil in countries within the Middle East.
And as per Matt's rational assessment, companies will then start to offload their profits to some inventors by dividends, and since the gains are too large, you can see huge ROI or Return Of Investment on your stake, considering you are an investor.
With the huge amount Matt is talking about here, there is no reason why people are getting crazy about this website and turn out to be believers.
To access the secret and get daily newsletters about this 'freedom check', you need to pay the $47 per year. Yes, it is not free to get assistance from them to access your free check.
You have to pay $47  per year and would never know to which hand it will go. If you try to calculate, if this website, particularly Matt, made 1000 people to enroll in this program, he will get an instant $47,000 straight to his bank account.
There are three subscriptions, so there more money to be made. And the way, they market this product, I can say that he is getting more and more believers.
All the information on this website seems true; it will make you feel that they are your key to have access to the 34.6 billion dollars that will be dispensed to taxpayers.
They promised a share of $24,075 to $66,570 and can even increase up to $160, 923.
Who would not want that anyway? But if you will come to consider it closely, the promise of huge returns and income from something that is supposedly free is just too good to be true.
The Red Flags and Inconsistencies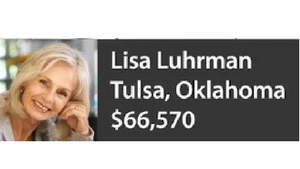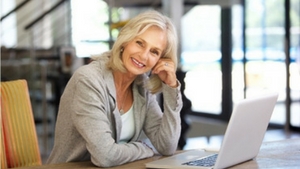 They are using so many stock photos in their fake testimonials but I picked the picture of a woman that they claim is Lisa Luhrman as an example. She is  Christina Bowser, an author.
In my opinion, there are too many consistencies in this website, hence not worth to believe. The testimonials itself can make you wonder since as per the website, the distribution of free checks has not started yet.
But the people on the website's video share their experience and delight from receiving money from the free check and thanking this website for their assistance.
Which is which here?
Are you going to start receiving your share from the money that will be dispensed to the taxpayer immediately or you have to wait for some time and for the time being, get satisfied from receiving the newsletter about the free check.
Another inconsistency is they say it is free to check but why is there a $47 yearly fee? I do not understand as to why you need to pay for something that is supposedly free?
This only proves that there is no free check and you are paying your money for something that is unknown. Another inconsistency is the 'freedom check' they are claiming.
Is there such thing as 'freedom checks'? I suggest that you try to look into it thoroughly and see for yourself whether there is truth behind the 'freedom checks'.
Matt Badiali is another reason why would you think twice about this site. If you go to google and type in on the search tab, 'Matt Badialia scam', you will see some serious reviews about this person.
I mean, no one will tag anyone a scammer unless they experience something not favorable or something that made them thought that he or she is a scammer.
And unfortunately, if you do not trust Matt, you should not trust this website as well, as he is the man behind all this.
I do not want to assume, but I am just basing this on my own perception and review. I mean, for me any program that promises too good to be true income, is not true or bogus.
I do not want to announce that this website will also scam your money, but the information I shared is all personal opinions and observations.
Their website is posing as a review site.
It is ironic that their website will make a review of their sales funnel website. If you enter freedom checks on google search and you will find a review about freedom checks which should be okay except it is done by no other than banyanhill.com.
This review is a clear attempt at misleading people to believe them. If you have a good product, you could just let third-party reviewers make a positive review of your site, but it did not happen here.
Misleading subscription pricing
If you check the subscription pricing, you will find out that the Premium Subscription with three bonus reports are cheaper than the Deluxe Subscription when they have the same contents except that the Premium Subscription has three bonuses.
Watch out for the auto-renewals.
There is a note that the Real Wealth Strategist will auto-renew at $97 for a year and The Bauman Letter will auto-renew for $79. They claim The Bauman is free, and now you have to pay for the second year.
Summary Overview
Freedom Checks Review
Summary
Name: Freedom Checks
Website: freedomchecks.com
Owner: Matt Badiali
Price: Starting at $47 per year
Star Rating: 0.5/5
The Compensation Structure
So you need to shell out $47 per year, and after that, you will receive newsletters about the 'freedom check,' and you will get to know the secret how to have access to the money that will be dispensed to the American taxpayers.
Honestly, there is no clear indication as to how to generate money here or how the compensation structure looks like.
All it says is that you can get $24,075 to $66,570 and can even increase up to $160, 923 by just paying $47. There is no clear explanation on how you can get that much or how you can maximize your earning.
All you need is pay $47 per year, and that is all that you need to know, well, that's how they are presenting the whole thing.
The Price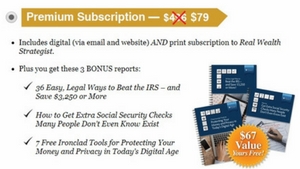 Is Freedom Checks a Scam?
Considering the red flags and the inconsistencies, I will call this website a scam. For one thing, you will never see a positive review of this site except form their affiliates and those that run this website. It is enough to stay away from this platform.
Conclusion
A legit platform a with a good product will generate natural positive reviews from third-party entities and could use their members to do proper testimonials.
They did not do it because they do not have it for sure.
If those checks are true, don't you think $47 per year is too low? I would think so. If I have access to those freedom checks, I will not sell it for $47 a year, but I will share it with my family and friends.
I do not need the $47 per year as I will be so rich myself and my family as well. I will not bother to make a website and a video where people will scrutinize me to death, lol.
Recommendation
If you want to start a real online business, try my #1 recommendation for free. No credit cards required. You will have two free websites so you can start right away. It is where I learned everything to build and run this website.
At a Glance
Freedom Checks Review
Summary
Name: Freedom Checks
Website: freedomchecks.com
Owner: Matt Badiali
Price: Starting at $47 per year
Star Rating: 0.5/5